Joan Cornellà Brings Dark Humor to Solo Exhibition in Taipei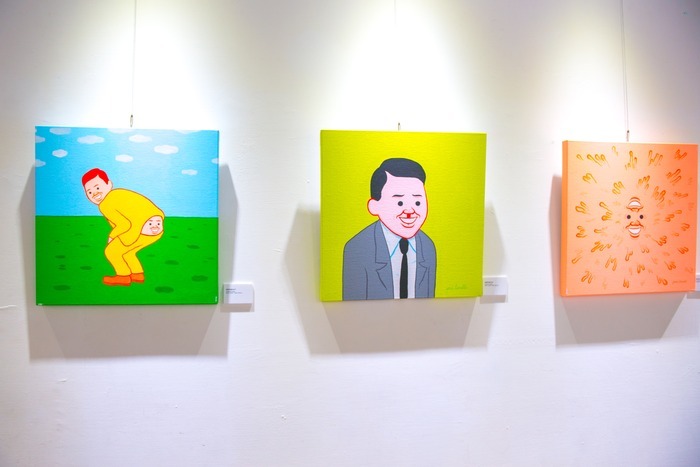 At Joan Cornellà: A Solo Exhibition in Taipei, we come face to face with the artist and the vibrant happy smiles that contrast heavily with the dark humor and surreal real-world problems he's known for depicting.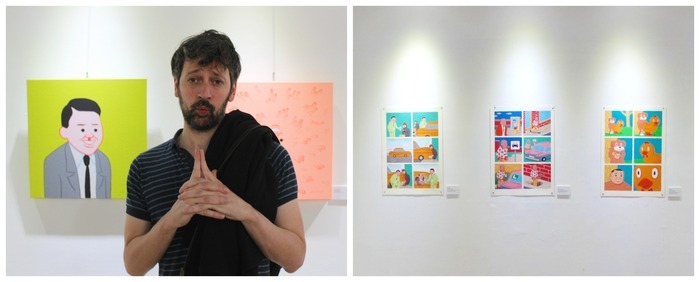 Running from November 25th to December 11th, 2016, Joan Cornellà: A Solo Exhibition in Taipei is your chance to lean in and get really uncomfortable with Joan Cornellà's brutally cheerful comics and our dark sides concerning pressing social issues. We attended the opening reception to share with you what to expect at the show.
Jolly colors and dark humor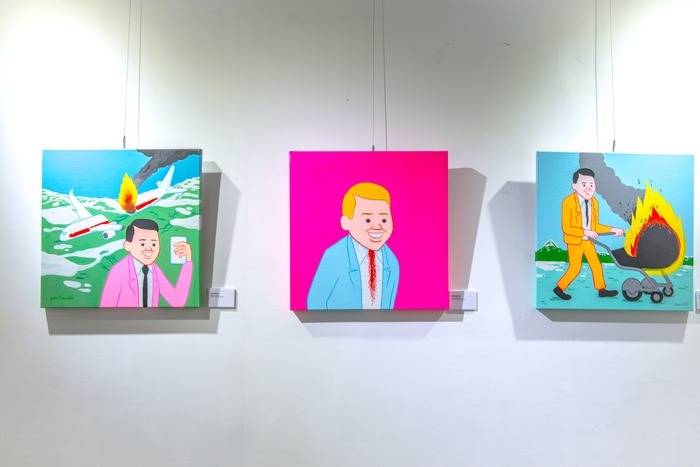 Joan's bright paintings are hung in the exhibition hall as brisk Spanish electronic music filled the room. Full of lighthearted sounds and colors, the exhibition had an almost neon-decorated vibe. It's as if we've fallen into the artist's fluorescent palette.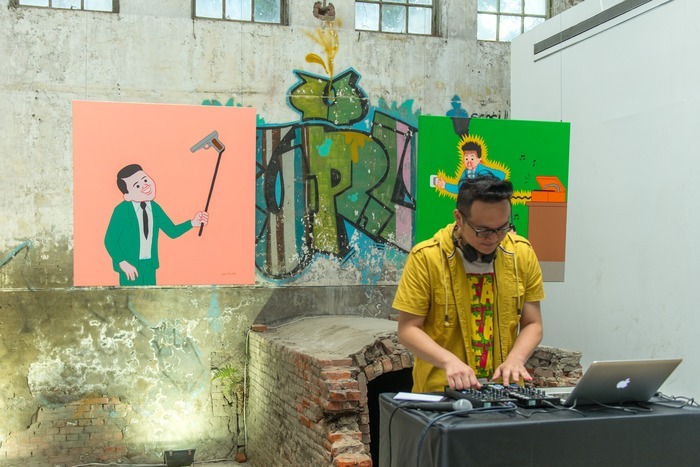 ▲ First of May artist Elvis was the DJ for Joan Cornellà's opening reception!
Joan Cornellà uses a lot of innocent characters and vibrant colors to draw in unsuspecting viewers, then immediately throw them into cruel wake-up calls: a selfie-worthy plane crash, or a walk with a bomb in the stroller. Joan Cornellà brings our attention to the absurd reality in our world by attracting pleasant, curious viewers to be shocked and become reflective.
Six-panel comics and single-panel artworks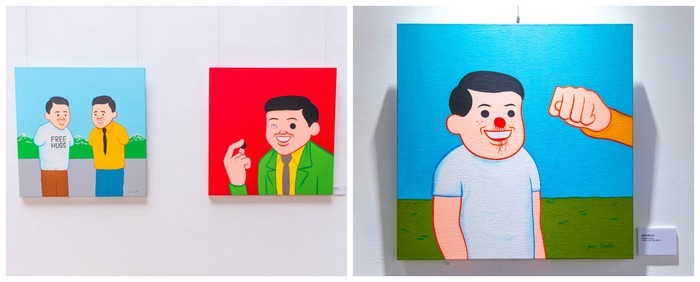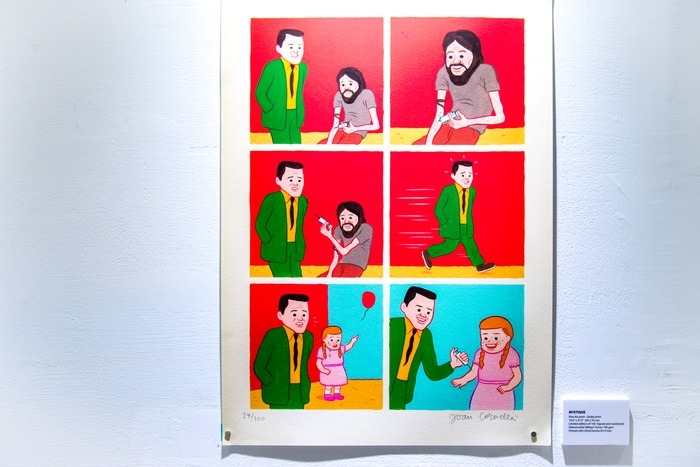 ▲ Find the familiar six-panel comics and single-panel artworks right in your face (instead of in the screen!)
In the single panels, you have nowhere to hide from the empty smiling facial expressions and some kind of violence, blood or absurdity happening in the frame.
With the comics, surrender to the 6 panels that will lead you deeper and deeper into a sickening scenario the artist have designed for you.
There is always an unsettling story happening in the artworks, such as public murder, abuse, or amputation. You know that Joan Cornellà is provoking our dark sides and deep feelings instead of seeking social approval when his art makes drug abuse and baby slaughter appropriate with indifferent smiling faces.
Joan's favorite piece in this exhibition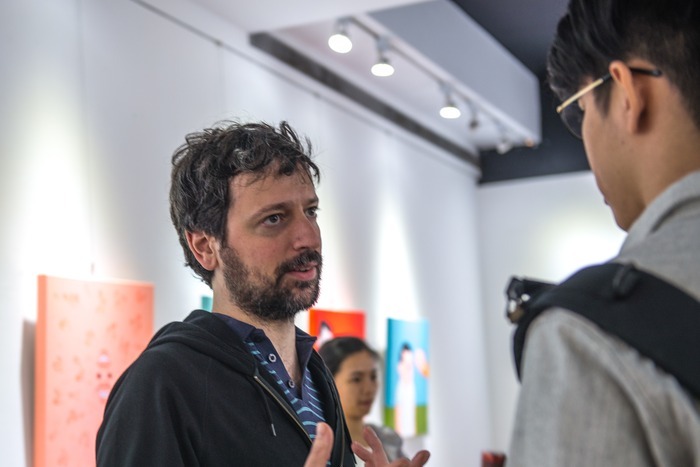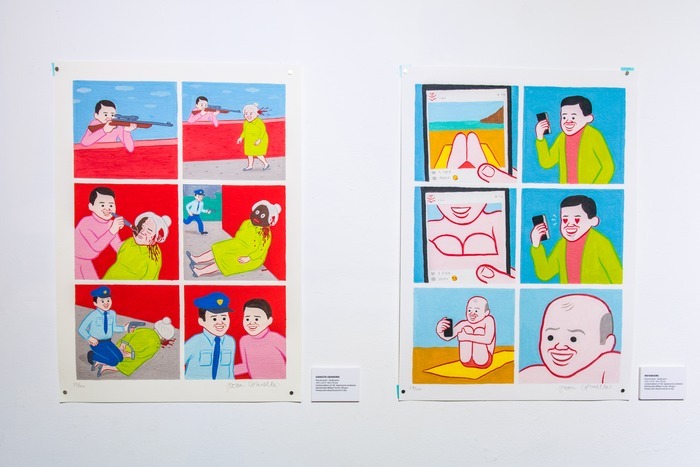 The comic on the left describes a man killing an old lady, painting her face black and happily getting out of it, hinting a conspiracy with the police. This reflection on racial discrimination is Joan Cornellà's favorite work in this show, and ironically, these types of racial, religion and other discrimination common in the society are Joan Cornellà's infinite resource for inspiration.
Some might find these comics too absurd, and leave them as comics. But the artist believes there are certain degrees of darkness in everyone's heart, and what his art does is to zoom in on our common dark sides so that we can really deal with our problems face to face.
In this exhibition, Joan Cornellà pokes us with the thorny issues in life, and even enlarge them with the vacant smiles of people facing the problem. Go experience the dark side, laugh out loud, and allow yourself to contemplate what is really happening in our world.
☞ Exhibition Info
Joan Cornellà: A Solo Exhibition
Location: Huashan Creative Park Warehouse 5B, No.1, Section 1, Bade Road, Taipei
Dates:11/25-12/11/2016
Official Facebook Event: Joan Cornellà: A Solo Exhibition
Discover places with Pinkoi
► ► ► Pinkoi Shop Next Door | A Kind of Cafe & Creative Studio
► ► ► Discover Local Designers' 8 Favorite Hideout Spots in Malaysia!
► ► ► Pinkoi Meets City Zine: Taipei Day Walk
Text/Photos: Pegi, Ayumi
Translation: Melissa
We at Pinkoi always cite the bloggers, designers, and content creators whose ideas we post. Any missing credit is unintentional and will be corrected upon notice. If you wish to share our content for personal use, please do so under these conditions:
Give Pinkoi credit and include a direct link to Pinkoi.com.
Must stay true to the original article; no word, picture, video and logo can be altered or added.
Read full ethics policy