Colourful wooden furniture for kids from Hokkaido –– pon furniture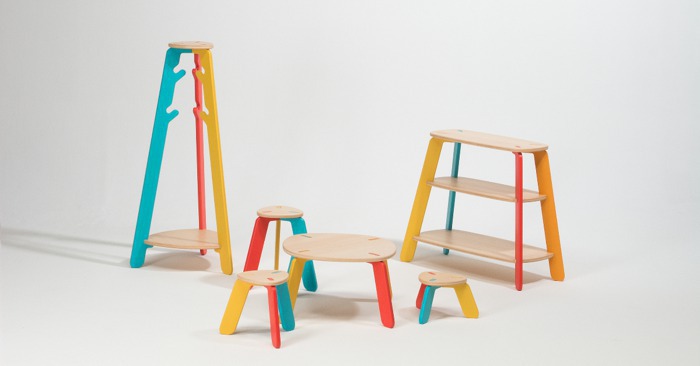 Produced by Asahikawa furniture maker Isamiya, pon furniture is a new line of kids furniture that can be flat-packed and easily assembled at home. Designed with rounded edges and smooth easy-to-clean surfaces, the collection is suitable for kids ages one and up. Pon means 'small' in Ainu, the language spoken by the aborigines of Hokkaido. Pinkoi spoke to Yohei Sekiguchi, the current CEO about the story behind the collection.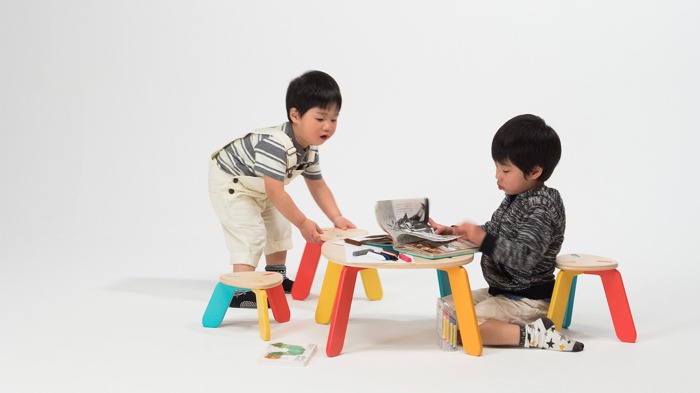 Could you tell us a little about Isamiya?
Isamiya was founded in 1950 by my grandfather, Isamu Sekiguchi, who started his own furniture-making studio in Asahikawa. In the beginning, he first made wooden storage furniture – such as anything with drawers or shelves. However, as postwar Japan's economy took off, the workshop took on more and more staff, as well as changed locations numerous times, before settling here in the current location at Nagayama, Asahikawa.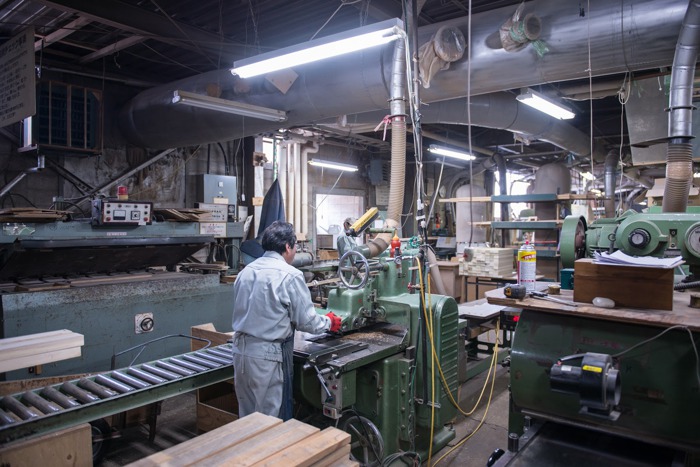 Eventually, my father took leadership of Isamiya, which was making mainly furniture for family use then until around when the bubble burst in the late 1980s. This sudden drop in demand led my father to slowly switch to producing wooden furniture for offices and libraries – mostly custom orders – which we have done for a little over twenty years, working on projects all across Japan.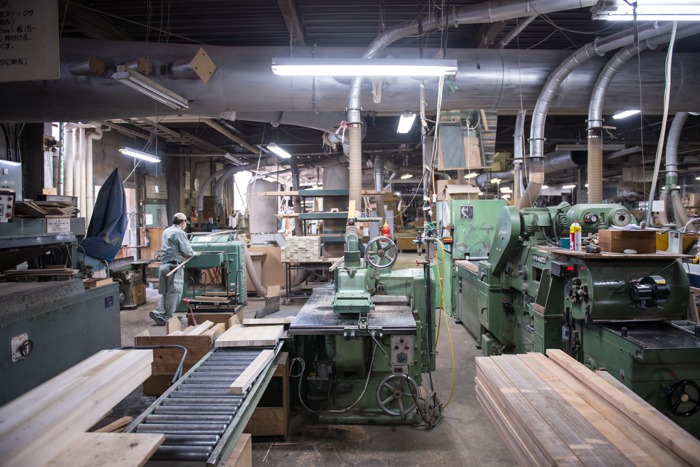 ▲ The workshop floor. Including office staff, there are a total of 35 people currently employed at Isamiya.
Has that changed since you took over the family business?
I became CEO of Isamiya in September of 2010, and while in the beginning I did not make any immediate changes, I knew in my heart that it was time to try something new sooner or later.
My grandfather would often say to me that you have to 'dig your own well' (自分の井戸は自分で掘れ) – which means that we have to carve our own paths in life and find a new 'source' to sustain ourselves. That 'well' for my grandfather, was making furniture for the home, and for my father, it was office furniture.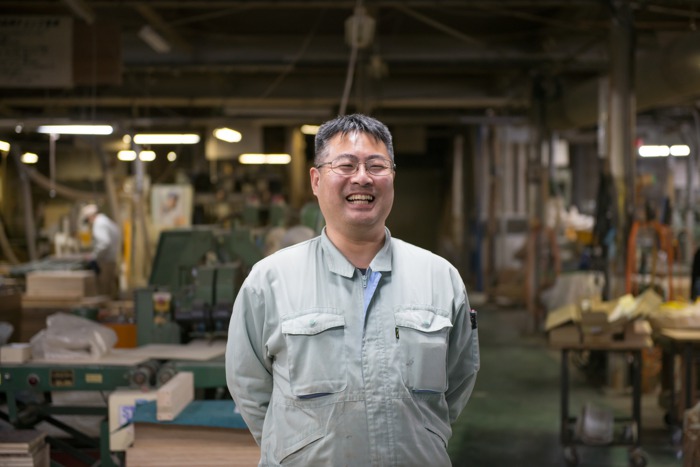 ▲ Yohei Sekiguchi, the third-generation CEO of Isamiya.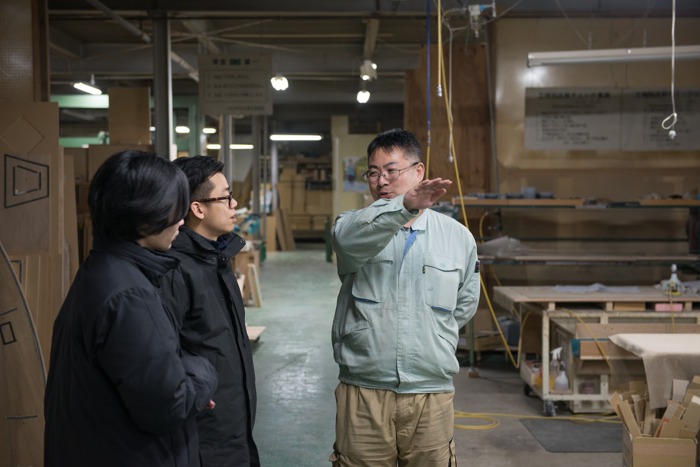 I believe that many things in the world operate on a cycle of about thirty years, give or take, before a paradigm shift occurs. When I took over the company, just over sixty years had passed since Isamiya's founding, so I knew it was about time for me to find my own "well" and for the third cycle to start.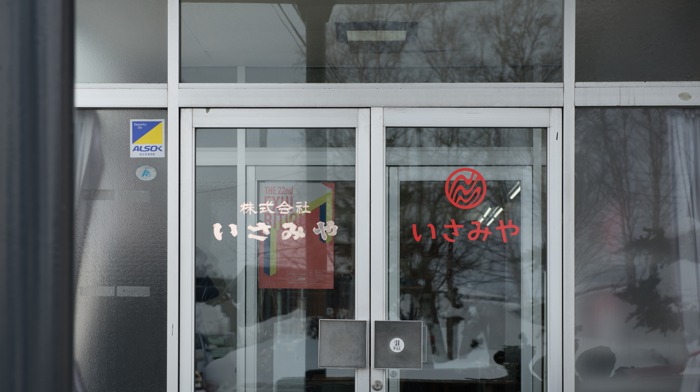 ▲ The logo on the left is Isamiya's original logo, and the one on the right is the new one, which was also created by the designer of Pon Furniture, Hisakazu Shimizu of S&O Design.
What led you to start the pon furniture collection?
I first met Hisakazu Shimizu, the eventual designer for the pon furniture collection, in 2015 during preparations for the inaugural Asahikawa Design Week (ADW). Held by the Asahikawa Design Center, the goal of this new event was to showcase to a wider audience the history, tradition, and potential of the over forty furniture brands in the Asahikawa area.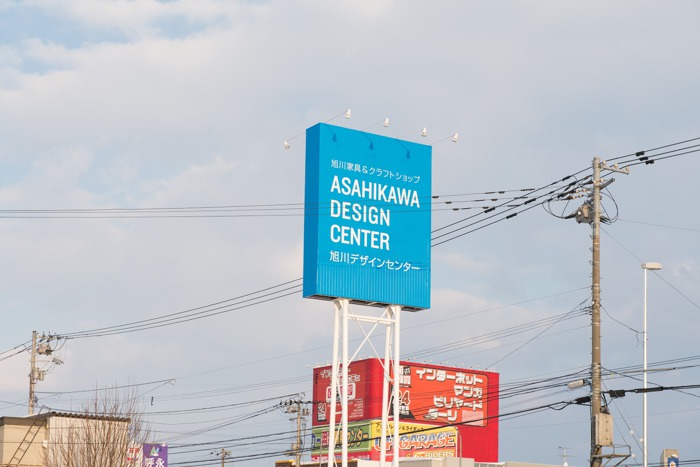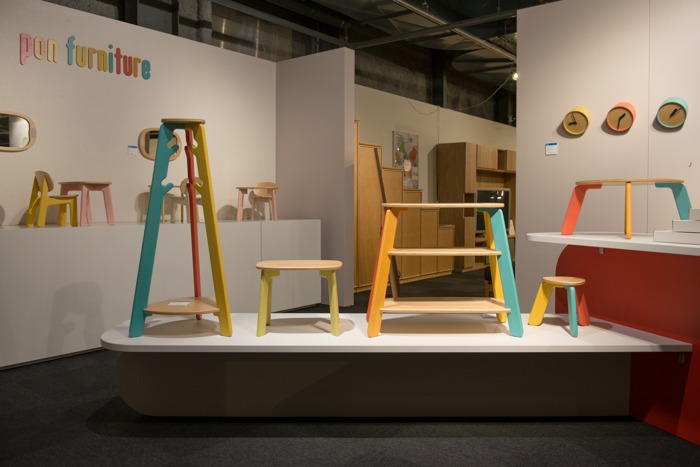 ▲ Isamiya's booth in Asahikawa Design Center, which also functions as a showroom for many of Asahikawa's furniture brands.  
I thought it was a good chance to try something new so we first collaborated on a series of kids furniture named LiKids, consisting of large wooden play structures and objects. Debuting at ADW in 2016, LiKids was well-received at the time but its large size and relatively high price proved to be challenging in marketing and selling to customers. With these lessons in mind, we decided to stick with the theme of kids furniture, but to instead go smaller in size and target individual families – which resulted in the small, flat-pack Pon Furniture collection.
How was working with the designer Shimizu-san?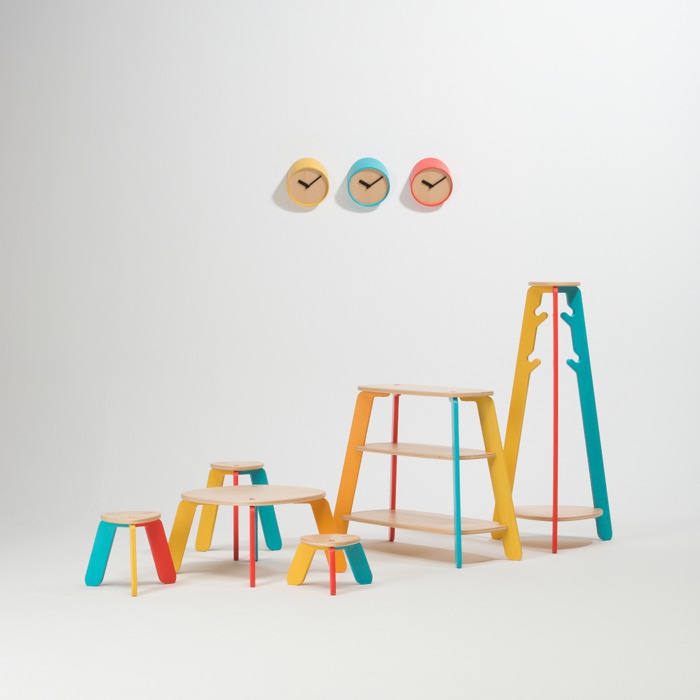 Known for being the chief designer of Canon's IXUS series of compact digital cameras,  Shimizu-san has a strong background in industrial design and knowledge of plastic and metal fabrication. Working with wood and designing furniture was new to him, but this inexperience did not prove to be a weakness – he was able to constantly push us in new directions as his mind was not limited by knowing what was realistic beforehand.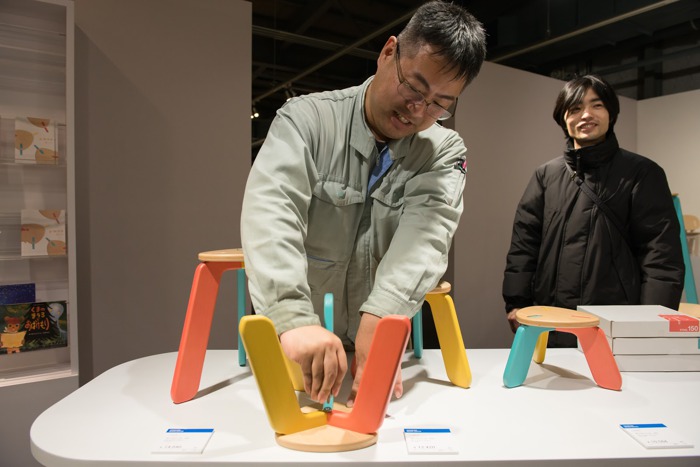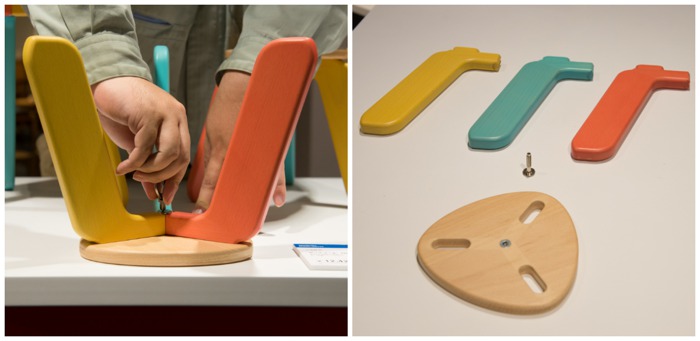 ▲ The structure of the stools are deceptively simple: one stool top and three legs, all held together by a single screw.
What was the biggest challenge you faced during the creation of pon furniture?
Since we already knew we were going to stick with kids furniture, the basic design was more or less decided in the early phases. However, the biggest issue was to make sure the products themselves had enough structural stability. Even though we envisioned the products being used for kids up until age 6, the reality was that we had to account for the possibility that adults would sit on it as well.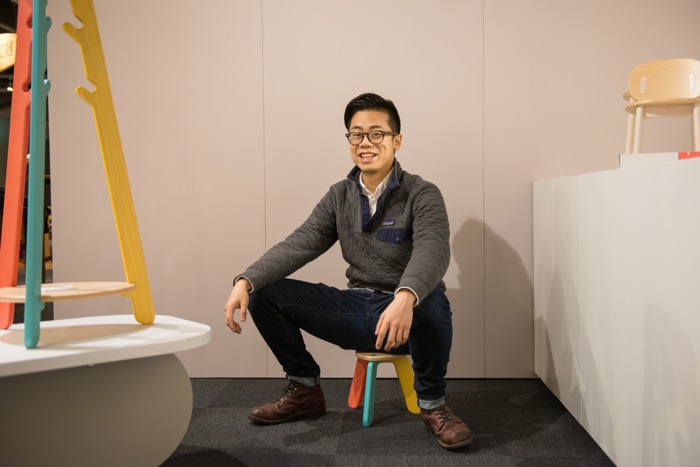 ▲ A bit small for me – but completely stable!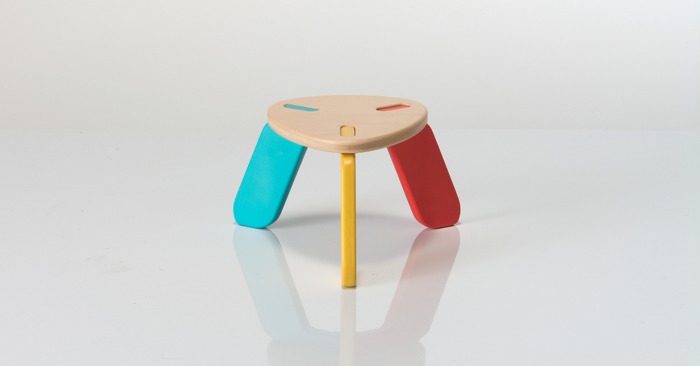 ▲ The smallest stool in the lineup.
We had the prototypes tested numerous times to see how much weight they could take on before breaking, each time testing different construction methods while maintaining the thin profile of the legs. After the fifth time, we finally reached a solution through much experimentation – the end result was a structure that could withstand up to 200 kg.  
That is quite impressive considering that the assembled structure is held together by a single screw only. In addition to the simple structure, the colours are quite bright and stand out – how were they decided?
Each of the colours are supposed to correspond to something in Hokkaido: the red represents tomato, yellow is for corn, orange refers to pumpkin, and the blue is for soda or the sky. Colours for wooden furniture usually come in the same standard variations – yellows, browns, or blacks. These are the tones that best bring out the natural wood grain, but for pon furniture, we wanted it to be kid-friendly and to show that it was possible to work with unconventional colours as well.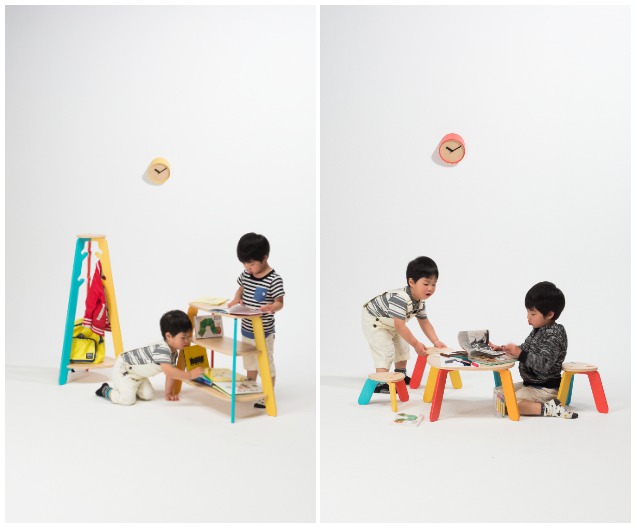 One last question – do you have any personal recommendations for what to do or where to go in Asahikawa?
The first would definitely be the Asahikawa Design Center – a must visit. The second, Ueno Farm, is a bit far from the city center but it is a beautifully-designed garden done in the style of English gardens rearranged to fit the Hokkaido climate. Also for sweets and a calming environment, definitely the Kibana no mori. Last not but least, near the Asahikawa Design Center is the brewery for Otokoyama sake, local to Asahikawa and something you must try!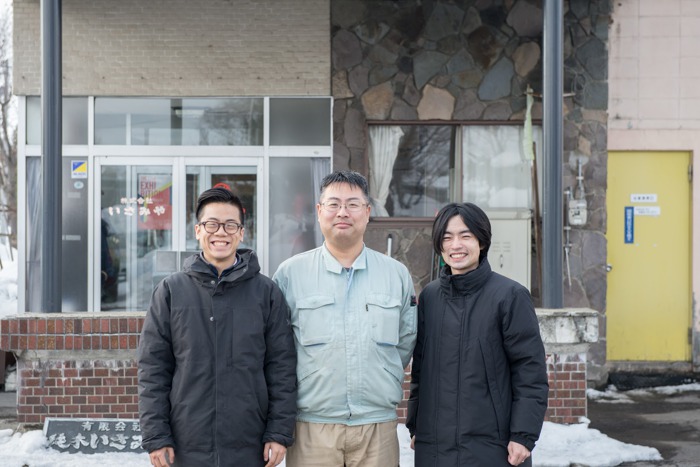 This article was written in collaboration with HOKKAIDO TO GO, a project for discovering, unearthing, and sharing new attractions of Hokkaido as well as the culture created through the interaction of fascinating people, objects, and things happening in the region "now."
We at Pinkoi always cite the bloggers, designers, and content creators whose ideas we post. Any missing credit is unintentional and will be corrected upon notice. If you wish to share our content for personal use, please do so under these conditions:
Give Pinkoi credit and include a direct link to Pinkoi.com.
Must stay true to the original article; no word, picture, video and logo can be altered or added.
Read full ethics policy