A New Way to Cook Squash this Fall: Recipe for Taiwanese Rice Noodle!
Too much of the same old roasted squash can get in the way of your appetite, so try something different with this Asian recipe! Made with shiitake mushrooms, green onions and soy sauce, squash rice noodle is lighter than your traditional pumpkin fare, enjoyable as an everyday home cooking dish. Pick your squash—kabocha, butternut or pumpkins—and enjoy fall's harvest to the fullest!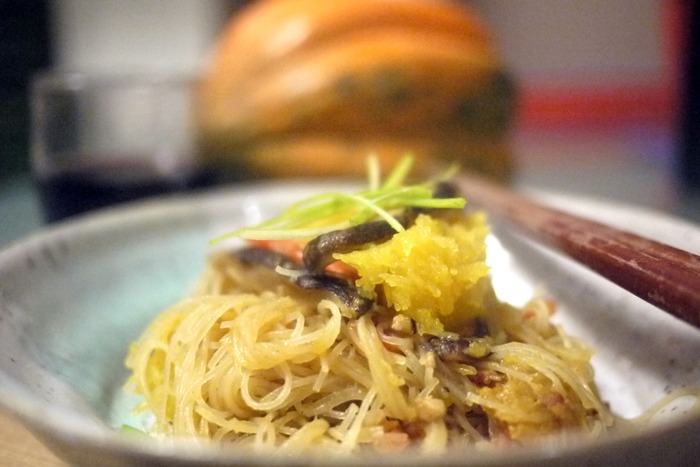 Squash Rice Noodle Recipe
The beauty of this dish is in the aroma of shiitake mushrooms and dried shrimps layered with mushy squash chunks. Saute the ingredients step by step, and enjoy how the flavors come together!
Fun variation: Kabocha is the most commonly used squash for this Taiwanese dish, but today we're using acorn squash for a sweet, refreshing flavor!
Ingredients (serves 2):
Dry rice vermicelli (2 bundles)
1 small squash
3 shiitake mushrooms, sliced
¼  lbs minced pork
2 tbsp dried shrimps
2 tbsp cooking rice wine
2 green onions, cut into sections
½  cup carrot, cut into strips
Seasoning:
2 tbsp soy sauce
1 tbsp oyster sauce & ½ tbsp water
1 tsp sugar
1 cup water
Optional: white pepper
Instructions:
1. Cook squash: boil, steam or roast the squash in a pot until almost cooked (about 30 minutes).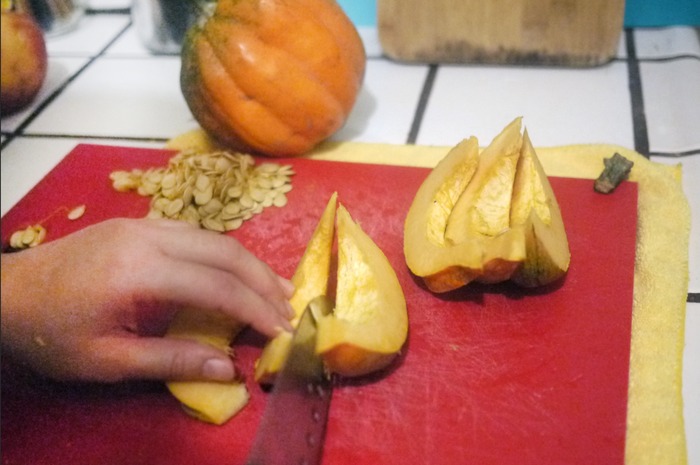 Fun variation: Depending on the family's preference, you can slice, cut into strips, or slightly mash the squash for different texture.
2. Boil rice noodle in water for 2 minutes. Set aside.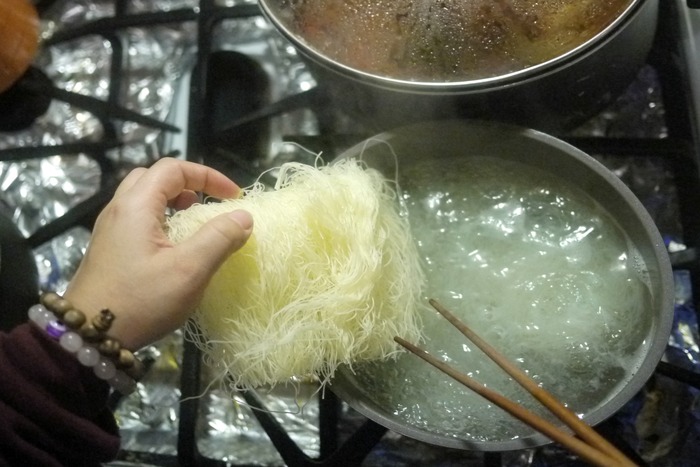 3. Soak dried shrimps in rice wine. This adds a distinctive Chinese flavor!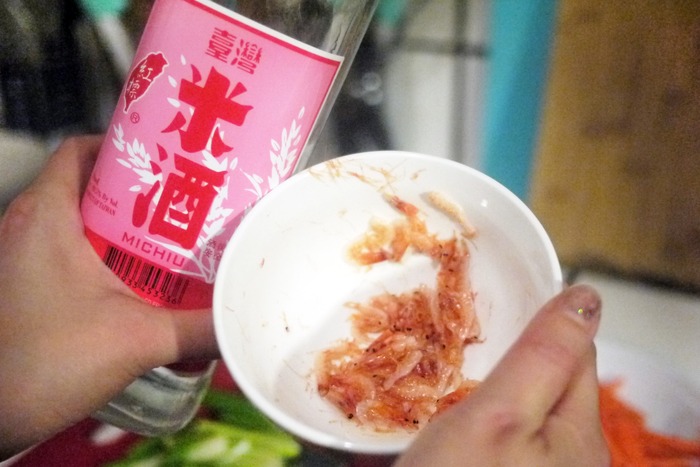 4. Saute shiitake mushrooms until fragrance appears. Set aside.
5. Saute pork until almost cooked. Then, add dried shrimp, carrots, and green onion sections; cook until fragrance appears. Add mushrooms back in.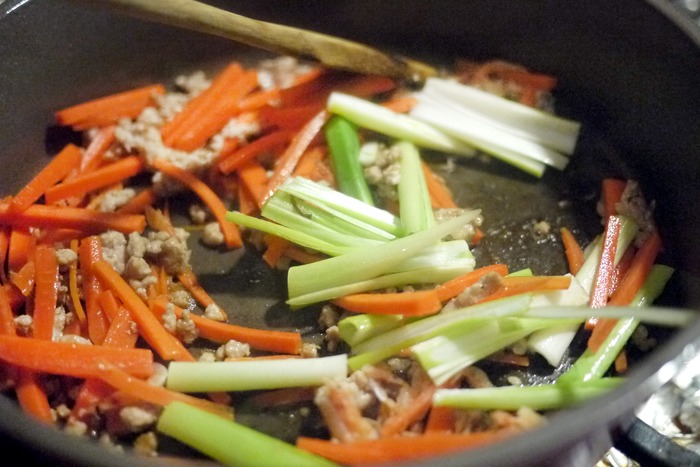 Fun variation: Replace half of green onions with shallots to mimic a very Taiwanese flavor!
6. Add squash. Then mix oyster sauce in water, then add into pan and stir slightly.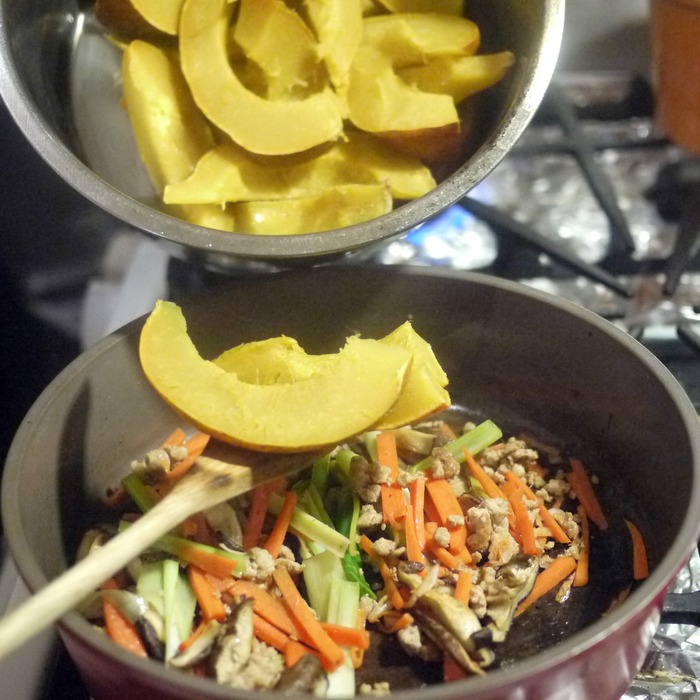 7. Add rice noodle and water to the pot. Add soy sauce and sprinkle sugar to taste. Cook on low heat for rice noodle cook through.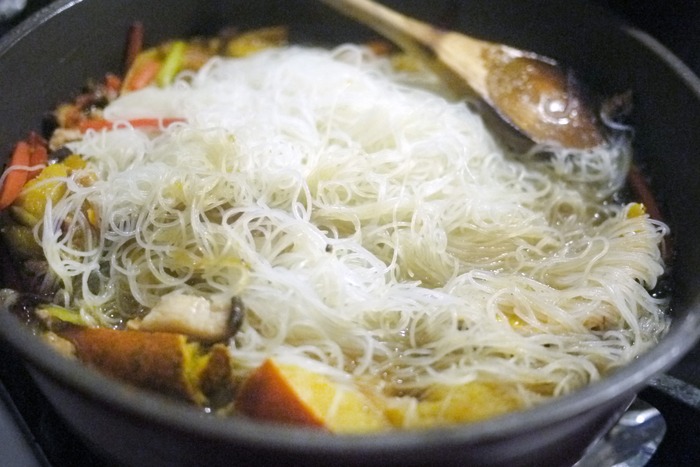 8. Stir a few times until sauce thickens. The squash will naturally collapse into lumps. Optional: sprinkle white pepper.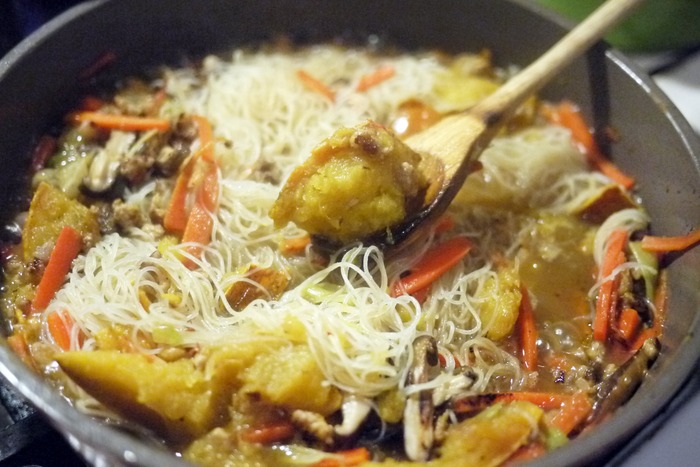 9. It just so happened that our friend dropped by with her freshly glazed handmade ceramic dish! Let's serve the rice noodle with it right away!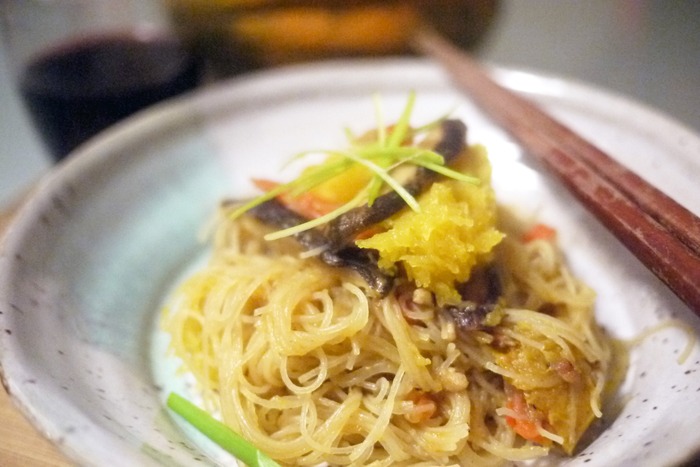 Doesn't it look delish?
10. Enjoy your new squash recipe!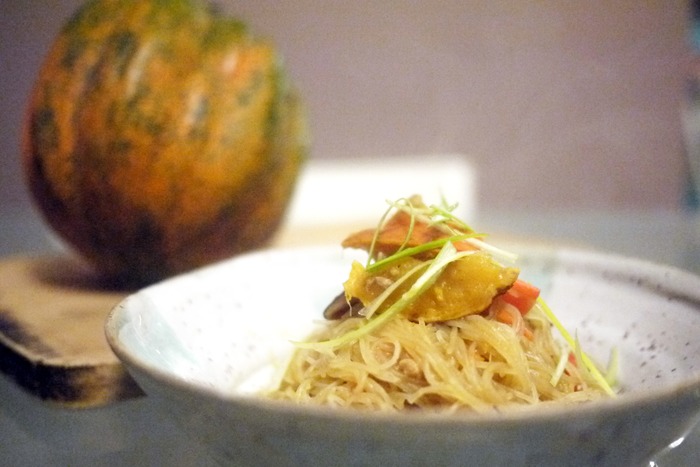 It's all about gathering at the table!
► ► ► Forget Not: The Little Details of Traditional Utensils
► ► ► 5 Dishes from Asian Moms that Define the Taste of Home
► ► ► Say "Kanpai" with Japanese Sake and Shochu!
Text/Photos: Melissa
We at Pinkoi always cite the bloggers, designers, and content creators whose ideas we post. Any missing credit is unintentional and will be corrected upon notice. If you wish to share our content for personal use, please do so under these conditions:
Give Pinkoi credit and include a direct link to Pinkoi.com.
Must stay true to the original article; no word, picture, video and logo can be altered or added.
Read full ethics policy