Designtrepreneur | Chen Fu Illustrations
Drawing is not enough. So I travel.
As a cyclist and artist, Chen Fu sees the world from the slow lane. He travels by bike, sketching people and places he sees along the way, and turns them into colorful illustrations. Gentle and full of details, his works clearly illustrates that getting lost is a blessing in disguise.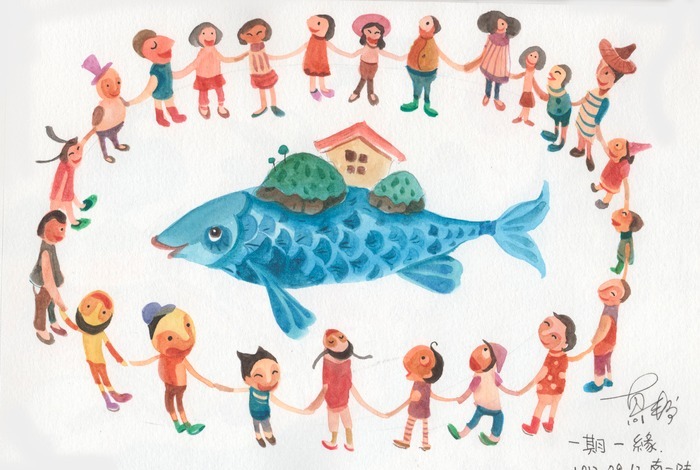 Chen Fu has been an artist since elementary school: His textbooks and homework were sketchbooks and portfolios. Ironically, even though he grew up to be a creative professional, the corporate world led him to a burnout. At one point, he lost the passion for drawing.
He left his day job and hopped on his bike, which first took him to rural Taiwanese towns, and then outside of Taiwan. He found himself thriving out of his comfort zone and language barriers were not much of a problem. Since then, stories and artworks flourished as he continues to travel solo.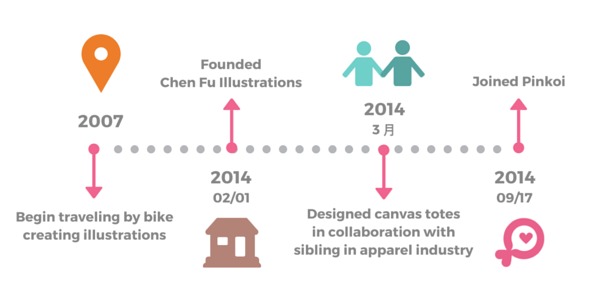 What motivates you to start your own brand?
When I was 30, I made up my mind to return to my hometown to create art. I stayed in the countryside with my aging parents, adopted kittens and owned a spacious studio. I worked really hard freelancing, creating my art and putting on shows to support my living and travel expenses. Nine years went by in a flash!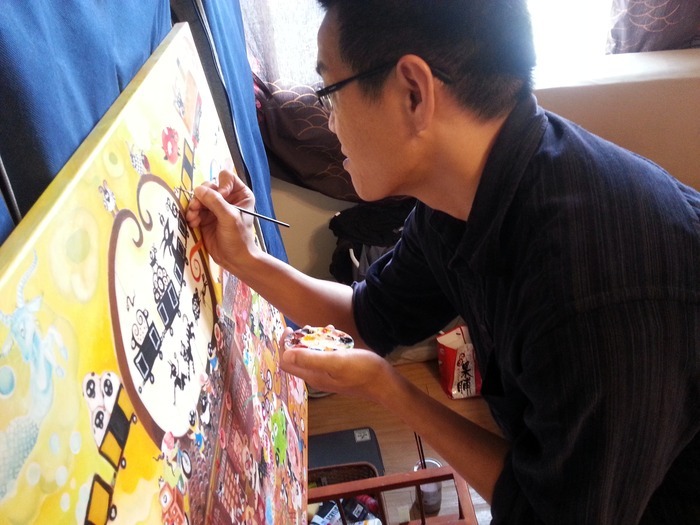 What's the greatest fulfillment of running your own business?
Being a travel artist is very fulfilling. I get to experience life from the locals' point of view, see a lot of small town sceneries, and record different lifestyles with drawings. I love that I can make new friends and have the opportunity to express my travel philosophy.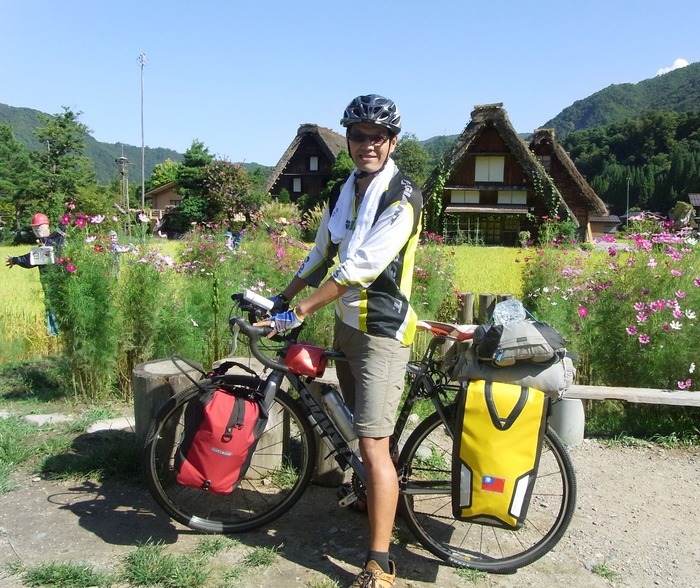 What is the biggest challenge you've faced so far?
The early days were difficult because I needed to stock a lot of my designs, and so I had very limited cash flow. Even now, it's challenging to stand out in this competitive market—selling my products with good photography is one of those challenges for me.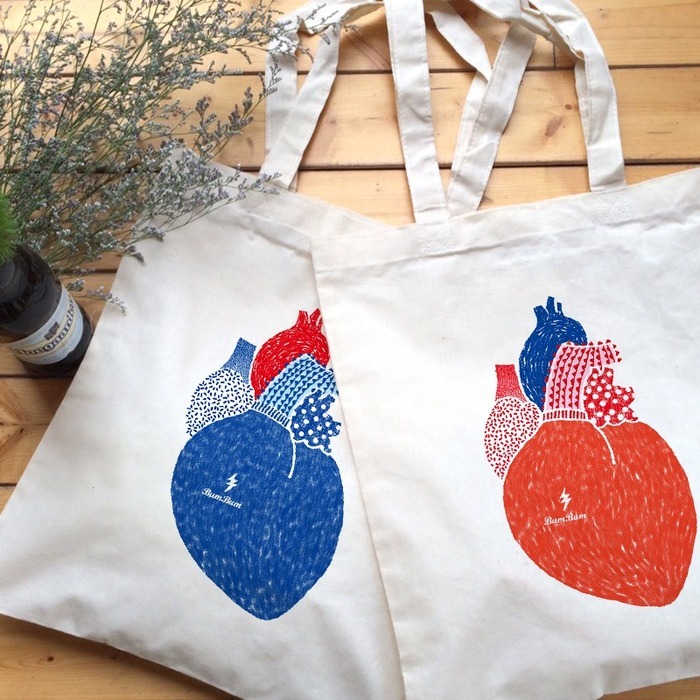 Please offer some words of wisdom to up-and-coming designers.
Develop your unique style, so your audience have something to take away.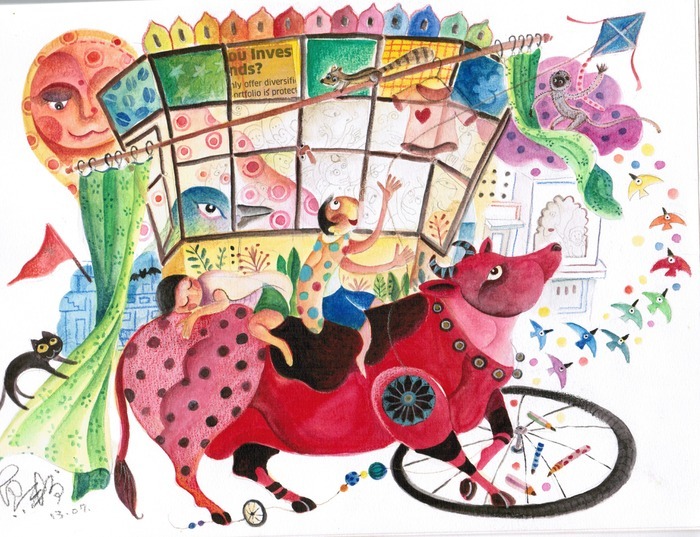 What is your most memorable travel experience?
I had a memorable trip in India. The income gap in India is enormous and people are curious about foreign travelers. If you slow down on the streets, people would gather around you. Once, I passed by an elementary school, and thought I'd draw with the kids. Then the principal came and had me give a speech to the entire school, like I'm a visiting celebrity or governor! So I did everything I could to introduce Taiwan with drawings and body language. The children were very happy; their smiles were unforgettable.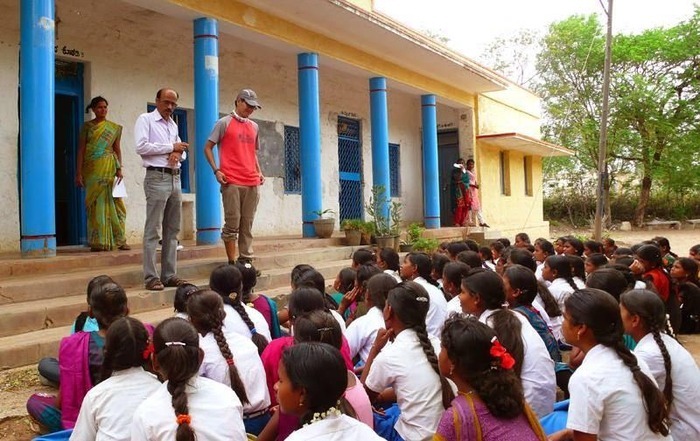 Why did you choose to sell on Pinkoi?
A friend recommended Pinkoi to me. Pinkoi carries good quality designs and seemed promising for my illustrations and merchandise.
How did your brand grow after joining Pinkoi?
We went from selling 3 products a month to more than a hundred now. On Valentine's Day, we had a promotion for our tote bags and had customers send us their couple photos. It is very interesting to exchange bits of life with customers this way!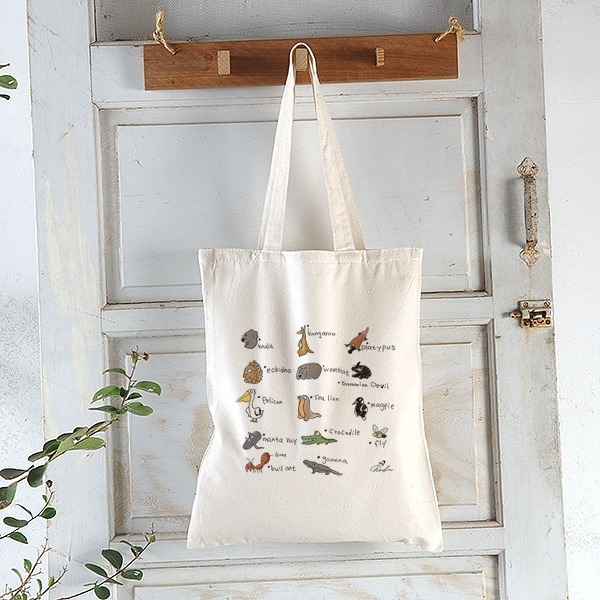 What would you like to say to the Pinkoi community?
Pinkoi is the only online marketplace that stands by you like a friend.
Discover cities and villages in Chen Fu's illustrations!
Meet the illustrators on Pinkoi
► ► ► Designtrepreneur | Hello Studio
► ► ► Featured Shop | Chiao's Mini Showroom
► ► ► Featured Shop | Molasola
We at Pinkoi always cite the bloggers, designers, and content creators whose ideas we post. Any missing credit is unintentional and will be corrected upon notice. If you wish to share our content for personal use, please do so under these conditions:
Give Pinkoi credit and include a direct link to Pinkoi.com.
Must stay true to the original article; no word, picture, video and logo can be altered or added.
Read full ethics policy