Featured Shop | WenTi Illustrations
Pinkoi is Asia's leading marketplace for buying and selling independent design. Discover beautiful design products to decorate your lifestyle. Whether you're buying for yourself or someone special, Pinkoi is the ultimate gift shop for buying unique presents!
With a pen, I can capture my ideas about the city, about the people, about their lives, and about the society. Illustration is very powerful and I want mine to capture the connections we have with each other, no matter how small they may seem.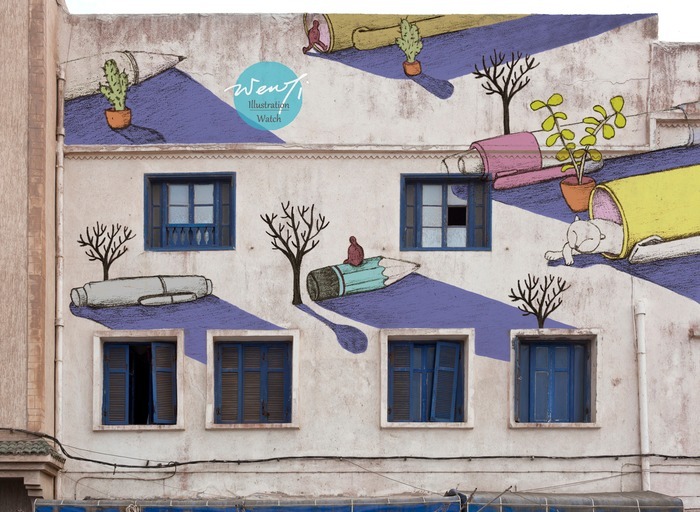 For nine years, illustrator Wenti have been drawing and creating illustration products. With a dream to travel the world with his family, three dogs, one cat, his guitar and a sketchbook, he has some stories to tell.
Tell us about your brand and your style.
Ever since I started drawing, I haven't been able to define my style, and now I'm not sure if I should try to. I want to be always trying new things and innovating, so I don't want to limit myself. Maybe not having a fixed style is my style.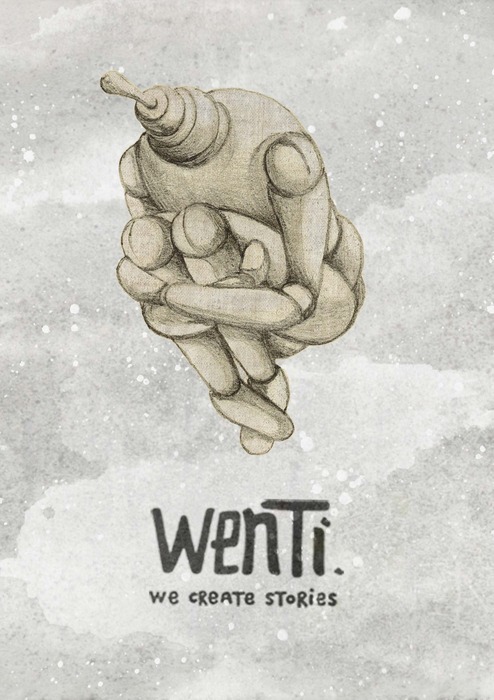 In the past nine years since I started my brand, I've been creating with different techniques, such as hand drawing, screen printing, hand dyeing, and sewing, which I apply to making t-shirts, pouches, shopping bags and mugs. This is how I explore new possibilities for illustration merchandise. Although illustration is the core of it, the form and function more or less dominates the product. In the future, I plan to focus more on the artwork instead of products so the brand is bound to original art.
What inspires you?
My inner conversations and other people's conversations.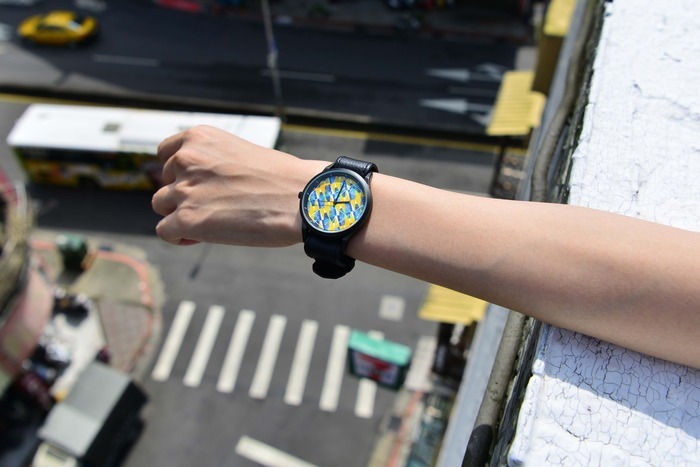 I was born in Taipei and have lived here all my life for the past 30 years. I've been looking at the same street views, same windows and same building. Its appearance might have changed a little, but I know the city and know what it's always been like. It's similar to the way we face ourselves: facing myself and having conversations with myself is like living with the same streets all my life.
How did you become a designer?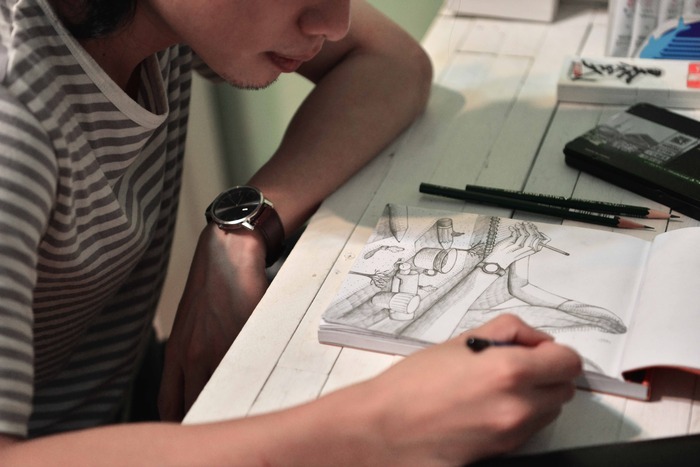 Some would say I became an illustrator by accident.I was chatting with a friend and we realized we've both let go of our childhood hobby of drawing for a long time. We didn't know why we stopped drawing, so we decided to start drawing together. And it led to this!
How do you deal with creative blocks?
I'll put down my pen, immediately.
Otherwise, I'll continue to sit there, racking my brains and nothing will come, and I'll burn out. So I have to firmly leave my desk, go take a walk or go exercising, or have some good food and hang out with my family. Anything to shift my focus! I guess the thing is to go back to living.
What does design mean to you?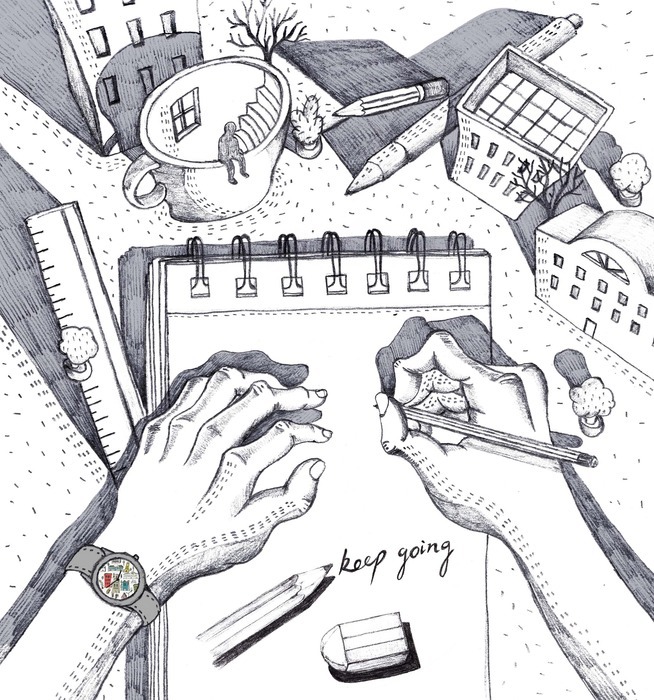 Everyone has a different opinion about illustration because it's very visual, and so it's subject to personal preferences. As an illustrator, I think the value of my illustrations is not just based on the expression of ideas, but also on how genuine it is. If you face yourself honestly, and you express with your pen truthfully, you are also an illustrator.
Where do you find inspirations?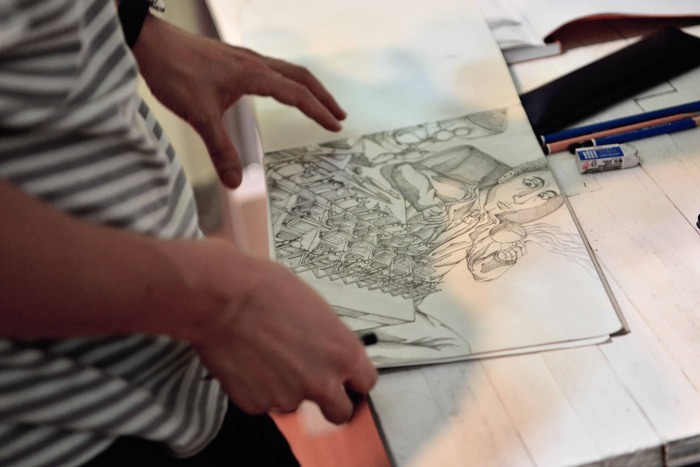 I like to observe the overlooked details such as the pipes on buildings, sewer drains, the corner of the windows, stains on the cement walls or the light in the alley. I'm often attracted to those things and I'll find myself enjoying the few seconds of peace they bring me. I would imagine myself in those little segments of the world, and wonder what I would be doing there.
What is the most unforgettable review you've gotten from a customer?
One customer said, "Breathtaking."
Some customers are very direct with their admirations and sometimes I don't know how to handle it and give a nice reply! But I was really touched by this customer and was happy that she got something she liked. It filled me up with gratitude.
As an illustrator, why do you have so many different types of products?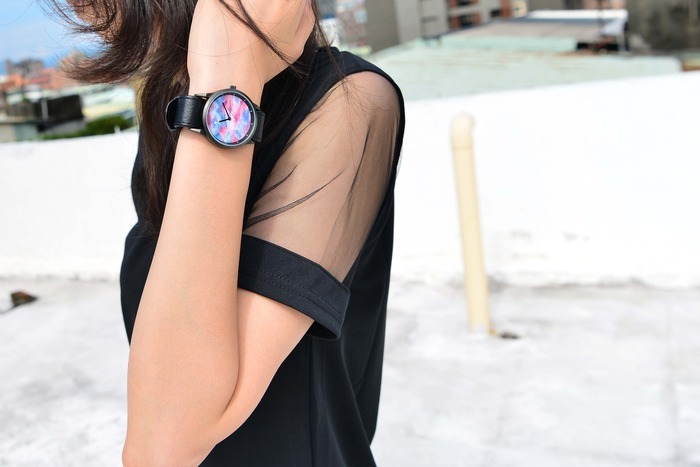 In the beginning I didn't want to limit my medium, and I never planned to be always drawing t-shirts. So I tried bags, notebooks, postcards and more. Now that I've tried all these things, I know I want to focus more on the art of illustration, and spend less time experimenting with products and merchandise.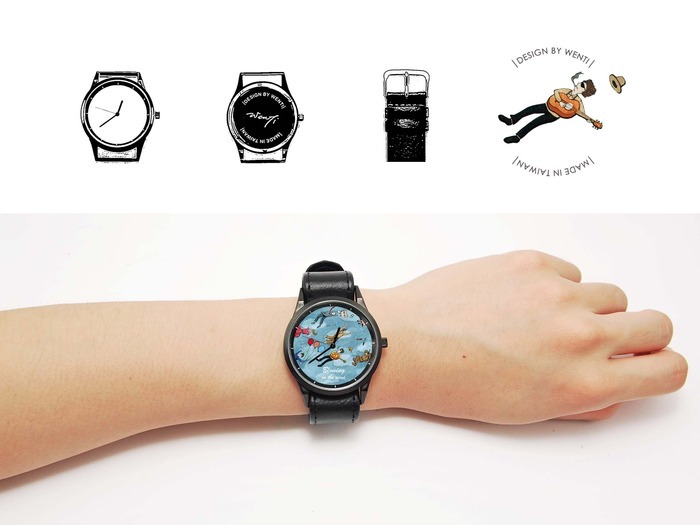 I've made many products since having my studio in 2014. I also attended several exhibitions which gave me new ideas about illustration, so I began designing products for the everyday life—and so Illustration Watch was born. The artworks dear to me are now wearable on your wrists! I think certain stage calls for certain explorations, and this is one of them.
Please offer some words of wisdom to up-and-coming designers.
Respect your dreams and others' dreams. Make authentic work, and give from your heart.
Featured Illustrators
► ► ► Designtrepreneur | Hello Studio
► ► ► Shop Next Door | Yarnball Illustrations
► ► ► Featured Shop | Chiao's Mini Showroom
Translation: Melissa
We at Pinkoi always cite the bloggers, designers, and content creators whose ideas we post. Any missing credit is unintentional and will be corrected upon notice. If you wish to share our content for personal use, please do so under these conditions:
Give Pinkoi credit and include a direct link to Pinkoi.com.
Must stay true to the original article; no word, picture, video and logo can be altered or added.
Read full ethics policy