Pinkoi in San Francisco | Celebrating Japanese Cherry Blossom Festival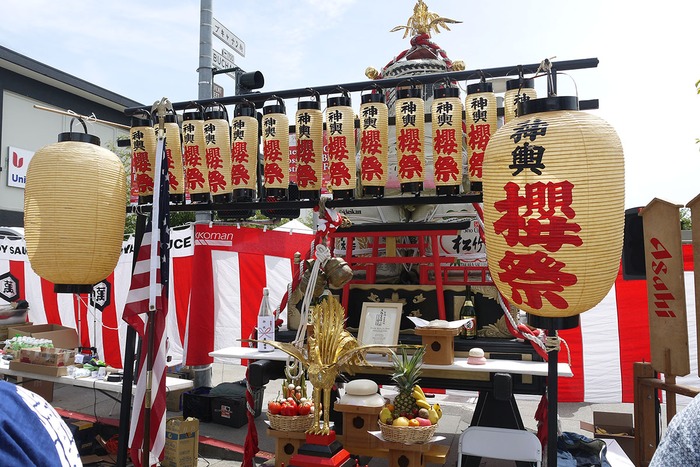 A purifying ceremony, traditional taiko performance dedicated to the gods, mochi and sake, cosplay and parade… the North California Cherry Blossom Festival in San Francisco Japantown is a wonderful place to celebrate Japanese culture outside of Japan.
Just as Washington D.C.'s National Cherry Blossom Festival, the North California Cherry Blossom Festival has its own unique local flavor. Held at the oldest and largest Japantown in the US for two weekends, it also keeps many authentic traditions thanks to the elders, or "senseis (teachers in Japanese)", volunteers and young artists.
100 year-old Japantown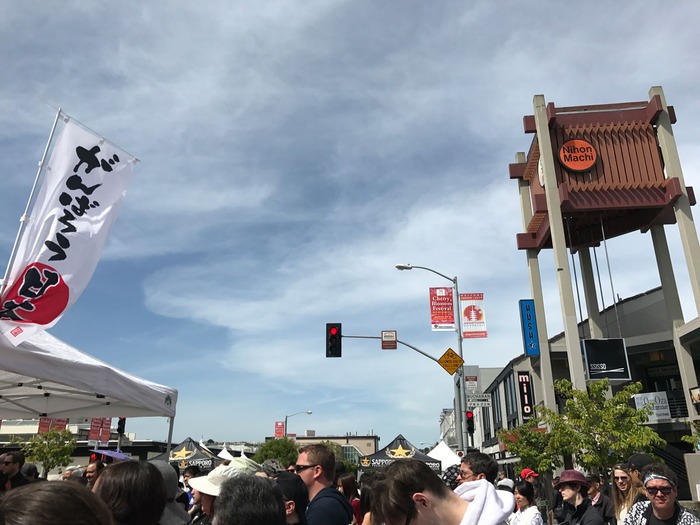 This "Nihonmachi" is one of the only four Japantowns in the US. Cherry Blossom Festival is held every April, and Nihonmachi Festival is held every August.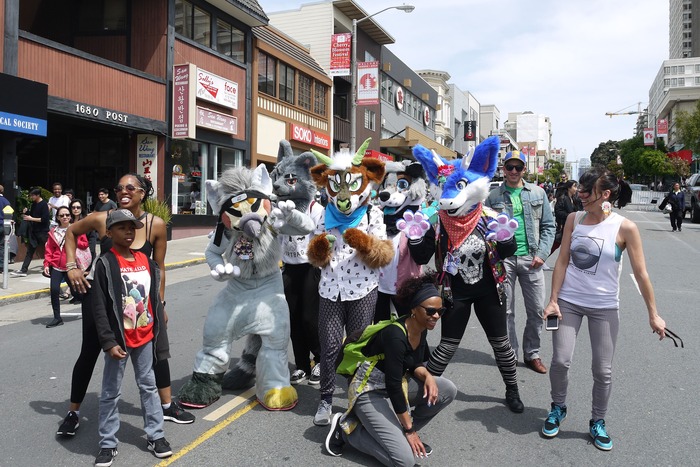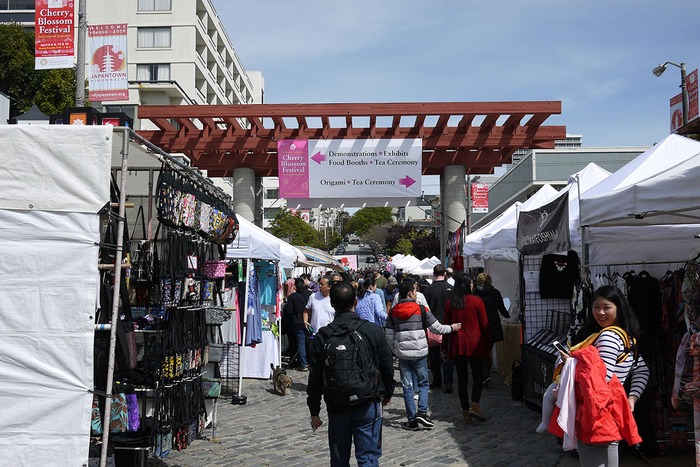 At these times, generations of immigrants, Japanese Americans as well as anyone who appreciates Japanese culture get together for celebration, performances, delicious food, and creativity.
Mikoshi Purification Ceremony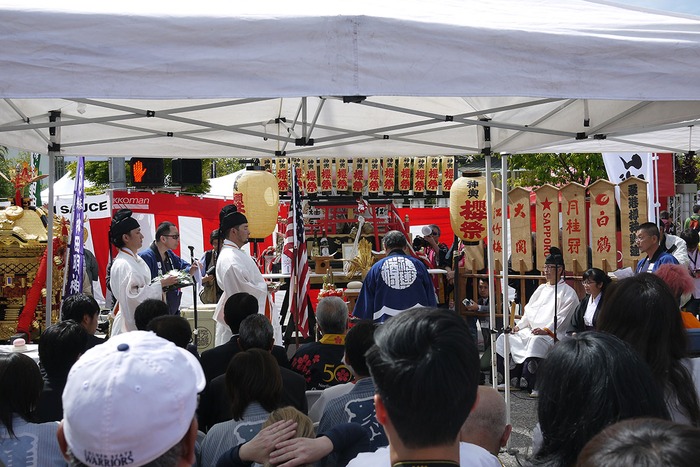 The ceremony held at the shrine (mikoshi) by the local and Japan spiritual communities asks to bring peace and harmony to the area.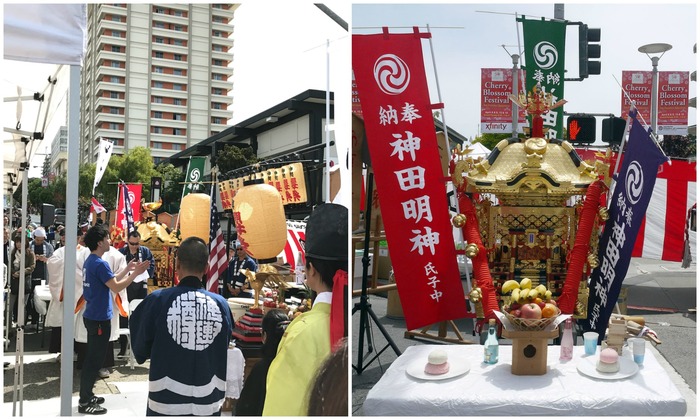 Community members and Festival merchants go up to the shrine one by one, performing the purification rite by clapping their hands.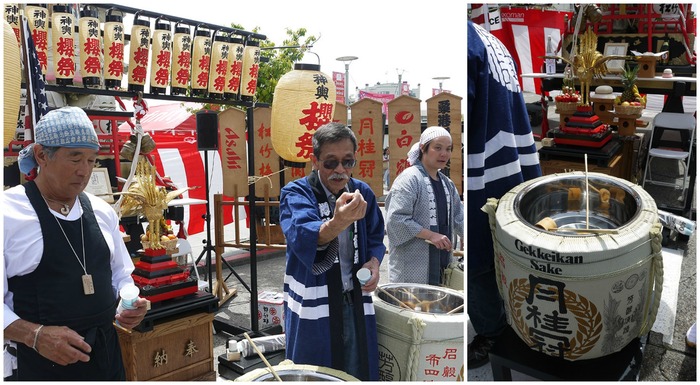 After the Ceremony, purified sake is offered to everyone. This playful uncle made sure every adult passing by took part and had a cup.
Drumrolls: Taiko Dojo and the Grandmaster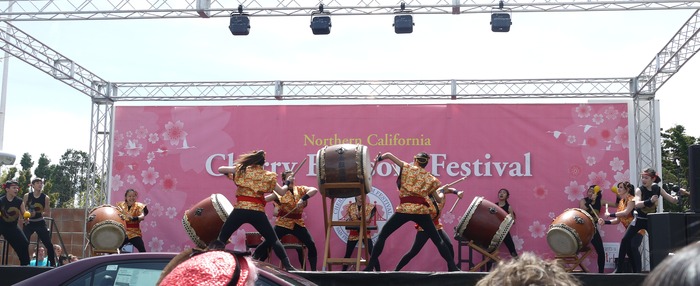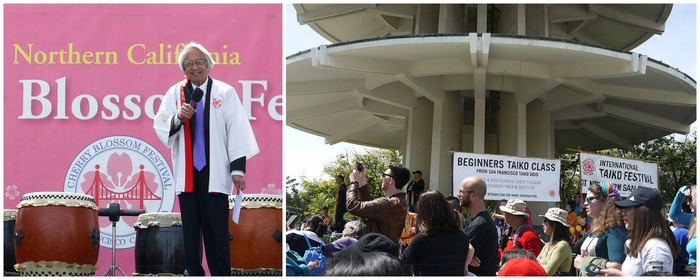 Taiko is not simply music: it is a sacred ritual to the gods for rain and an expression of gratitude. Every year, San Francisco Taiko Dojo puts on Taiko Festivals. And as a result, every year (at least for the two years of drought we have experienced), it rains on the day after the Taiko Festival!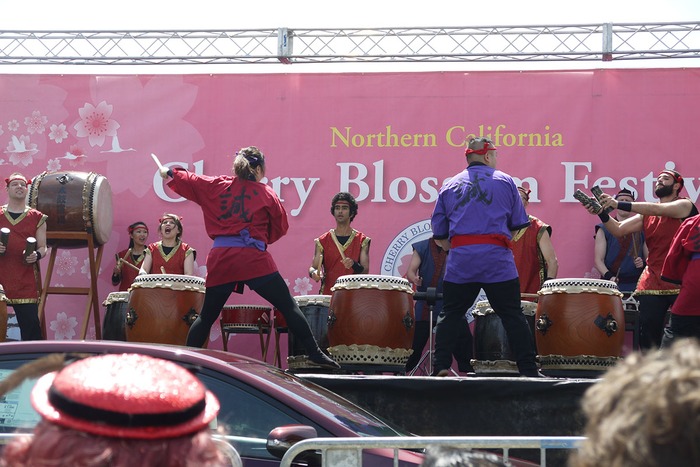 Maybe Grandmaster Seiichi Tanaka could take some credit for this magic. He founded the Dojo in 1968, and is considered the father of modern taiko in North America.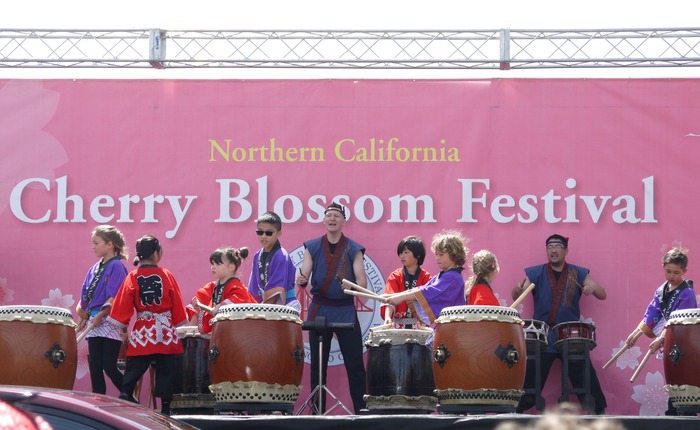 Adults and children of different ethnicities make up the Taiko Dojo. Until today, Tanaka sensei trains his student rigorously, making sure the discipline and the respect for this noble task is taken seriously. We heard the hardcore training proved to be beneficial for the mind and the body!
50 years of Cherry Blossom Festival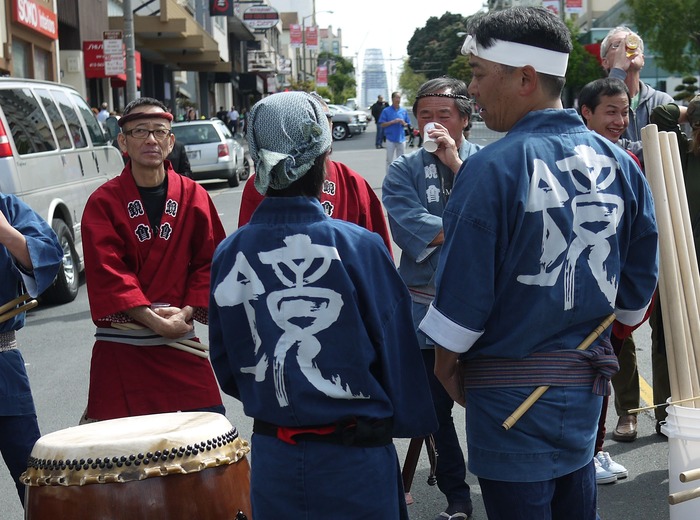 In 2017, the Cherry Blossom Festival celebrates its 50th anniversary!
What is heartwarming is that many volunteers, long-time residents and merchants of the Japantown neighborhood keep the Festival alive.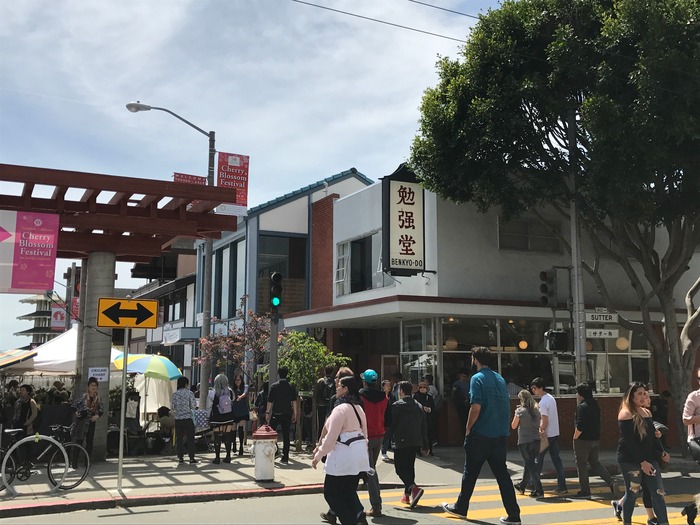 For example, Benkyodo, the famous traditional handmade manju and mochi shop, is as old as Japantown.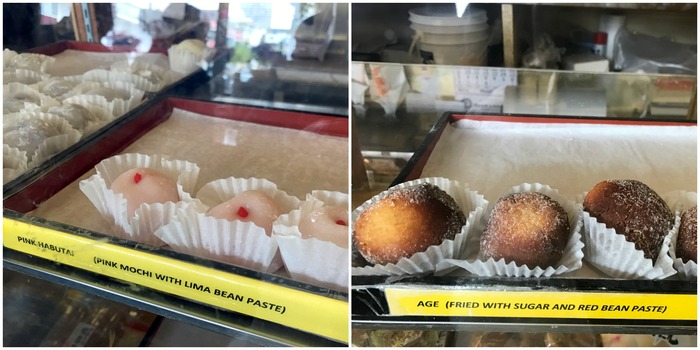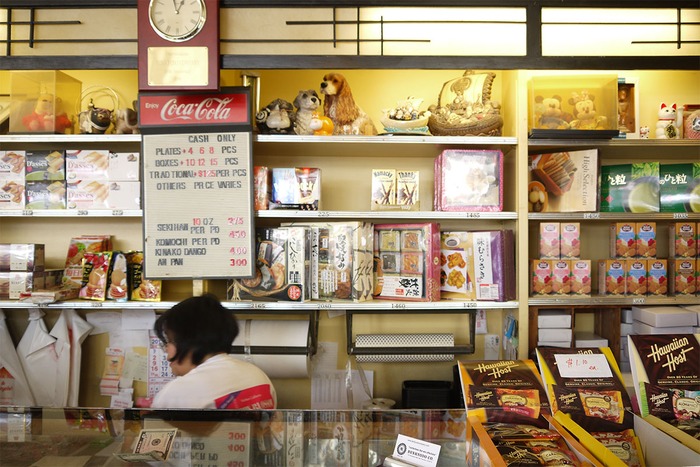 Old-fashioned American Coca Cola signage along with traditional Japanese rice sweets: the family business founded in 1906 is an example of traditional culture in a new land!
Over four days in two weekends, the Festival attract 200 thousands of visitors.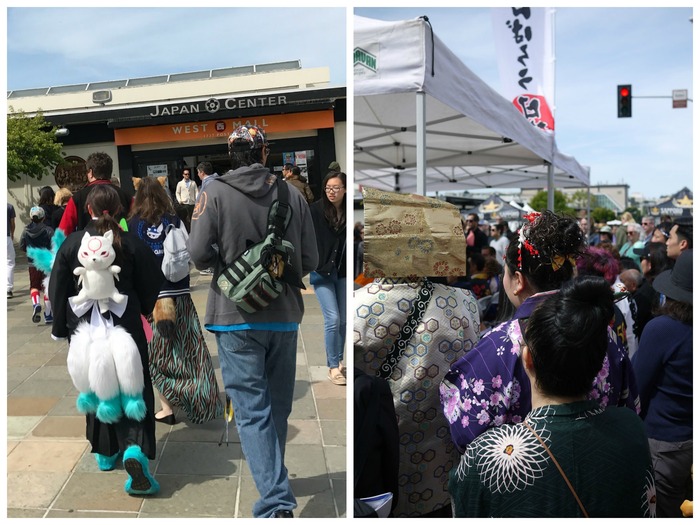 In a culturally-diverse city like San Francisco, Japanese culture is recreated in all kinds of ways by people from all kinds of backgrounds.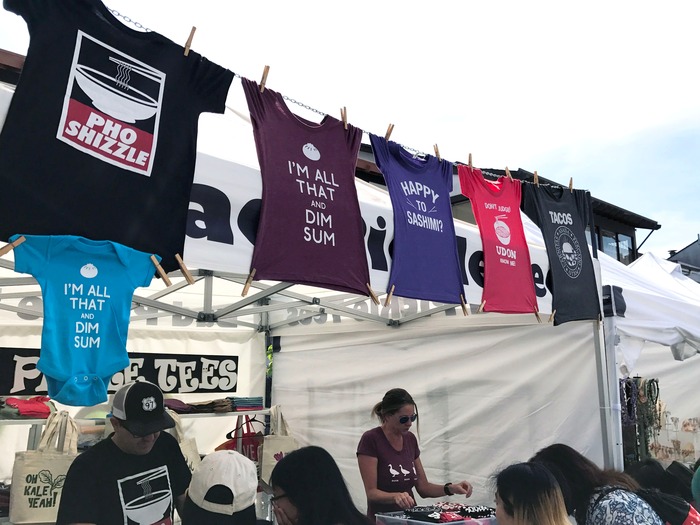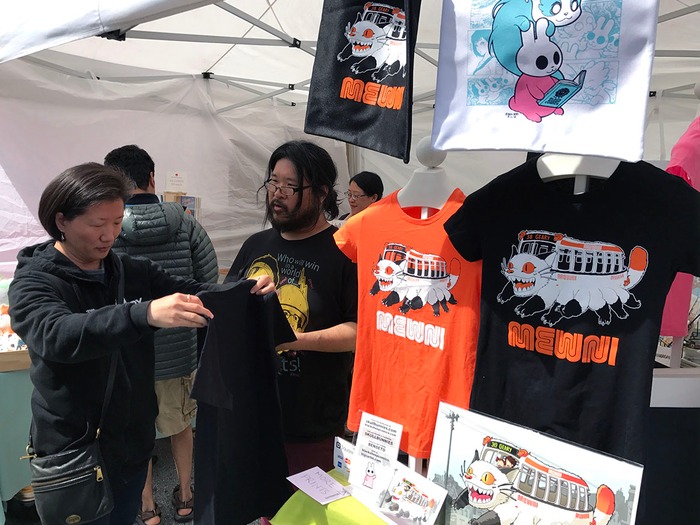 We all love Miyazaki and the catbus from Totoro. We definitely love this MEWNI—a combination of MUNI, the bus system of San Francisco, and the Totoro catbus!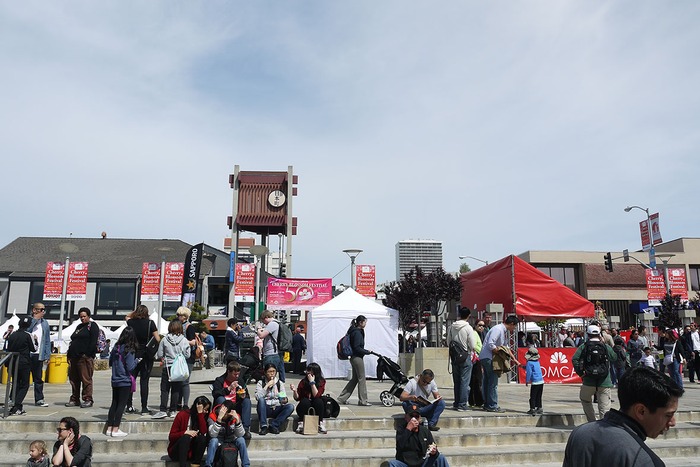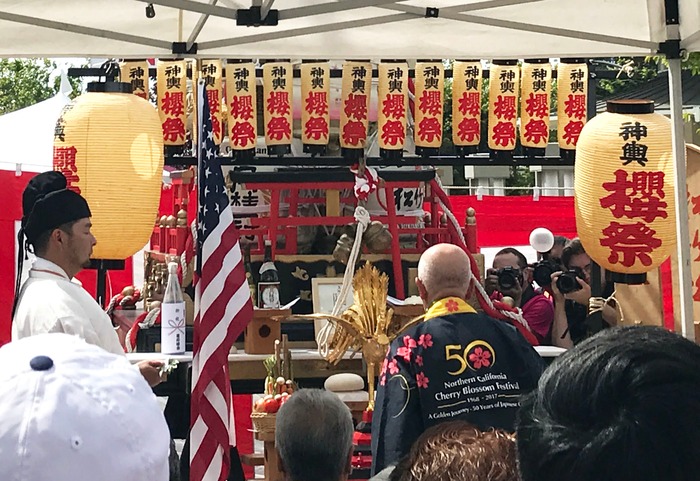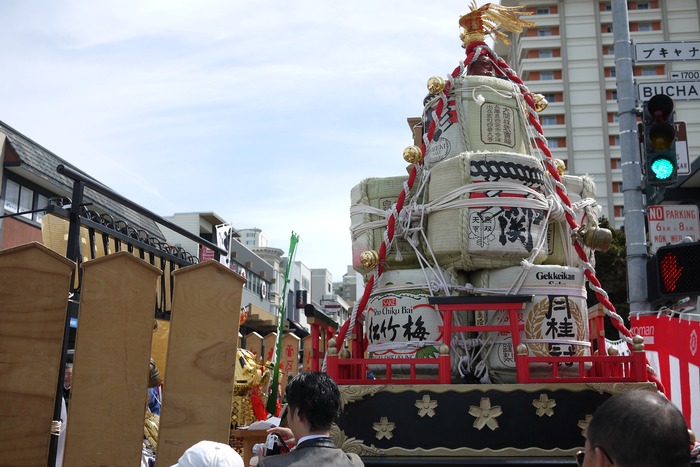 The faces of long-time artists and business owners is what gives the sense of belonging at the Cherry Blossom Festival. Thanks to them, the festival becomes a home and center stage of Japanese culture taking on new life in another country, and that's the best part of it all.
Flavors of Japan
► ► ► Pinkoi in Tokyo | Visit 21_21 Design Anatomy Exhibition with Us!
► ► ► 8 Cities with Magical Flower Tunnels of Love
► ► ► What Japanese Handmade Tableware can Teach You About a Good Meal
Text: Melissa
We at Pinkoi always cite the bloggers, designers, and content creators whose ideas we post. Any missing credit is unintentional and will be corrected upon notice. If you wish to share our content for personal use, please do so under these conditions:
Give Pinkoi credit and include a direct link to Pinkoi.com.
Must stay true to the original article; no word, picture, video and logo can be altered or added.
Read full ethics policy