Glitter Your Way through the Holidays! 5 Ways to Sparkle and Shine
Glitter tongues, glitter beards and glitter butts might have been some extreme glitter trends, but it's holiday season and nothing should stop us from the magic of sparkle and shine! Holiday magic is in the air so you must open the door and let it in. Whatever your style is, these five must-haves will let you have fun adding glitter and iridescent sparkles to your days!
1. Shimmery Lattes and Holiday Drinks

Source: Coffee By Di Bella
How lucky are we to live in the futuristic 21st century, sipping on holographic unicorn blood and cosmic stardust coffee drinks? In Mumbai, Coffee By Di Bella is offering glitter coffee drinks. Meanwhile, if you remember Viniq shimmery liqueur, recipe developer Dini has a recipe for you to make your own shimmering liqueur at home with edible "Luster Petal Dust" ingredient, backed by science!
2. Kirakira+ app gives your photos and videos natural sparkles!

Source: Glamour
With 12 filters and adjustable shine level ("kirakira" means shiny and twinkling in Japanese), Kirakira+ will shower your Instagram with sparkly magic! The app's popularity blew up after Milan Fashion Week this year. With Kirakira+, photos and videos of everything from a plain dining table to a full-fledged party can be powered with twinkles, shine, bling, hexa and octa polygon sparkles and more, based on actual lighting in the environment.

Source: Kirakira+
3. Glitter tech accessories
Bring in good holiday spirits with sparkling tech accessories that'll brighten up the office! People feel cheerful when they see playful glitters and glam. They're reminders of snow globes from the childhood and Christmas decorations. Liquid glitter is back so don't skimp on the fun!
Good Things Are Going to Happen
Printed Glitter Gold Phone Case / Apple Watch Band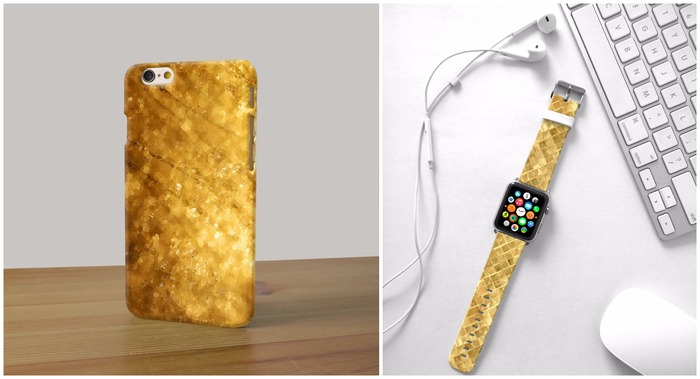 4. Glitter wine glass (or the craft of keeping DIY glitter from falling)
DIY glitter wine glasses, glitter candles and glitter ornaments! You can cover anything with glitter and the key to staying classy and feeling good is to seal in the glitter so they don't fall all over the place. Simply use Mod Podge or watered-down fabric glue as a top coat to coat the glitter. Then, enjoy your sparkly holiday party decorations!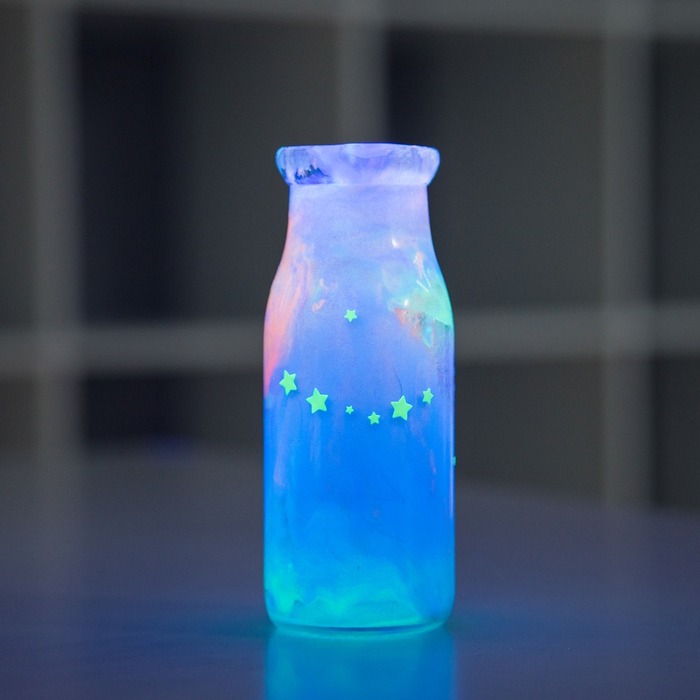 Looking for a mystic glow rather than textured glitter? Look for iridescent lighting in magical unicorn colors! Lighting is a great way to bring out-of-this-world shine into our cozy human spaces. With this kit you can DIY your colorful glow-in-the-dark bottle decors for evening gatherings next to the tree. This project is kid-friendly, too!
Such generous portions of glitter magic only come around every once in awhile. Now is the time we should all be sparkly!

Season's greetings! Every day until 12/25, win cash rewards for all your holiday shopping. Browse gifts by budget, shop personalized gifts, choose from Pinkoi's beloved classics, and give gifts worth remembering!
Sparkle and shine for the holidays
► ► 7 Holiday Candles that Look and Smell Festive
► ► Indie Asian Brands that Ships Under $5 for Christmas Gifting
► ► 7 New Ideas for Christmas Decorations
► ► Find the Right Crystal Jewelry to Wear for any Occasion
► ► How to Live Among the Stars: 10 Interstellar Designs
► ► Luna Love: Don't Miss these Fantastic Designs of All Sides of the Moon
► ► 7 Gemstones and Crystals to Boost Positive Energy
► ► New In! 2017-2018 Winter Fashion Trends from Taiwanese Clothing Brands
Text: Melissa
We at Pinkoi always cite the bloggers, designers, and content creators whose ideas we post. Any missing credit is unintentional and will be corrected upon notice. If you wish to share our content for personal use, please do so under these conditions:
Give Pinkoi credit and include a direct link to Pinkoi.com.
Must stay true to the original article; no word, picture, video and logo can be altered or added.
Read full ethics policy