9 Tattoo Placement Ideas to For Your Temporary Tattoos
Now that you've got some original temporary tattoos exactly your style, you are your own body artist. Where will you apply them? Jewelry tattoos on the wrist, skulls on the arm? Too predictable! There are tons of body placements to experiment original looks with, so be creative and have more fun than others with your tattoos!
1. Back of the Neck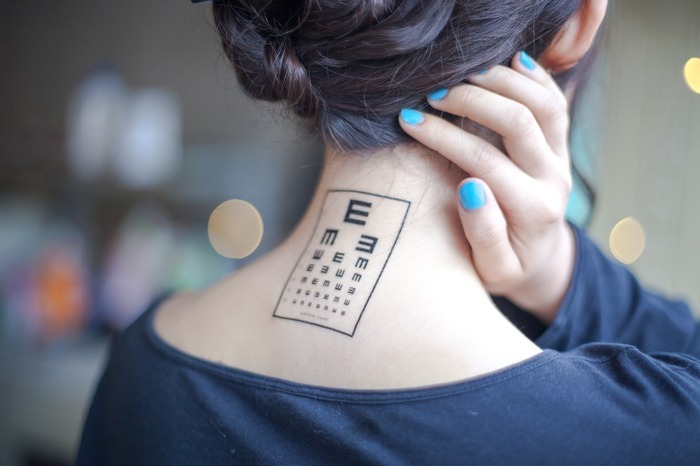 Eye Chart Tattoo from Miss Surprise
Feeling low-key about your new tattoo? Wear it on the back of your neck, where it snuggles nicely behind your hair and collar. When you're ready to show off, just pull your hair into a ponytail.
2. Wrist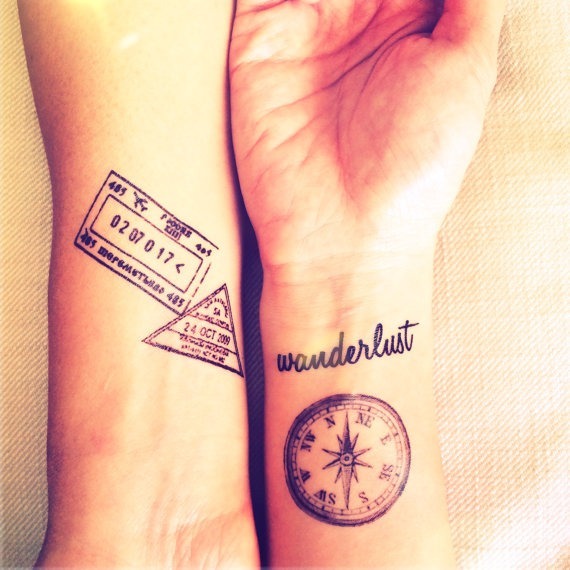 Postmark Tattoo from Story of Ink
It's not just any postmark—but a bar stamp that reminds you of last night.
3. Thigh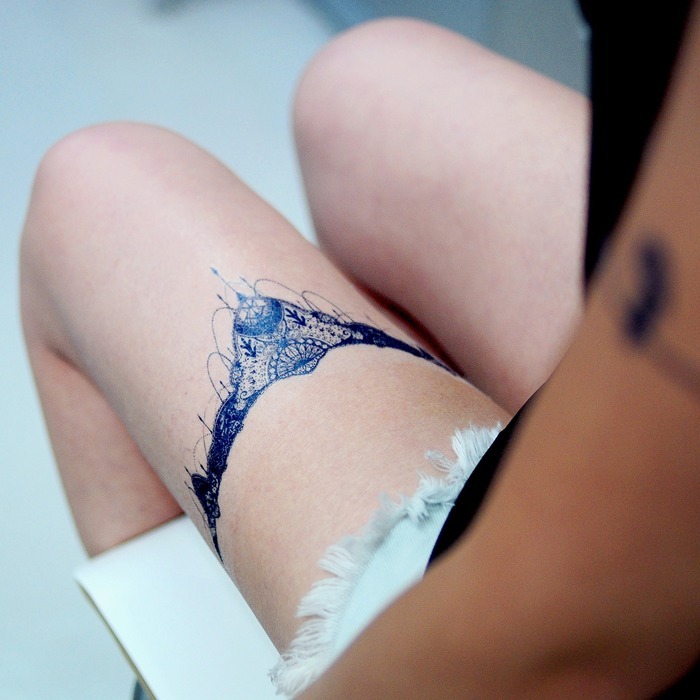 Boho Tattoo from LAZY DUO
Wearing anything on your thigh will make you feel different. These gothic hand-drawn tattoo is definitely not your mother's garter!
4. Fingertips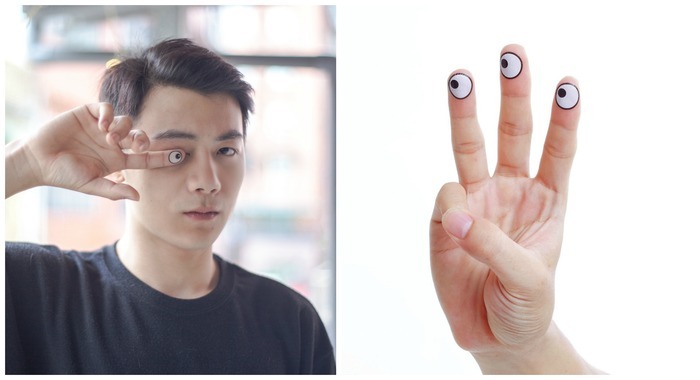 Eyeball Tattoos from Miss Surprise
Be unpredictable with this secret weapon at the photo booth!
5. Calf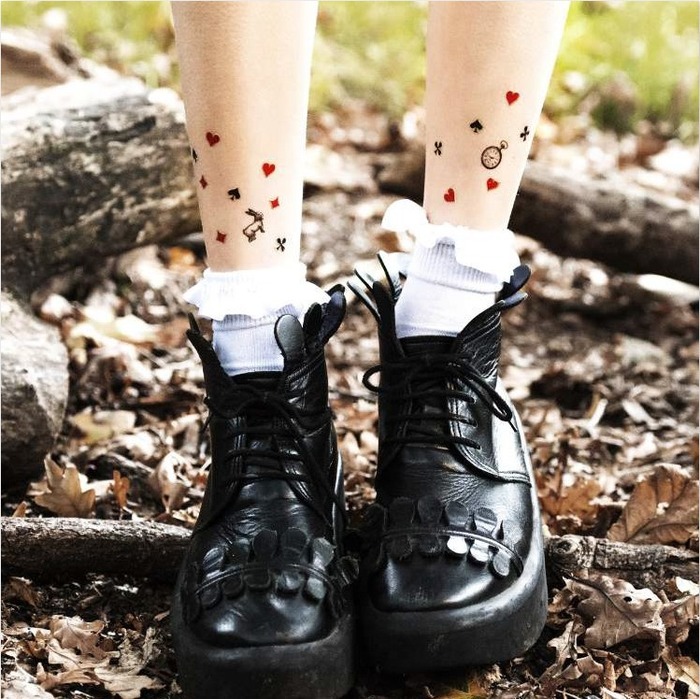 Alice in Wonderland Tattoos from Paperself
Scattered small tattoos bubbling up your calf adds an artistic touch for a pretty feet outfit.
6. Shoulder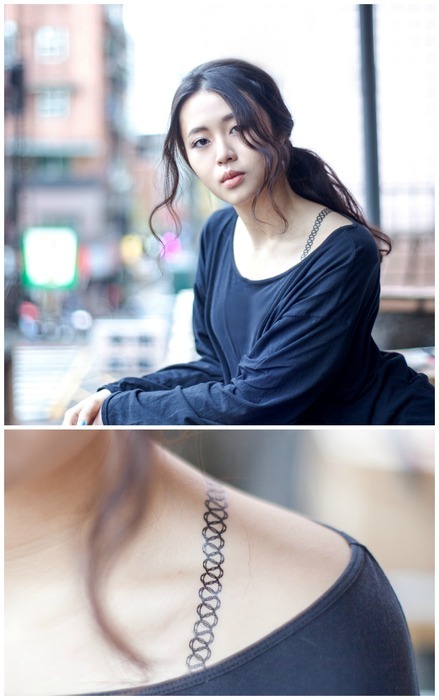 Chain Tattoo from Miss Surprise
The simplest designs can be the most versatile! Move a simple band from the arm to the shoulder and blur the line between your body and clothes with a Gestalt-ish strap.
7. Collar Bone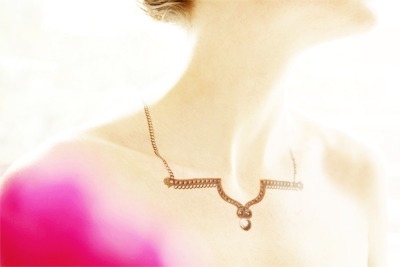 Swinging Twenties Tattoo from Paperself
Love statement jewelry but dislike the weight? The collar bone area is the best playground for elaborate designs minus the clutter!
8. Waist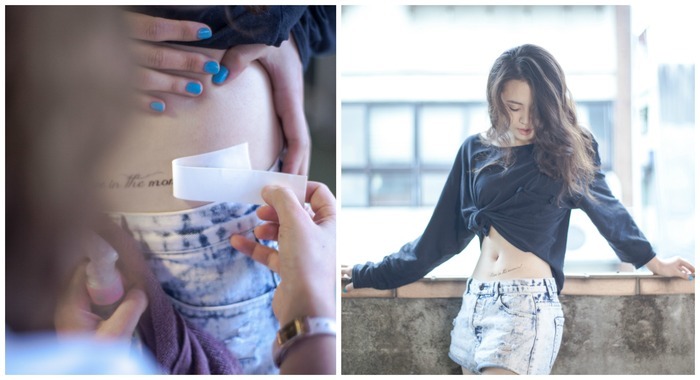 Temporary Tattoos from Miss Surprise
It's cropped top season again! Besides showing your skin, also show a tattoo motto that you stand by. Who says beauty is skin deep?
9. Face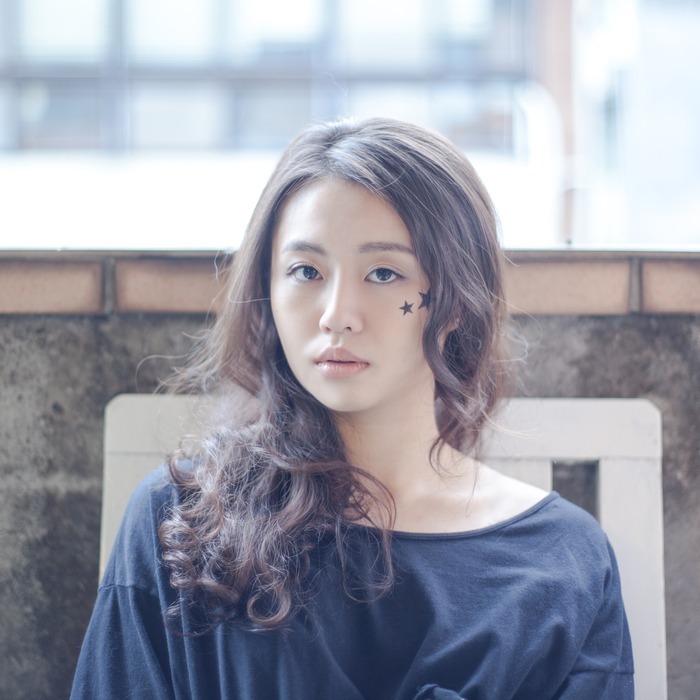 Star Tattoo from Miss Surprise
Face paint and tattoos are common in street fashion lookbooks—it's a challenge to current aesthetics and the driving force to youth subculture!
Temporary tattoos are just that—temporary—so there's no reason to hold back. Don't worry about how it'll look, don't save them for the perfect moment; just keep on creating!
Let's get you started!
► ► ► Pinkoi in Budapest | Get Happily Inked at Fatum Tattoo
► ► ► 10 Temporary Tattoo Styles to Find Your Inked Tribe
► ► ► 10 Delightfully Gloomy Black & White Illustrations
We at Pinkoi always cite the bloggers, designers, and content creators whose ideas we post. Any missing credit is unintentional and will be corrected upon notice. If you wish to share our content for personal use, please do so under these conditions:
Give Pinkoi credit and include a direct link to Pinkoi.com.
Must stay true to the original article; no word, picture, video and logo can be altered or added.
Read full ethics policy