Story & Stuff | First of May Illustrations
Find out who loves what and why, with Pinkoi Story & Stuff!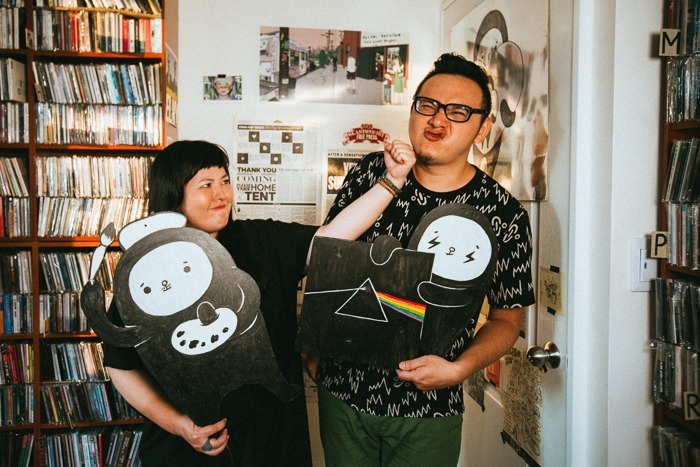 First of May Studio was founded by Elvis and May, named after the special date: his birthday is the first of May, and her name is May.
Elvis is a music junkie, and May is a scavenger and illustrator. He takes rice porridge for breakfast, while she reaches for hamburger. When they met in 2003, they immediately hit it off, and took the relationship to a creative path with their brand, First of May. Their passions for music and for drawing nurture each other, giving life to arts that are melancholy, loveable, and all the more amusing.
To meet this duo in person, we arrived at the Tamsui River in Taipei, where their studio is, and finally saw Elvis and May, who seem to be as open and free-flowing as the river itself.
Elvis works with music and May works with illustration. Tell us how you started a studio together!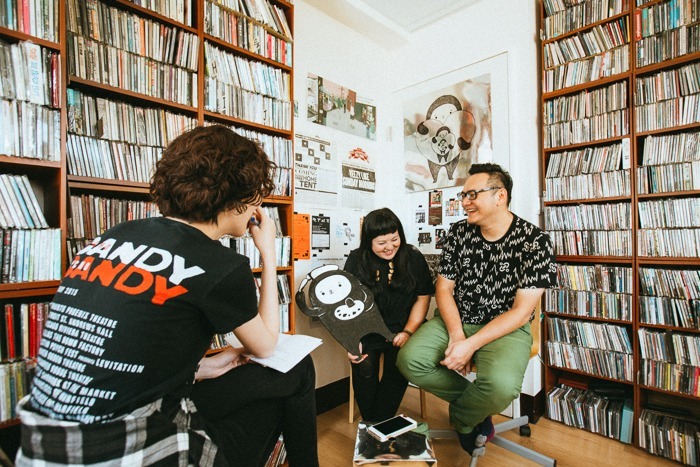 May: I love drawing and he loves music, so it's natural that our interests feed each other's creative work. We started blogging with his writings and my drawings everyday.
Elvis: I kind of made her do it, because I could only commit to things that are related to good music. For example, as long as a shitty movie has good music, I would still love it. I'll even love the poster because of the good music.
May: He would even love ugly posters with terrible fonts.
Elvis: And band t-shirts too! I'd love an ugly band tee because of the band. I'll still think it's cool. Another example is the pennant garlands we made—I love the love song collection the most.
What is the love song garlands? How did you pick the songs to go into it?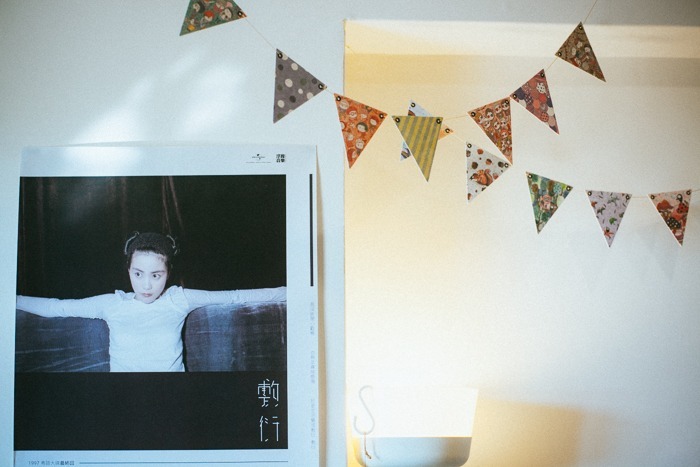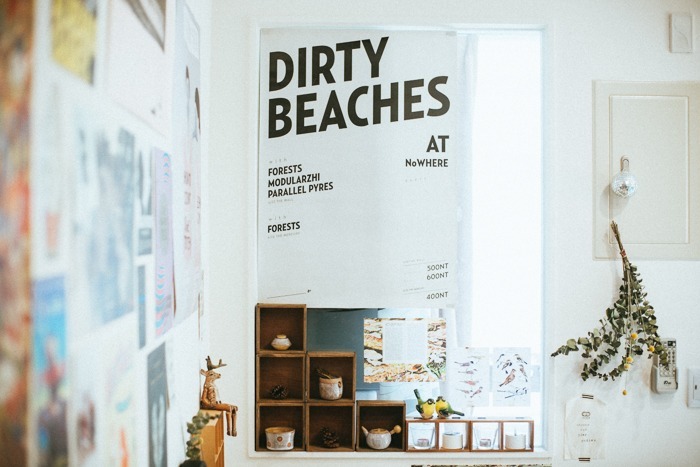 May: We had 8 pieces of flag for the garland, and decided we wanted all of them to be about love songs that we both love. It took Elvis so long to come up with his list!
Elvis: But you turned down my list!
May: Yeah, some of those songs were just okay.
Elvis: They were okay to you but awesome to me!
May: Well, some songs had really abstract lyrics and not very visually inspiring to me.
Elvis: Still, I try to make her draw about whatever I consider good music to be.
You met through a friend in 2003. What was your first impression of each other?
So skinny.
Elvis: She was pretty skinny then!
May: What do you mean, then?
Elvis: We were both skinnier back then!
May: I liked him, and he looked a little mixed. Back then!
What do you admire the most about each other?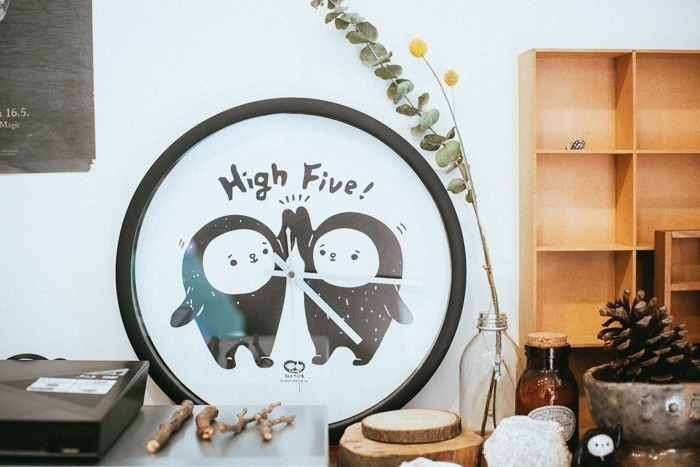 May: I think he's awesome for being able to churn out blog posts after posts.
Elvis: That's lame! I admire May for being interested in so many things. She makes pottery, she sculpts, she goes bird watching. Me, I have very limited hobbies. Whenever I get sick of music and needed to get my mind off it, I realize, uh, there's nothing else that can hold my attention.
May: He really doesn't have hobbies. No, you play xiangqi (Chinese chess)!
Elvis: Oh yes, I like to play xiangqi online on my phone.
May: And his opponent would always complain about how slow he is.
Elvis: Anyway, I admire how curious and passionate May is.
May: As for Elvis, I admire his positivity and problem solving skills. I'm more emotional and get nervous easily. I stress out when we run into situations at a craft fair, but he never does.
Elvis: Yeah, whatever happens, we'll deal with it.
Why did you move to Tamsui?
It's a special place to us with special memories.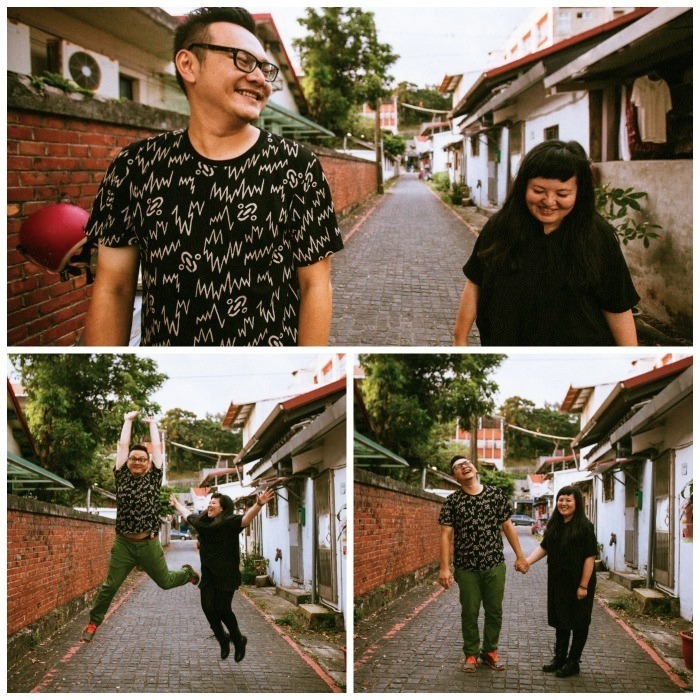 Elvis: It's where we had our first date. And we both like water. We can walk to the river any time from where we live. A friend also said that May would like water because she is a Pisces—they tend to gravitate towards water, because it makes them comfortable and feel like themselves.
May: We've always thought we'd move here some day, so we tried to find an apartment in Tamsui on Elvis' birthday.
Elvis: We saw this place and decided to rent it that same day.
May: It was a bit of a sudden change, but I also feel like we were meant to move here.
Elvis: We're both like dreamers and idealists, or maybe just impractical. We don't really worry about trying to go after the right path that everyone else approves of. She's Pisces, and my moon is also in Pisces. We might move away again anytime the idea strikes.
♥ First of May's Favorite Find: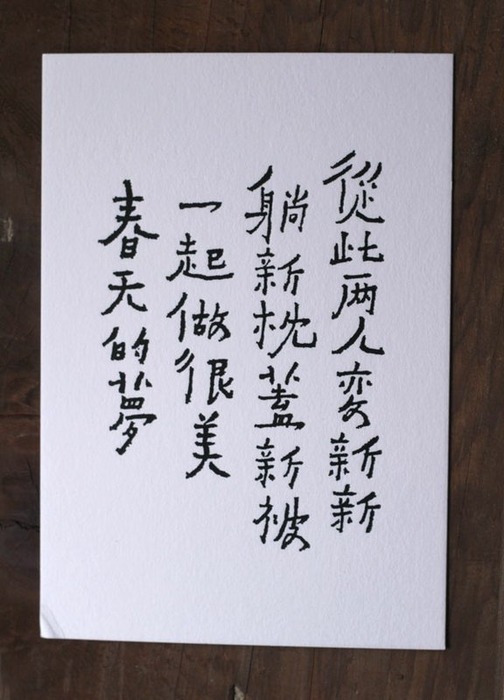 Tamsui is a new beginning for us. To live simply and happily is our goal for life.
Why do you describe yourselves as "gloomy and loveable"?
Because we're both pessimists, and…
Elvis: Many people envy us for not having to go to work, but we have to deal with a lot of uncertainty, and get worried about what to do next. It's like the day after a musician had a hugely successful concert—the question is what's next? Sometimes we question ourselves if we've really made the best choice. What if one day no one follows us or likes our work anymore?
May: Most friends in our age are married and have kids. They envy our freedom, but the price of freedom is uncertainty in life and finances. But there's still something loveable and we're still hopeful about it, because we don't ask for much. We just want to keep doing the things we love.
You're very much known for the Fatty Stories collection. What inspired you?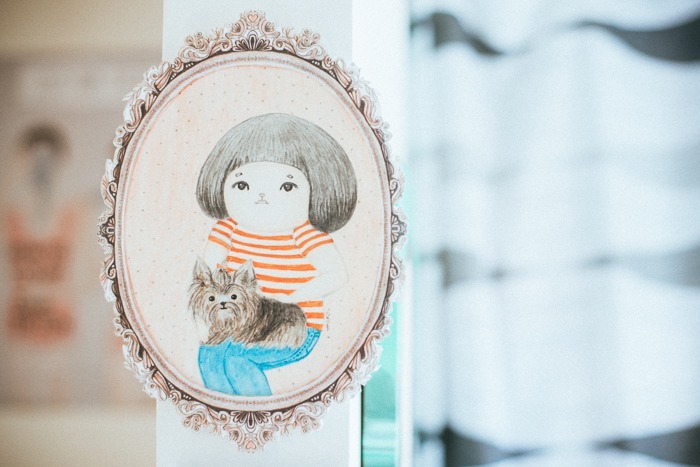 May: Every illustrator has a signature image, so when we started our blog, we developed a main character. Colored drawings are much more common, but I like melancholic black and white drawings. So I decided to go with black and white when developing a character.
The original idea for Fatty Stories came from one of my self portraits. I really liked it and decided to keep drawing her. I remember showing it to Elvis and told him I drew a super cute fatty!
Elvis: And I said, gosh that's ugly!
May: But it's a drawing of me! So I said no, it's not ugly, it's adorable and funny! I don't know why I was so confident at the time. I just went with her and kept on developing our brand image around her.
Fatty Stories took place in many places, from the elevator to the swimming pool to priority seatings and the movie theater. Are these all real stories?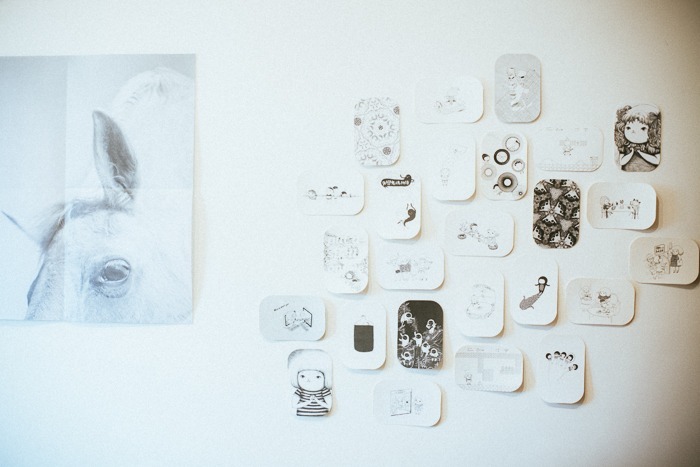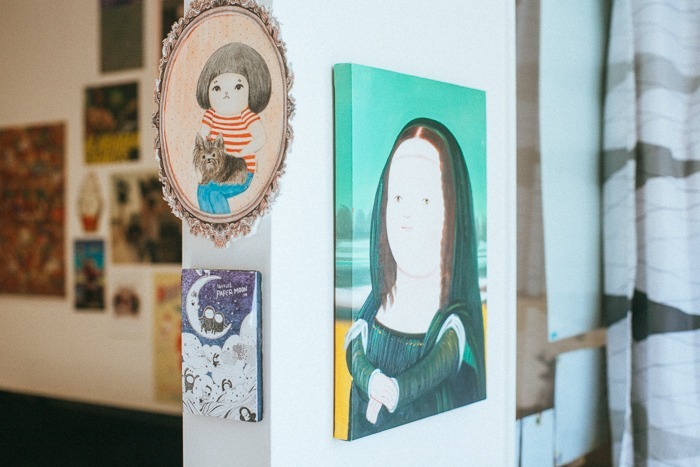 May: Yes, they are. Elevator is one of the places that makes Fatty sad. Fatties are generally more sensitive, and somehow I often end up as the last person entering the elevator, and everytime I go in, the alarm goes off! The theater too. Some theaters have really small seats, and people couldn't get past us if we were sitting there. It makes me sad.
May, who inspired your art?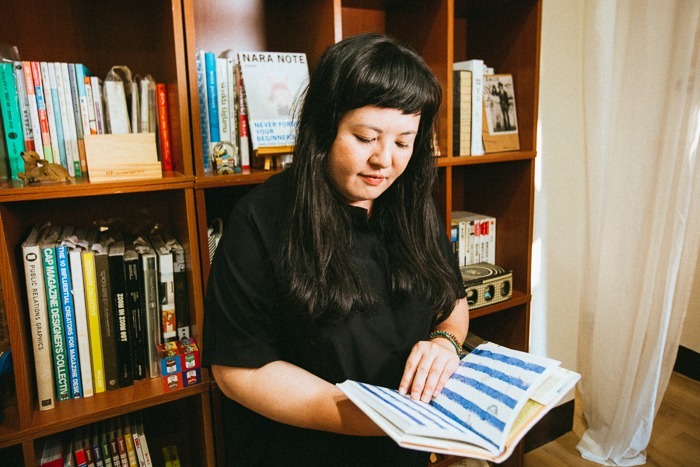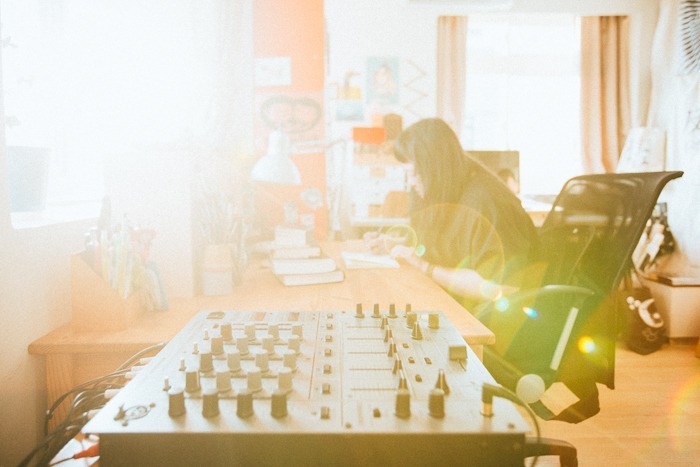 My mother.
May: My mother draws really well and she can cook as well. She used to help with all my art class assignments… it's ridiculous now I think back. But her interest rubbed off on me and I've enjoyed drawing since I was young. Other than my mom, my elementary school teacher was also talented. She could easily come up with a drawing in the classroom, and I think she was a big influence to me, too.
Besides your signature patterns and black and white style, what other styles do you like to draw in?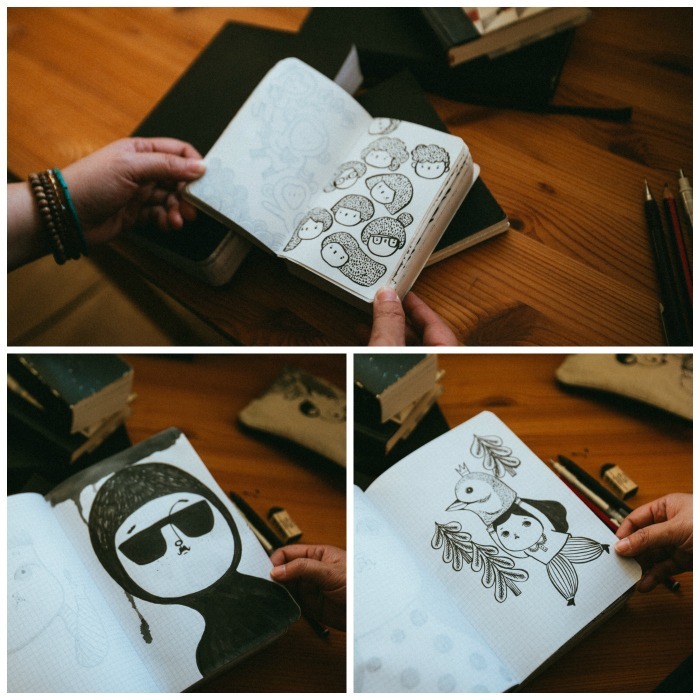 May: I love the woodland theme and animals, so I like to include horses, deers and birds in my drawings and in my real life. If I weren't an illustrator, I think I would be an ornithologist and study birds all day!
Elvis: Remember when we were in Finland, or was it Sweden? You were taking photos of the birds, nonstop! That was crazy. Smartphone photos are just that.
May: I wasn't taking photos nonstop. I was looking at them, and just really happy to see birds.
Elvis, when did you become a music addict?
I fell in love with music ever since I listened to Ukulele (a 90's Taiwanese duo)'s Yellow Ribbon on the cassette tape.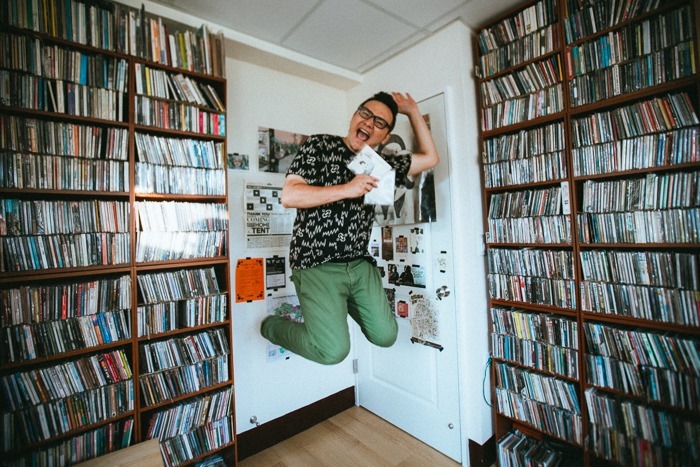 Elvis: Since then, music became a big thing in my life. I also fell in love with Faye Wong's music when she was still Shirley Wong, such as her Mandarin albums Mystery and Sky, then traced back to her earlier Cantonese songs. I also listened to other Mandarin singers such as Stella Chang and Harlem Yu. Then, in college, I discovered western popular music like Alanis Morissette. Then I got into less popular music, or "unpopular music".  
What do you mean by unpopular music?
I mean music that wasn't mainstream in Taiwan at that time, including alternative music and independent labels such as 4AD, Rough Trade, or Merge, etc.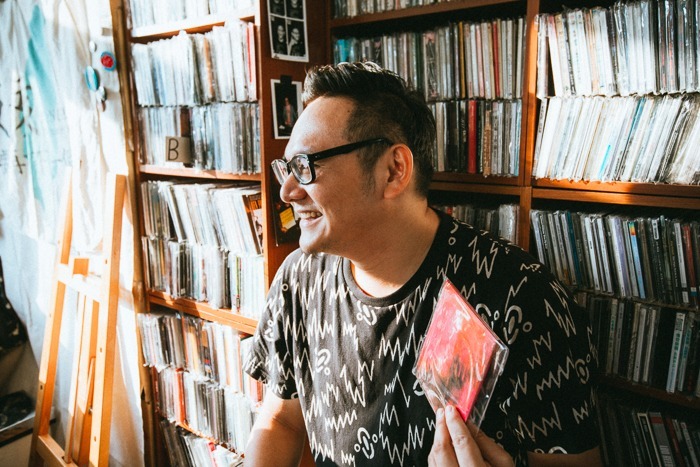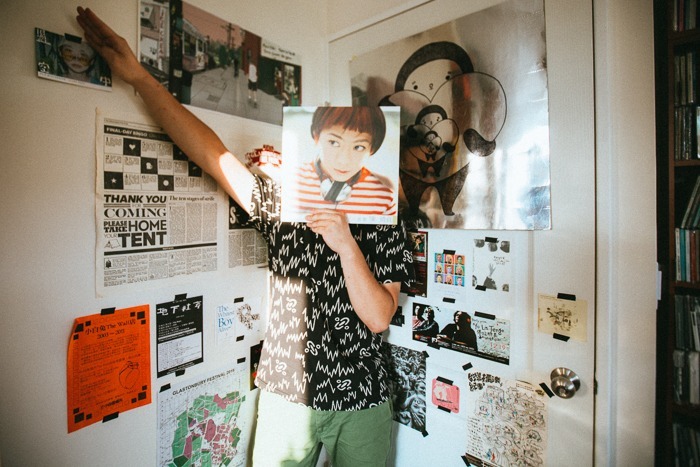 Elvis: While in college, I went to see Vanilla Sky at a discount movie theater near Tamkang and also listened to the soundtrack, which opened me up to weird alternative music. Compared to popular artists like Bon Jovi, Matchbox Twenty or Air Supply, Vanilla Sky soundtrack sounded really different. I wanted to dive deeper into music, and through the soundtrack, I discovered Red House Painters and an amazingly sad genre called sadcore. While I enjoy exploring a lot of non-mainstream music, listening to more music doesn't mean you're better than anyone else. What's meaningful is to be able to be touched by music. It's a wonderful feeling to let music touch your heart and make you cry.
♥ First of May's Favorite Find: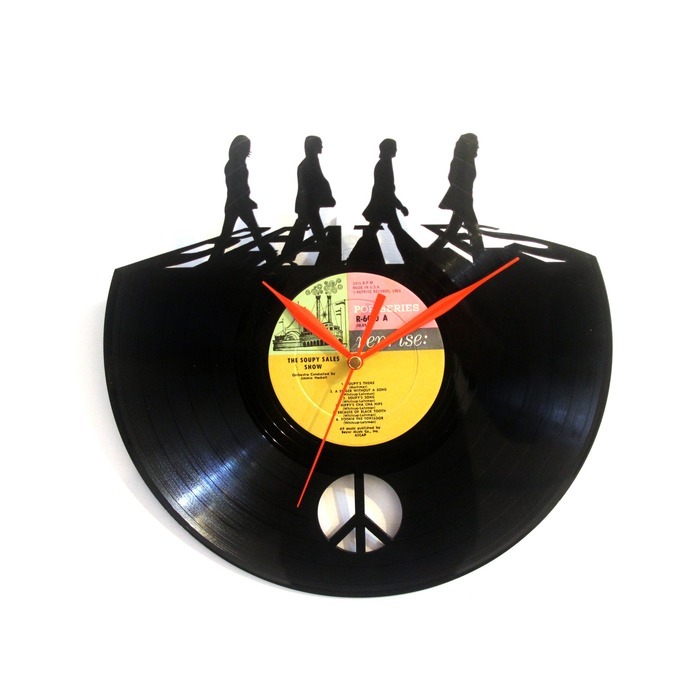 Music is the best thing in the world. So is the Beatles!
Do you prefer the old days to the current times?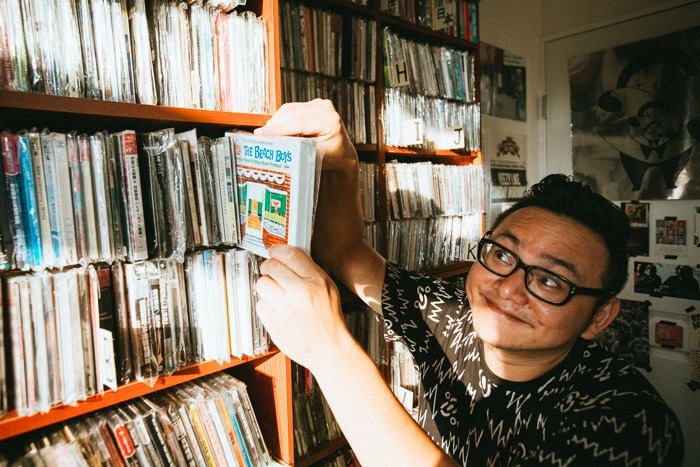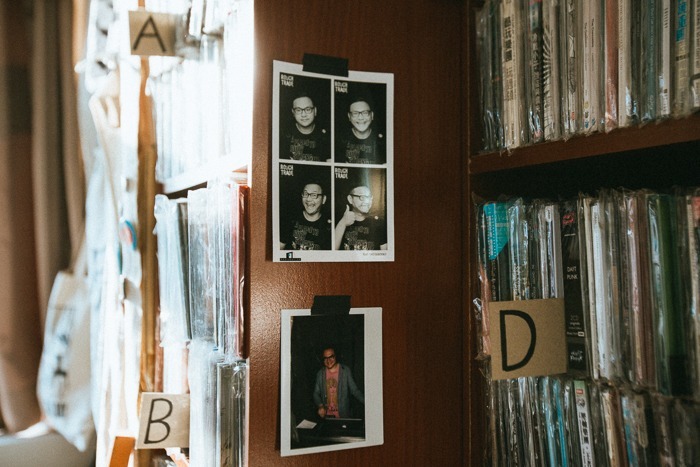 Elvis: Yes. Before there was streaming, I used to hang out at the record store near Taipei Main Station to discover music that I learned to love. Those days, discovering the right music was like some kind of destiny. But now with the internet, you can get whatever you want, and digitalize every album that used to be physical, and we don't have as many personal stories of connecting to certain music anymore.
What's it like to start a business with your SO? What's it like, really?
If you want to break up with someone, just go start a business with him! —May
Elvis: Yeah, there are many struggles to building a brand with your SO. We usually have different opinions, and sometimes work discussions turn personal, sometimes personal discussions lead to work.
May: We used to fight a lot. He gets in my way and I get in his way.
Elvis: In the beginning neither of us wanted to compromise. We each had our way of doing things. For example, with a Facebook post, she'll have an opinion about my text and I'll have opinions about her drawings. We'd get frustrated by things not being perfect as the way we each expected!
May: And all that just for a Facebook post.
Elvis: Yeah, just a Facebook post that'll be forgotten in two days.
May: So now we've reached this balance—going solo without breaking up. We take charge of different areas, him with text and me with drawings.
Elvis: Back then we both hang on very tightly to our ideas of perfection. But later I realized my idea of perfection is not going to be perfect in other people's eyes, anyway. So we decided to delegate. When we really had to work together but disagreed, then we try to both step back for the big picture.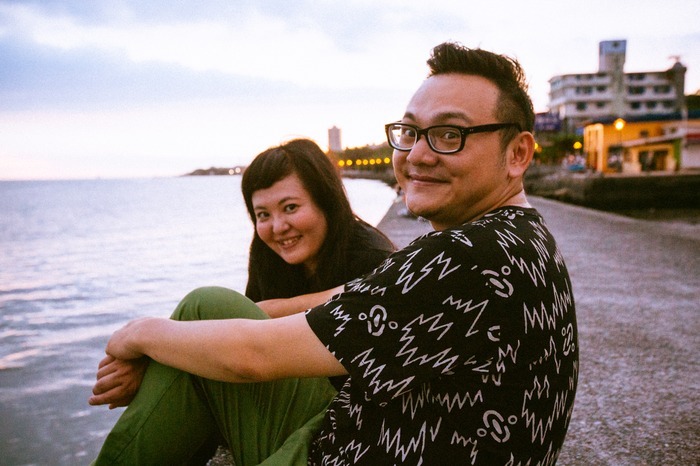 After the interview, we headed out towards the Tamsui riverbank with May and Elvis, hoping to catch the sunset and say goodbye to the lovely day. "Hold hands!" We prompted. Elvis chuckled and reached for May's hand under the lavender sunset. "Duck blood and tofu for dinner!" Elvis nominated a dinner place, and turned towards us: "Want to join us? We won't tell!" And grinned at May. Dreamers, creators, non-traditionalists—they are First of May.
High on life!
► ► ► Story & Stuff | Retro Insatsu JAM
► ► ► Shop Next Door | Yarnball Illustrations & Shared Memories
► ► ► Pinkoi Shop Next Door | A Kind of Cafe & Creative Studio
Text/Photography: Kat
Photography/Video: Nicholas
Translation: Melissa
We at Pinkoi always cite the bloggers, designers, and content creators whose ideas we post. Any missing credit is unintentional and will be corrected upon notice. If you wish to share our content for personal use, please do so under these conditions:
Give Pinkoi credit and include a direct link to Pinkoi.com.
Must stay true to the original article; no word, picture, video and logo can be altered or added.
Read full ethics policy