Shop Next Door | 191 Feng Succulents & Arrangements
Discover the physical storefronts of Pinkoi shops in Taipei with Pinkoi Shop Next Door!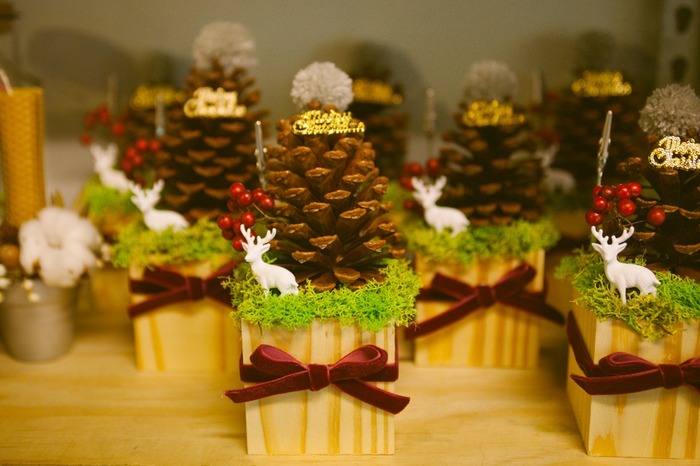 This winter is very cold! Luckily, the cozy studio of 191 Feng has their doors open for us in the Luzhou district of Taipei. Before we even reached the top stairs to the second floor, we began to smell the pine cone candles and coffee aroma floating down the stairs. Owner Chingfeng greeted us cheerfully: "Hello! Welcome! Come on in!"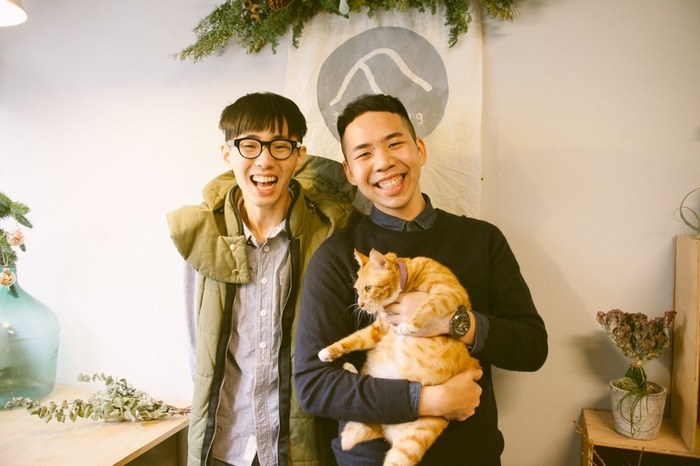 191 Feng studio is flooded with natural light coming in from the window, as hanging dried flowers, Christmas wreaths and succulents decorate the entire space. Outside it may by gloomy and gray, but here at 191 Feng, we are very warm and comfy!
When did you pick up floral arrangements?
I wanted to make my family feel special.
Chingfeng: I remember watching a TV show when I was in high school. It was a lifestyle show hosted by a florist who would transform ordinary pots and pans into some really nice home decor. I saw it and thought, wow, I'm not alone! Since then, I decided to create more handmade decors to create a lovely home.
Your space make us feel so at home! Tell us about it.
We like to use a lot of wooden furniture and greenery to create a clean, simple interior.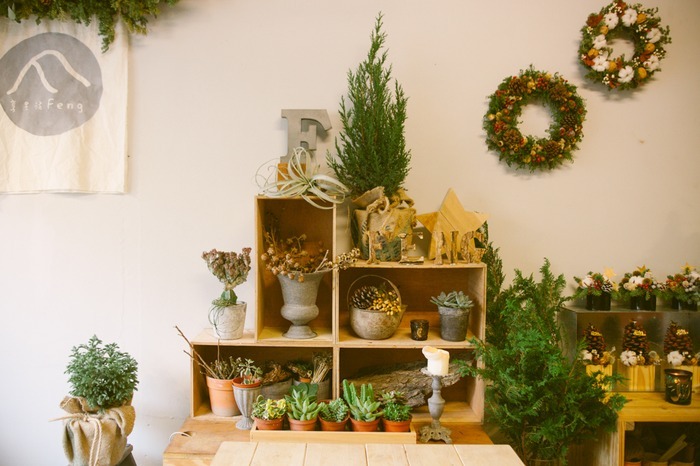 Chingfeng: This studio is a renovated space. Although it's not spacious and not your usual retail space, I love taking care of it and putting out seasonal displays. For example, I love our desk here next to the window. The natural light is very comforting and from here, I can see everything happening outside. When I need ideas, I go to the sofa area. The cozy corner reminds me of home, especially with our cat. (looks at cat lovingly)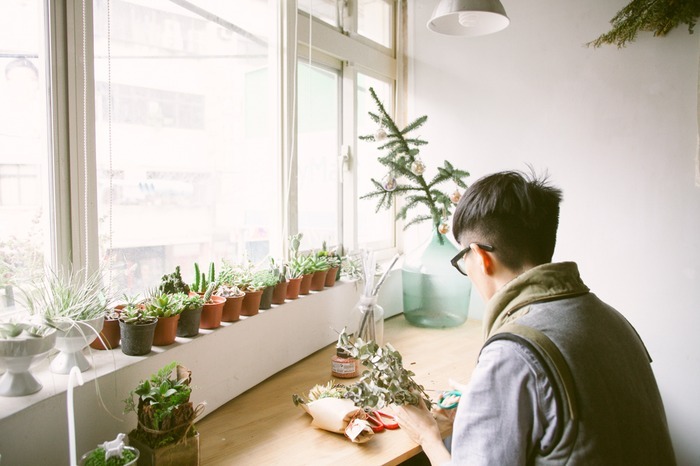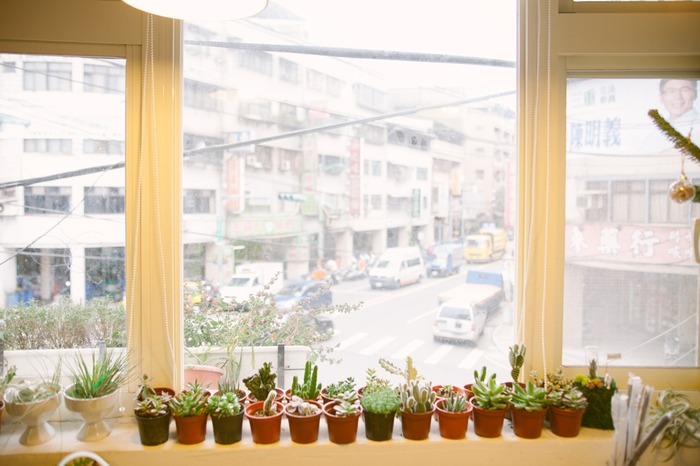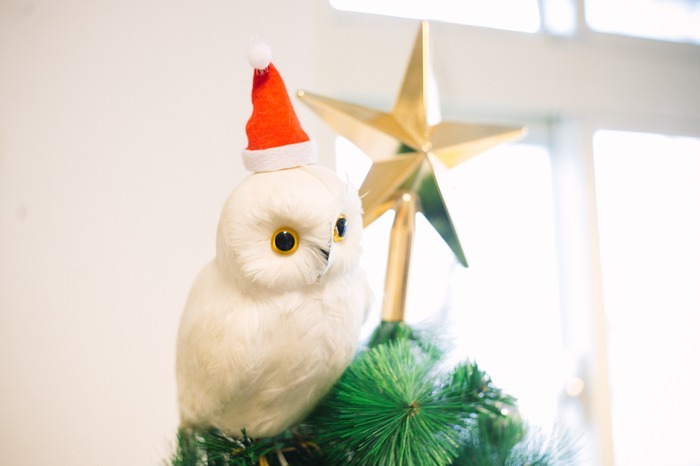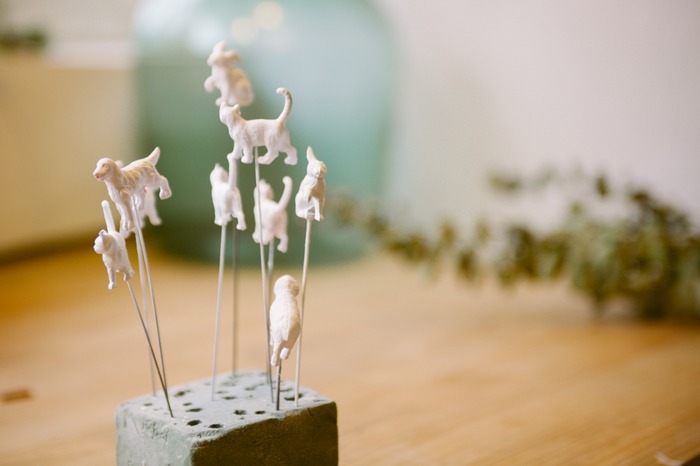 Why did you decide to sell on Pinkoi?
Chingfeng: Pinkoi is different from most selling platforms. We used to sell on other e-commerce websites, but the market really was not right for us, so we didn't sell much. But through Pinkoi we met many customers who love handmade items, plants and anything creative. Pinkoi is a community where people share and create stories.
Tell us what's special about your Christmas holiday bouquet?
I think scents are the memories of our emotions.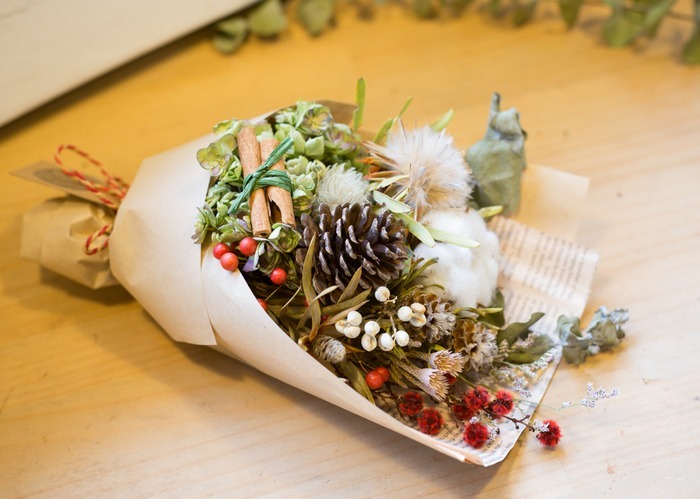 Chingfeng: For this bouquet, we use flowers with noticeable scents, such as cinnamon and eucalyptus, because I believe scents are memories of our emotions. When I give a gift, I hope the receiver would remember that moment—the temperature, the scents, things like that. The other flowers such as pine cones, cotton and red flowers and berries create a festive look, perfect for the Christmas season. I don't use any additional artificial fragrance, because the natural cinnamon fragrance is enough!
Tsungju: Many people are used to having artificial fragrance in dried flower bouquets, which is actually unnecessary. Dried flower bouquets are different from fresh bouquets, and have a natural hay scent that makes you feel like you're skipping on a country road. We think scents can really awake your visual imagination, and so we hope that receivers of this bouquet will be reminded of nice memories because of the scent.
Please show us how we can make one by ourselves!
What are you wishing for in Christmas?
Chingfeng: Do we have to? Well, for a personal wish, I hope to have a lasting relationship with my SO. As for career goals, I hope to learn more things about plants and arrangement, and create more diverse projects. Also, I want to have better and deeper interaction with my customers. I'm going to work hard for it!
Tsungju: I want to meet more friends in the field of floral arrangement, absorb more creative energy, and create better designs that people will like! I believe that when you work towards a goal with all your heart, everyone will be helping you out. It is a wonderful feeling. So I hope that I will keep it this way in the coming year!
Behind the name, 191 Feng, is the slogan: "Enjoy your life", a motto that Chingfeng and Tsungju not only live by themselves but also spread out to others. As the year comes to a close, Chingfeng and Tsungju shared with us so many reflections and positive energy regarding life, dreams, and how to persist. May these good vibes take us all the way to the new year!
Visit 191 Feng Pinkoi shop
Visit 191 Feng Facebook
Good vibes for the winter
► ► ► 7 Holiday Candles with Festive Scents and Looks!
► ► ► Holiday Mulled Wine Greetings on a Bottle
► ► ► 5 Ways to Celebrate Yourself This New Year's Eve
Translation: Melissa
We at Pinkoi always cite the bloggers, designers, and content creators whose ideas we post. Any missing credit is unintentional and will be corrected upon notice. If you wish to share our content for personal use, please do so under these conditions:
Give Pinkoi credit and include a direct link to Pinkoi.com.
Must stay true to the original article; no word, picture, video and logo can be altered or added.
Read full ethics policy