Pinkoi Shop Next Door | A Kind of Cafe & Creative Studio
Discover the physical storefronts of Pinkoi shops with Pinkoi Shop Next Door!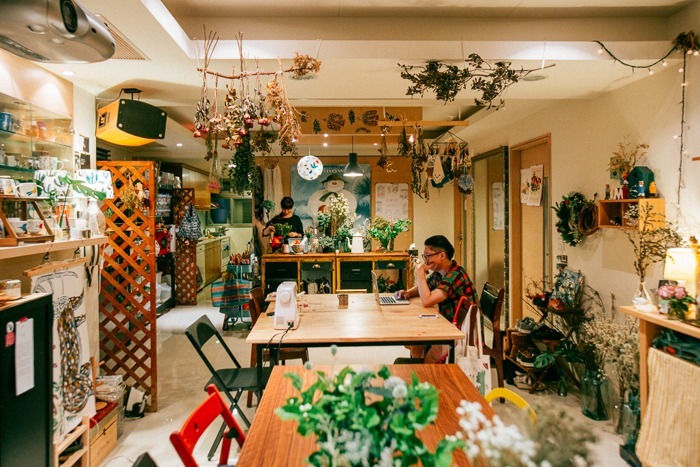 Mon marché, a sort of cafe, a kind of cafe… there have been several attempts to describe the multi-purpose creative space, but A Kind of Cafe in Taipei's Da'An District has become the friendly kitchen and creative studio that Uulin and Pearl imagined it to be.
Like to many visitors here for food and creative flow time, A Kind of Cafe welcomed us with appetizing aromas, lush greenery, and relaxing jazz in a quiet alley on An Ho Road. Uulin and Pearl greeted us with pastries and Mariage Freres tea, and as a cuckoo clock ticked away the hour softly, Uulin chatted with us about his illustrations and view on life while Pearl shared her culinary inspirations and days in France.
How did you name your cafe?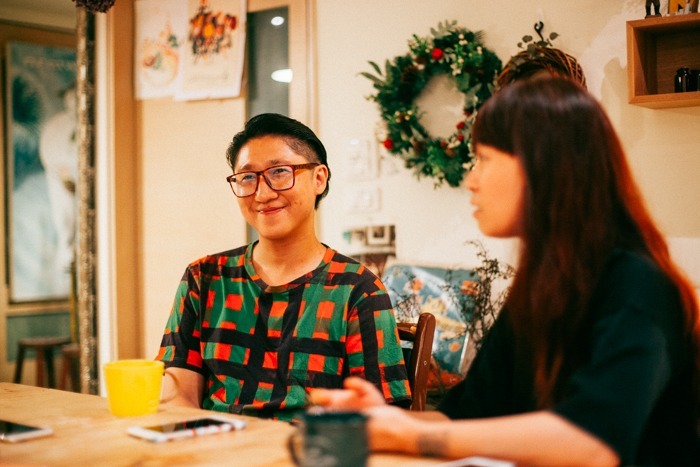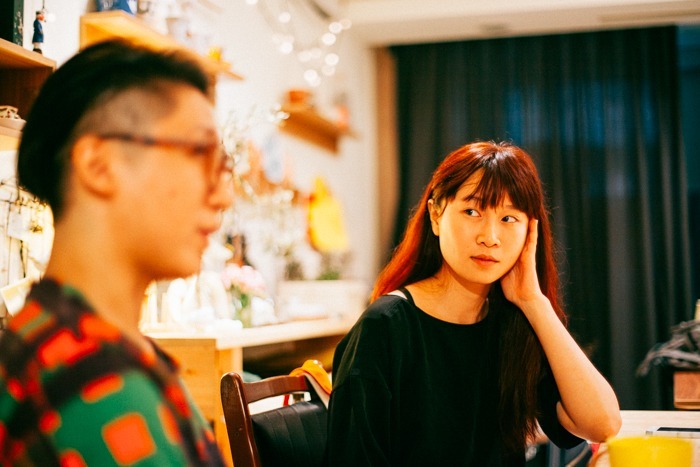 Pearl: We both have many interests, so when we came across a Chinese phrase shi-wu, which sounds the same as "food" but means "odds and ends", we thought it represented us perfectly. The cafe is called Shi-Wu in Chinese. Also, our space doesn't fit into the usual categories—we're a cafe, a restaurant, and a studio all at once. So it's even more interesting when my dad told me that shi-wu spoken in Taiwanese sounds the same as "what," so when people asks "What is this?" It also means "This is shi-wu."
Uulin: Before this, we also came up with the name Mon Marché, which means my market in French, because we imagine it to be a place where everyone comes to browse and pick what they need. But because of the French name, many people thought we were a French restaurant, and this drove Pearl crazy, so we changed it to A Kind of Cafe.
Pearl: We're "a sort of cafe", one of many kinds, but also a kind of our own.
Uulin: Why is it so complicated to explain? Let's stick to Shi-Wu!
Pearl: No no, we need an English name for our domain name.
Why did you start off as a no-menu cafe?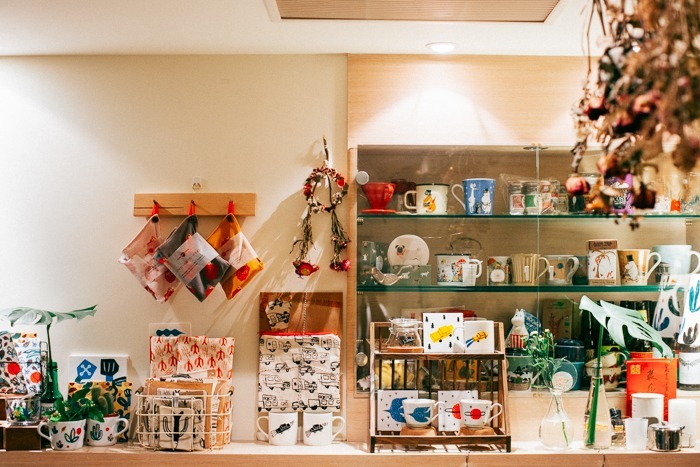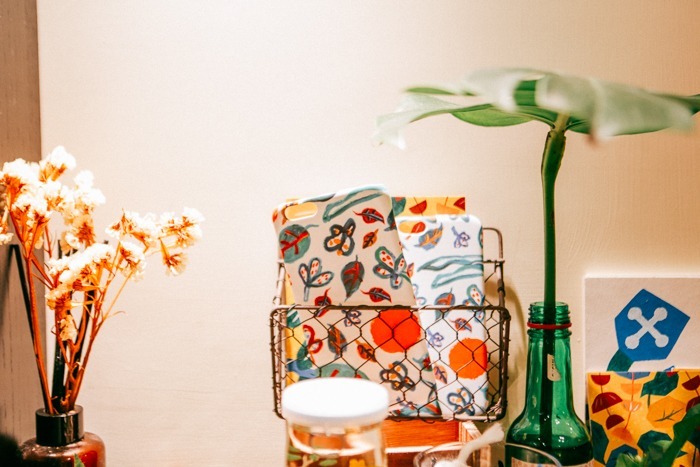 Pearl: It seems as though every entrepreneur needs some labels to start with. But when we first opened the store, I hated being labelled Cordon Bleu and being expected to do everything the Cordon Bleu way. Sure, I have the certificate, but that doesn't mean I have to always cook in the way I was trained. I like to explore my own homey, rustic dishes, trying things and tasting things along the way… this type of cuisine is much more fun and attainable.
Uulin: People have been asking her what the menu is in the past three years we've been working together. But she doesn't have a menu, not even recipes! I think that's why her cooking is so charming.
Pearl: We're more than no-menu… we've got no clue, ha! Customers used to what our dishes were called, but they soon got used to the fact that the dishes don't come with names. Instead, I describe the dishes with words like like "mushy"...
Uulin: ... or "ugly", or "inky".
From the cooking to the dining ware creations, A Kind of Cafe is all about food. How did you decide to start a business about food?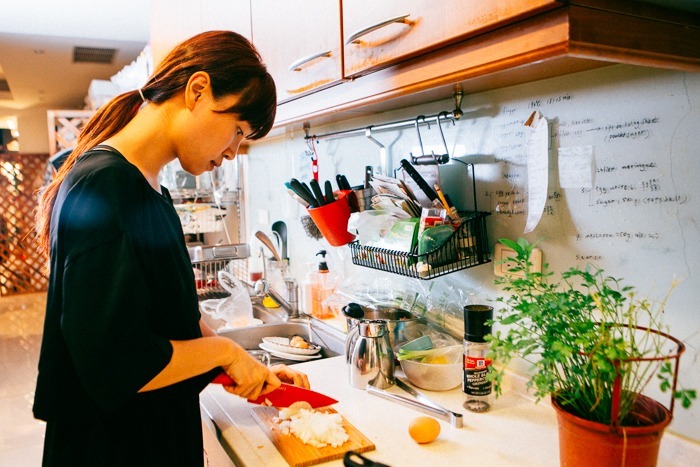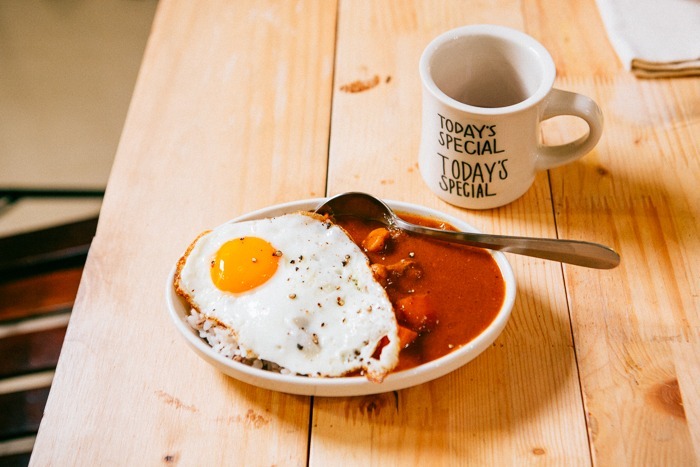 The kitchen is our lab, our studio, and our home.
Pearl: The family I grew up in was very specific about food. My dad was a great cook and always insisted on cooking fresh meals everyday, serving with the appropriate utensils, even if it's just for a take-out lunch box. My conversations with Uulin also centers on food, as well as cooking and family. Through this, I realized our families had very different views on food.
Uulin: My parents were both busy full-time employees, so as a family, we were used to eating takeouts. My dad is a military fan and loves those stainless steel utensils in the army, so eating in stainless steel is a distinctive part of my childhood memory—it looks cold and distant, but they are filled with warm memories. There were times I hated it, because with the fluorescent light we had at home, eating meals was like eating in the jail! But now, I realized it's simply part of my past, it speaks for where I came from, it's in my memories and it's part of who I am.
Pearl: To most people, eating with stainless steel utensils is like eating behind bars, but it is very cool to me. The kitchen is our laboratory, our studio, and our home. After we moved from France back to Taiwan, we decided to wrap our conversations into one concept.
How did you evolve from a coffee shop into a creative studio?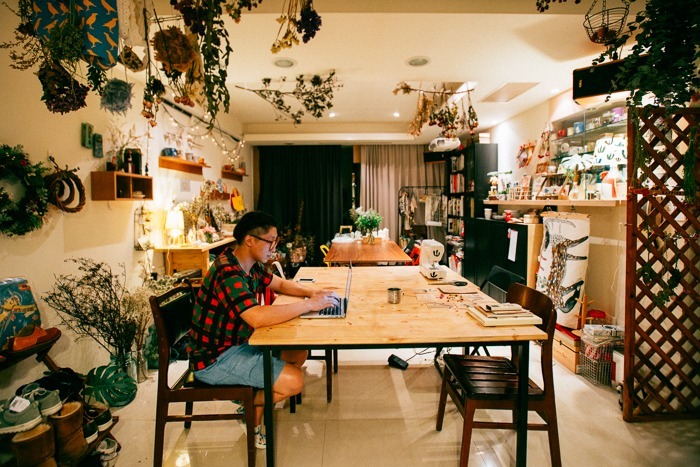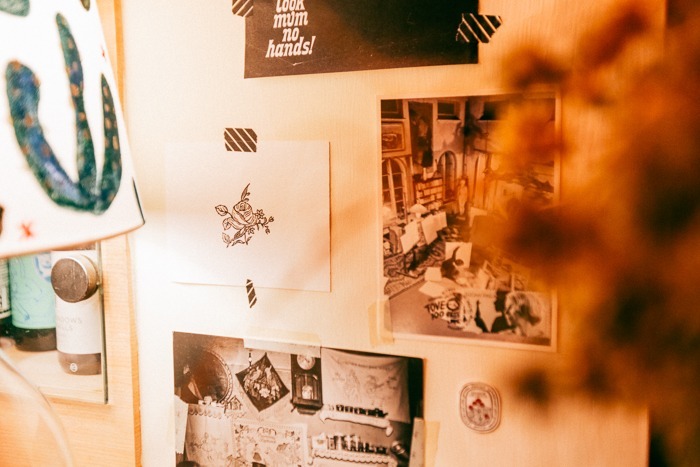 Uulin: We positioned ourselves as a cafe when we opened the store in 2012. But later we realized we almost have fine dining standards compared to most cafe food, and since customers really enjoy our dishes, we began to operate more like a restaurant. We didn't notice it right away, but turning away from a cafe to a restaurant is a pretty big change.
Pearl: Since we operate all day and take our dishes very seriously, I overworked and had a burnout. When our lease was up, we gave up the space to look for another one that would be suitable for our handcrafting pursuits, and moved to this new location in 2015.
We adore your cozy space. Can you talk about your space design with us?
We believe that a space should look a certain way because of the occupant's personality and way of thinking, not because it's trying to be a showroom for a style or a trend.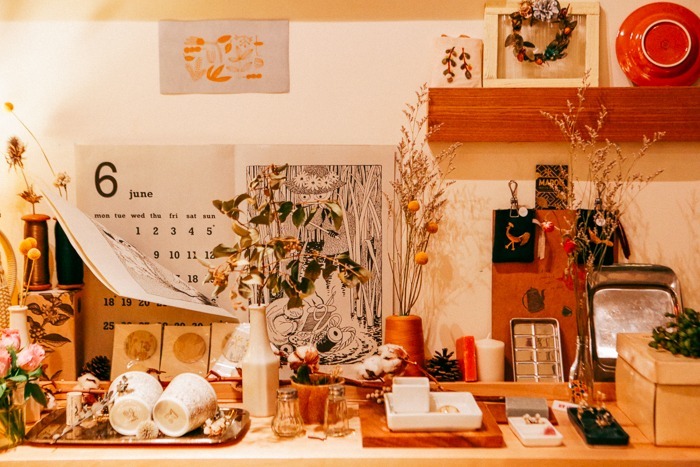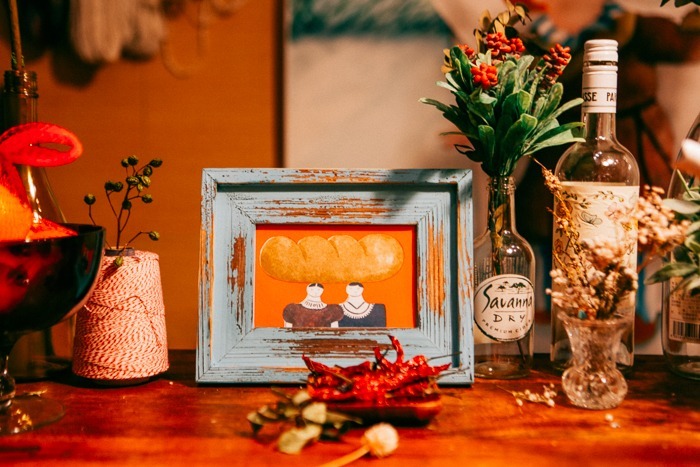 Pearl: Our current space is smaller but more expensive than our previous space. We thought of opening up a storefront again, but after hosting a few events, we realized we love building a community by the way we're running it now. And so we design this place with things we like, such as plants and flowers, and our favorite collections, and everything fits together happily.
Uulin: Whether in Paris or Taipei, our living spaces were shaped by the activities that makes us happy. She gardens a lot, I draw a lot, and naturally it sculpted the way our place looks. I believe that a space should look a certain way because of the occupant's personality and way of thinking, not because it's trying to be a showroom for a style or a trend.
You two have very different backgrounds and personalities. How do you distribute responsibilities for the cafe?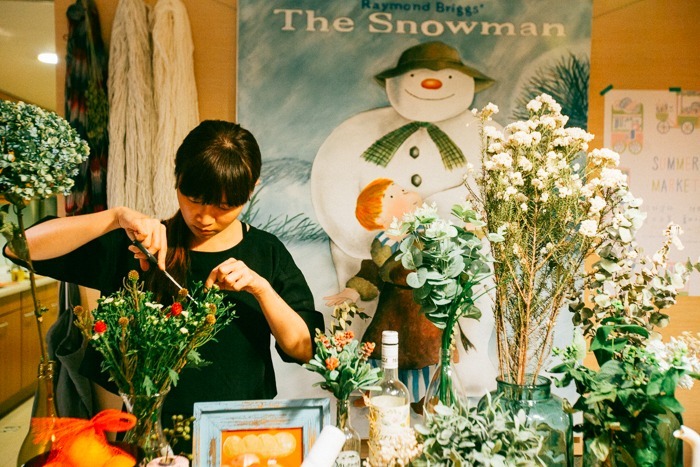 Pearl: I have a better business sense and prefer Uulin focus on his art while I take care of the admins. For example, when he's painting mugs, I'll tell him that mugs with a bird on it will sell much better than those with stars and planets. Or when he's painting too much, I'll remind him when to stop.
Can Uulin talk about your illustrations? 
Things that seem difficult are not inclusive, and so I want to create simple artworks that's easy for people to connect.
Uulin: Personally, when I see an artwork that looks like I could do it too, I feel inspired. So I like to draw a childish style of illustration that makes people feel like they can create it too. It's a lovely feeling. The funny thing is that while children's drawings look clumsy and unskilled, but grown-ups aren't able to fully replicate it.
What's your experience building your business with Pinkoi?
Pinkoi is very open-minded about creativity. You can find Pinkoi working with all kinds of creatives and creativity, while continuously involving more and more diverse creations.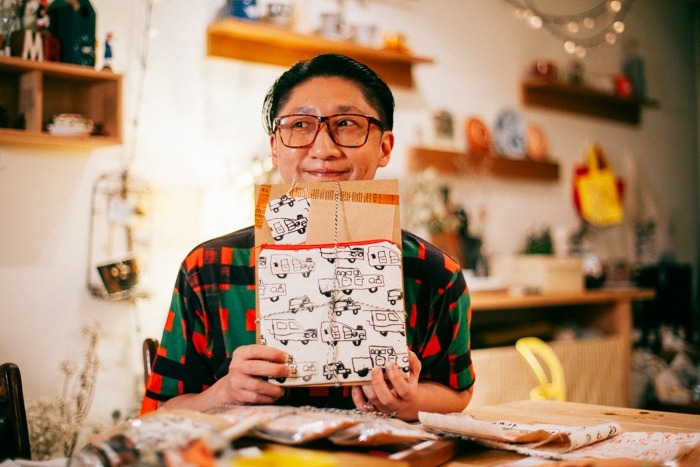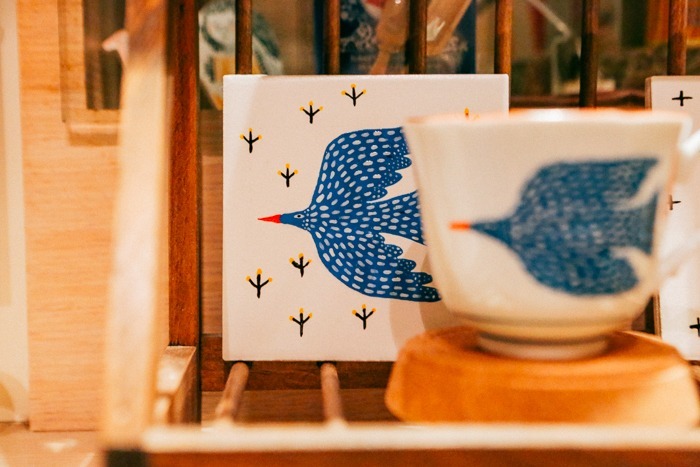 Uulin: We knew about Pinkoi through inBlooom. Pinkoi offers workshops that are helpful for new brands and seasoned entrepreneurs alike. Even though we've considered selling on a big e-commerce platform, Pinkoi allows us to focus more on the product quality, so we stayed here.
Pearl: Other e-commerce platforms are not curated, while on Pinkoi it's easy for me to search and filter the quality products I'm really looking for. Pinkoi values originality and so it's the best fit for us in Taiwan. We also feel Pinkoi is very open-minded about creativity. You can find Pinkoi working with all kinds of creatives and creativity, while continuously involving more and diverse creations.
Share some words with people who also want to start their own business!
Keep doing it!
Uulin: Starting a business is no safety net. You'll doubt yourself a lot. We all have our shortness to overcome, but keep doing it, and you'll find the best ways to manage them.
At this point, how would we conclude A Kind of Cafe? Instead of fitting into a clear category, Uulin and Pearl follow a direction guided by their inner peace, and so their Cafe continues to grow and change with them all the time.
A Kind of Cafe
Visit their Pinkoi shop
Visit their Facebook
Visit Taipei with Pinkoi Shop Next Door!
► ► ► Shop Next Door | TRAN Gender-Neutral Apparel
► ► ► Shop Next Door | Yarnball Illustrations & Shared Memories
► ► ► Shop Next Door | Ponpie Bakery and Pie Shop 
Translation: Melissa
We at Pinkoi always cite the bloggers, designers, and content creators whose ideas we post. Any missing credit is unintentional and will be corrected upon notice. If you wish to share our content for personal use, please do so under these conditions:
Give Pinkoi credit and include a direct link to Pinkoi.com.
Must stay true to the original article; no word, picture, video and logo can be altered or added.
Read full ethics policy