Trad to Rad: Chinese New Year Greetings Redesigned
During Chinese New year, the Chinese take New Year greetings and the color red seriously. Children say phrases of blessings before they can receive dollar-packed red envelopes from elders. People send greeting cards to friends, coworkers and old acquaintances. At home, Chinese New Year blessings turn into calligraphy and home decorations, which involves a lot of gold colors which is related to good fortunes. With so much visual inspirations, these traditions are thriving in contemporary designs!
Greeting Cards
Chinese New Year greetings come in single words and age-old phrases. A lot of them have double meanings, and because Chinese characters are very visual, it's a great way to play with graphic designs.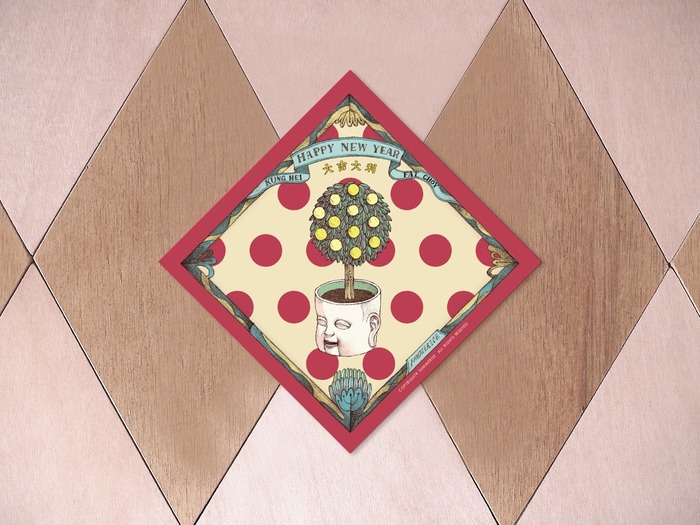 BANG! Chinese New Year Greeting Card Set from SUMMARIZE
Why a tangerine tree for a greeting card? Because the greeting "Da ji da li" (meaning: much luck and much prosperity) has a word sounding the same as "tangerines," so tangerines are everywhere around this time! (Not to mention they're in season, too!)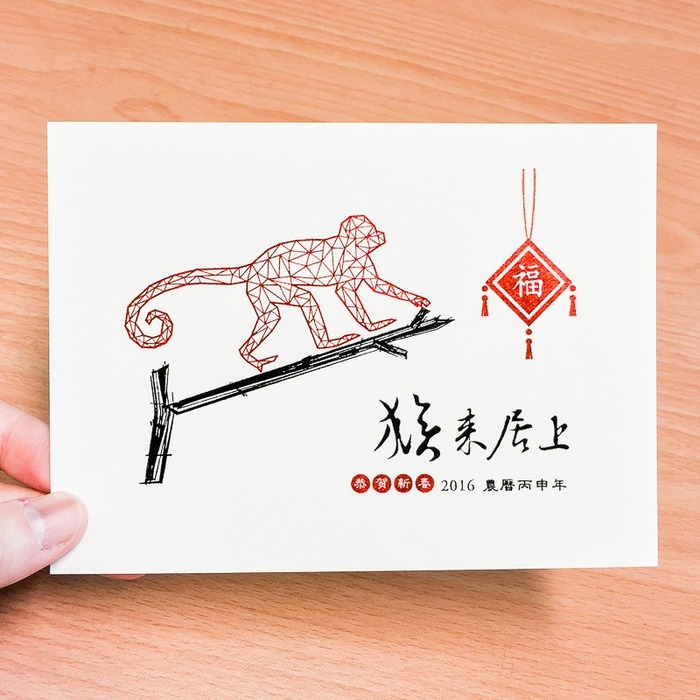 Year of the Monkey Greeting Card from Yoorfun
This is the year of the monkey! Every year, puns related to the animal zodiac inspire countless Chinese New Year greetings. This one wishes you to surpass and succeed!
► Browse Chinese New Year Greeting Cards
Red Envelopes
On Chinese New Year's Eve, elders give children "hong bao" (red envelopes) filled with money as blessings for health and success. Adults also give "hong bao" to their elders as soon as they start making income. Nowadays, these festive bags can carry money, gift cards, and artworks. It's a great branding opportunity for artists and name brands, too.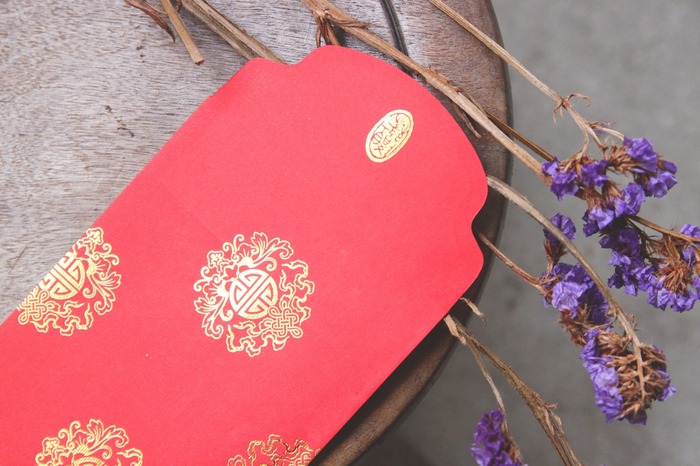 Longevity Gold Foil-Stamped Red Envelopes from Rewen Shop
An elegant and traditional pattern symbolizing joy is foil stamped in gold, making this design appropriate for both parents and business partners.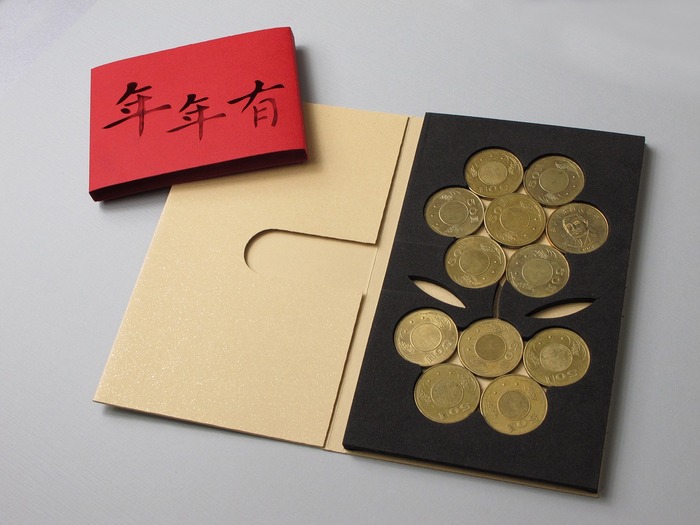 Gold Coins Red Envelope from People
The creativity is not limited to graphics, either. This coin-flower packet makes Chinese New Year red envelopes interactive!
► Browse Red envelopes
Calligraphy and Paper Craft
Traditionally, people write couplet calligraphy on red paper, and cut red paper flowers to decorate windows for Chinese New Year. Modern New Year graphics continue to play with the ornate patterns and the art of black brush strokes.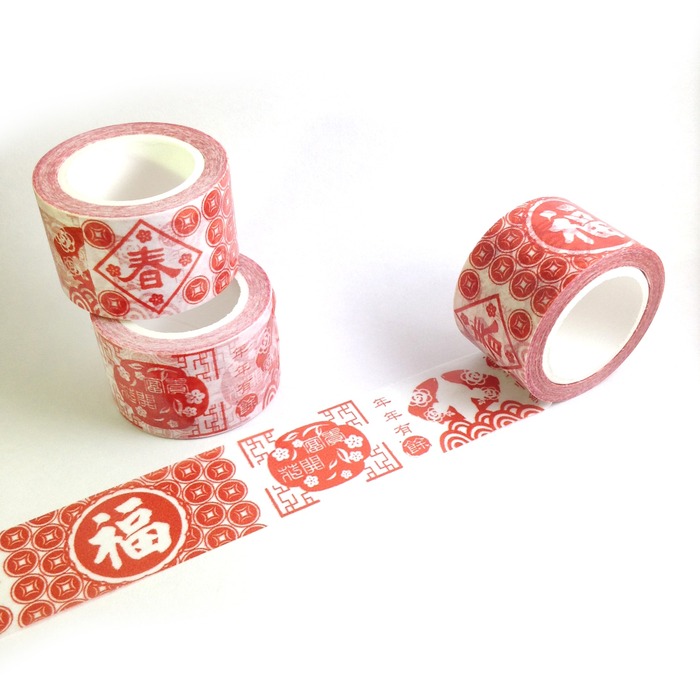 Chinese New Year Washi Tape from Tapeholic
This washi tape will help you spread festivities across notebooks, furnitures and walls in no time!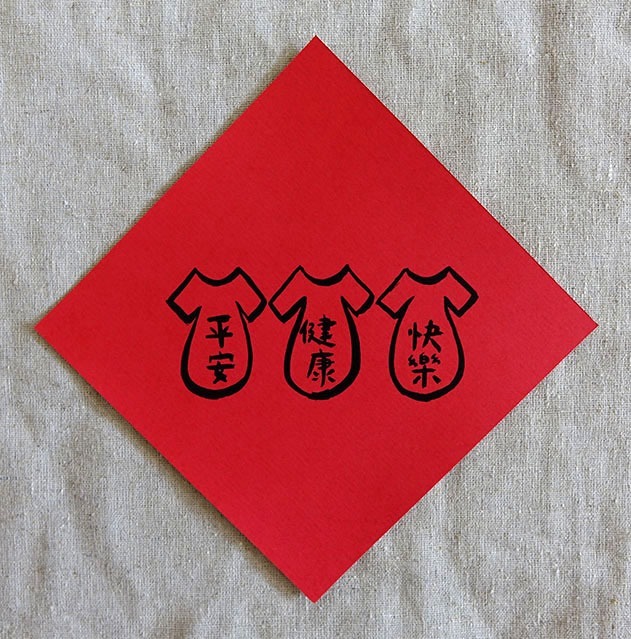 Safe, Happy and Health Couplets from Guo House
Playful calligraphy paired with cute illustrations makes serious Chinese New Year greetings fun and delightful!
► Browse Calligraphy and paper crafts 
Discover more creative designs inspired by Chinese New Year greetings and traditions!
Chinese New Year Greeting in New Prints & Designs
► ► ► Wear a Piece of Natural Scenery from iohll
► ► ► Featured Shop | Mamie Bag
► ► ► It Ships! 8 Lunar New Year Gifts Shipping Worldwide
► ► ► Woof! Who & How to Give Red Envelopes in 2018 Chinese New Year
We at Pinkoi always cite the bloggers, designers, and content creators whose ideas we post. Any missing credit is unintentional and will be corrected upon notice. If you wish to share our content for personal use, please do so under these conditions:
Give Pinkoi credit and include a direct link to Pinkoi.com.
Must stay true to the original article; no word, picture, video and logo can be altered or added.
Read full ethics policy