17 Questions Answered For Your First International Pinkoi Order
Welcome to Pinkoi! We're thrilled you've joined our big community of designers and design lovers across Asia. That's why in this post we're answering your most frequently asked questions about international transactions, so you can get back to browsing and enjoying the joy of shopping!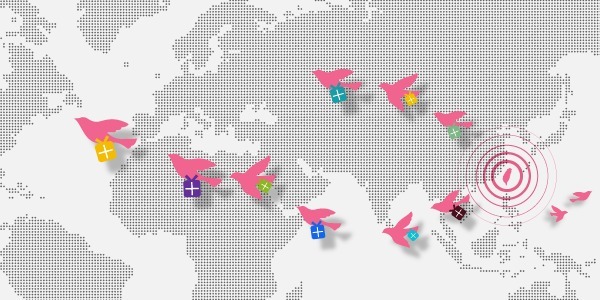 1. Does every Pinkoi shop ship internationally? How much does shipping cost?
Every shop is different. On a product page, you can scroll down to the Intl. shipping fee column to check how much it costs to ship to your country. If your country is not listed, scroll back to the top and click on "Contact Designer" to inquire.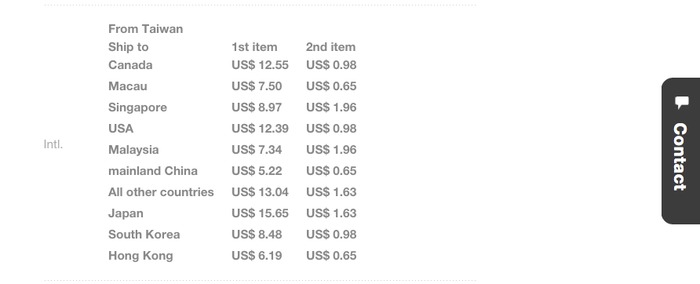 2. Do I check out separately for each Pinkoi shop?
Yes, checkout is separated for each Pinkoi shop. Each shop also manages its own shipping process. The good news is that with Pinkoi's International Forwarding Service, you can request every Pinkoi shop to ship your orders to Pinkoi Forwarding Center first, where they will be combined into one shipment to your country. As of 2016, this is available for customers in China, Hong Kong, Macau, USA, Canada and Australia. Find out more details about Pinkoi's International Forwarding Service.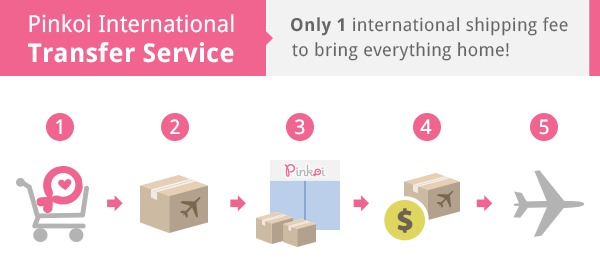 3. What payment methods are available on Pinkoi?
Pinkoi supports major credit cards, PayPal, Alipay, WeChat Pay and Tenpay. (Note: As of 2015, Weixin payment and Tenpay is only supported in desktop browsers.)
4. How can I ask questions about specific products or custom orders?
On a product page, click on "Contact Designer" below the product photo. You can ask the designer anything about their shop!
5. When will I receive my orders?
Each shop has their own shipment procedures, and provides you tracking information which will show up on your Order Details. If it hasn't been updated, click on "Contact Designer" to inquire.
6. The product is originally priced at another currency. Will I be charged an extra conversion fee or foreign transaction fees?
Paying in a different currency does involve fluctuating conversion rates. Credit card transaction fees depend on your bank: some charge minimal fees, some don't; so check with your bank. Pinkoi does not charge any currency conversion or foreign transaction fee.
7. What if a product is lost during shipment?
If a product is lost or damaged during shipment, contact the original shop immediately so they could proceed with sending a replacement and contact the carrier for compensation.
8. Do products come with warranties of any kind? What if I received a defective item?
Check your package as soon as you receive it, and let the shop know as soon as possible if you spot defects. If the issue couldn't be resolved between you, please reach out to Pinkoi customer service for help: service@pinkoi.com.
9. How can I contact a Pinkoi shop? What if I'm not getting a response?
Feel free to contact designers anytime by clicking on Contact Designer on your Order Details (you can also find past conversations in your message inbox). If it's related to a paid order, designers should respond within 72 hours. If they don't, you can contact Pinkoi Customer Service for assistance: service@pinkoi.com.
10. What's the benefit of bonus points?
You can redeem NT$ 1 for every 100 points, approximately US$ 0.30. Depending on the conversion rate, roughly 33,00 points can be redeemed to deduct US$ 1.00.
11. What should I do if  I did not receive an account sign up confirmation from Pinkoi?
If you did not receive your confirmation letter, check your spam box, or go back to the sign up page, and click on "Resend confirmation letter". You should receive another confirmation email soon!
12. How can I change my language and currency settings?
Language and currency settings are on the bottom right of any page on Pinkoi.com.

The setting options will pop up: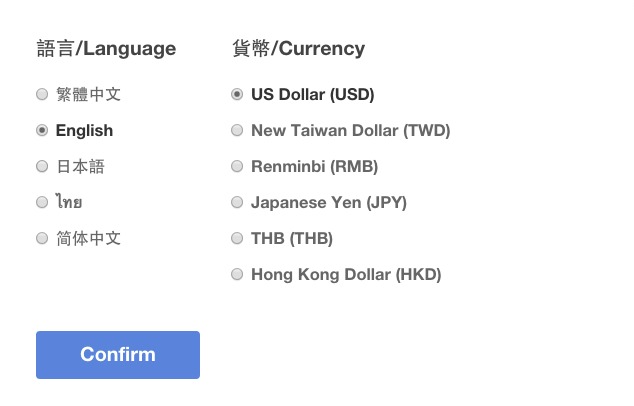 13. How do I build a wish list?
On the right side of a product page, you can click on the "Add to Wish List" button next to the product photo to add it to your wish list.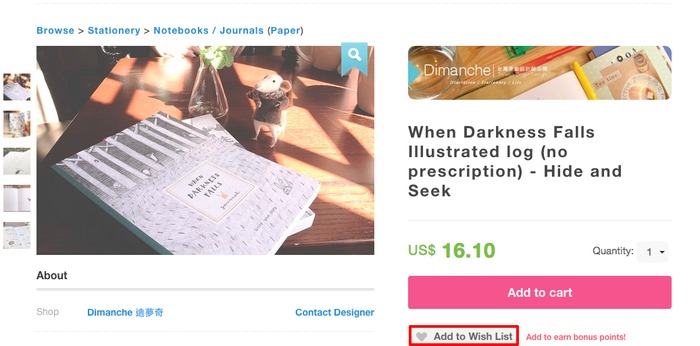 14. Where can I view my wish list?
Go to My Pinkoi dropdown menu on the top of the page; your wish list is right there!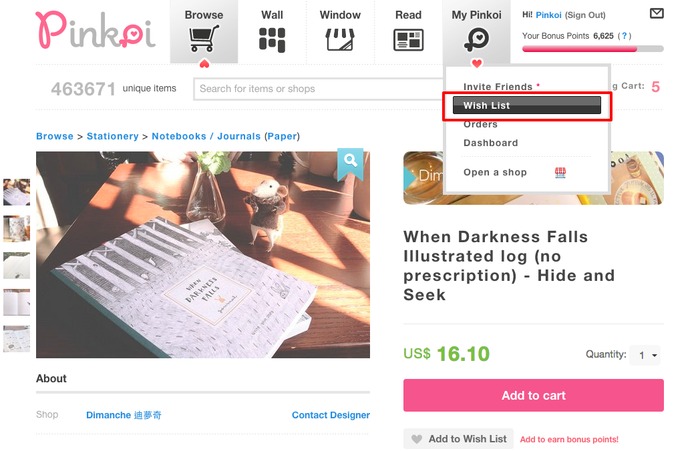 15. How do I apply gift cards or coupon codes?
At your shopping cart, you can enter a coupon code, redeem bonus points, or apply a gift card by clicking "Apply." You'll see discounts reflected right away on the page.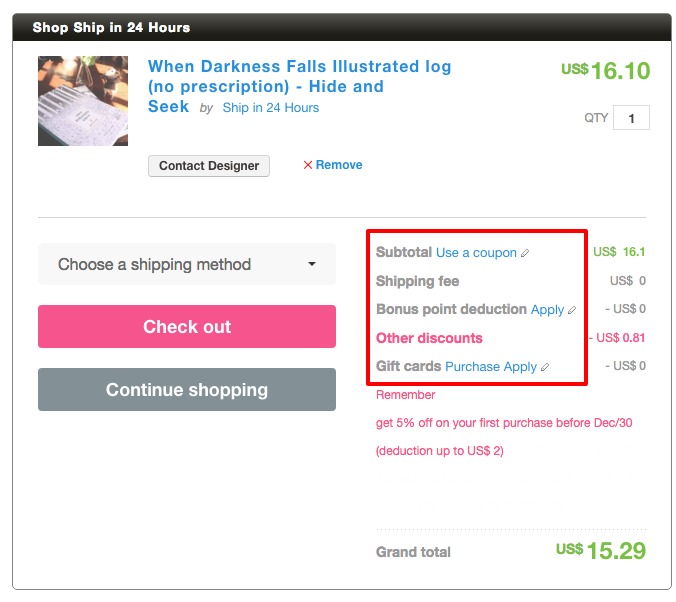 16. How do I manage and track my orders?
After payment, your order is now complete! To review your order, just go to My Pinkoi dropdown menu -> Orders -> Paid Orders.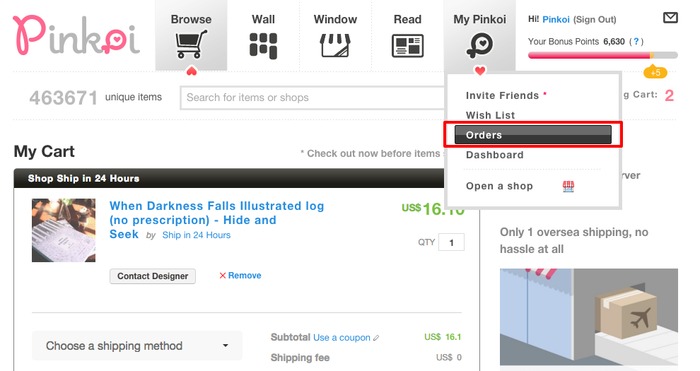 Here, you can find Order Details such as your order number, status and Transaction Status which includes shipment details.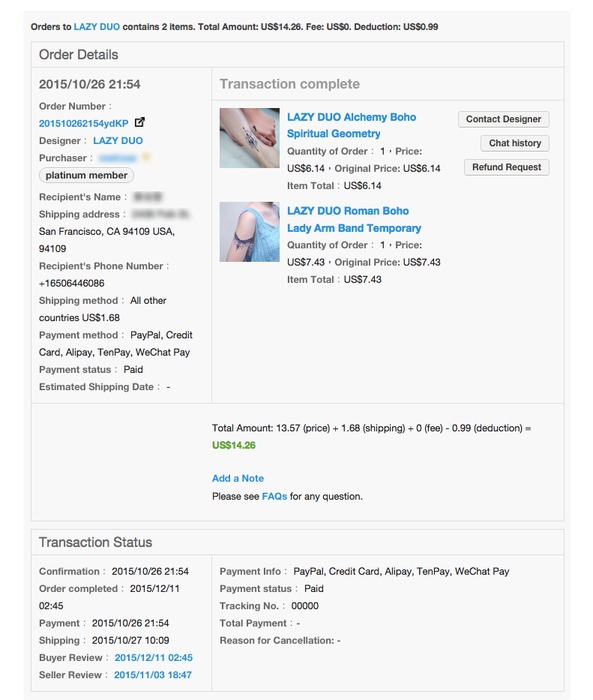 17. How do I manage my address and personal information?
Go to My Pinkoi dropdown menu and click on Dashboard. You can edit your profile, address, and email, etc.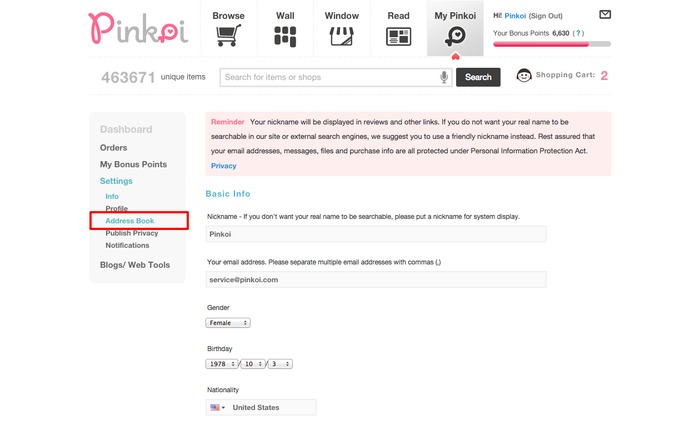 We want you to have the best experience on Pinkoi, not only because shopping should be fun, but also because we believe design is about spreading joy—from the designers to you. If you have any more questions, feel free to reach us at service@pinkoi.com!
Read more about:
► ► ► International Forwarding Service
► ► ► An Insider's Look on Pinkoi Homepage Features
► ► ► Pinkoi FAQ
We at Pinkoi always cite the bloggers, designers, and content creators whose ideas we post. Any missing credit is unintentional and will be corrected upon notice. If you wish to share our content for personal use, please do so under these conditions:
Give Pinkoi credit and include a direct link to Pinkoi.com.
Must stay true to the original article; no word, picture, video and logo can be altered or added.
Read full ethics policy