Pinkoi in Budapest | Get Happily Inked at Fatum Tattoo
Pinkoi is Asia's leading marketplace for buying and selling independent design. Discover beautiful design products to decorate your lifestyle. Whether you're buying for yourself or someone special, Pinkoi is the ultimate gift shop for buying unique presents!
Tattoos are in the spotlight, and as lovers of art and creativity, we want to give tattoo art the credit it deserves! The decision to carry a symbol or image on your body, together with its memories and meanings, is really a thoughtful piece of artwork, don't you think?
Recently we had the opportunity to visit Budapest and came across a special tattoo shop, Fatum Tattoo. We were lucky to have a conversation with two tattoo artists from the shop, too!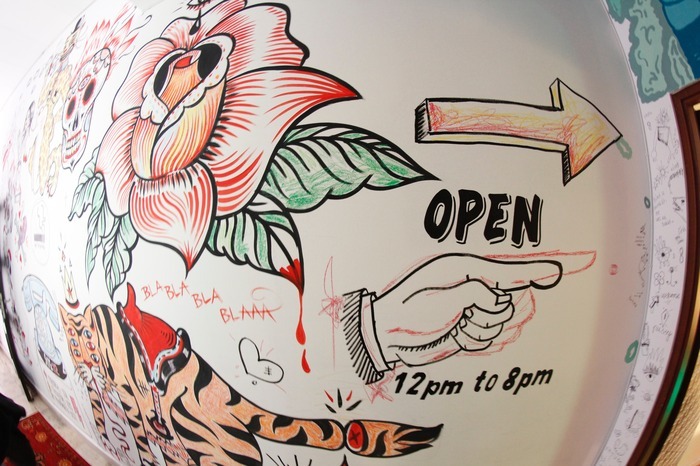 "Fatum" is "fate" in Latin. Through tattoos, our physical bodies carry dreams from the past, present and future.
When speaking of tattoo shops, do you think of sullen macho guys sitting in a dark, narrow studio? Oops—we do, too! So you can imagine our surprise when we stepped into the cheerful and spacious studio of Fatum Tattoo!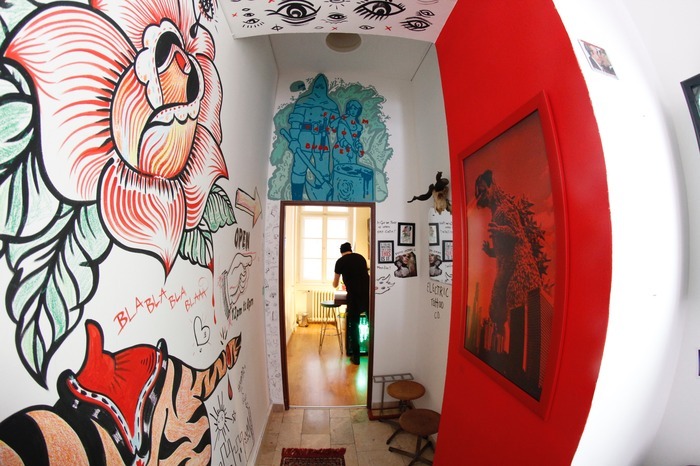 The lobby walls are draped with colorful artworks, some by the tattoo artists, some by other local Hungarian artists such as Buddha Tomi.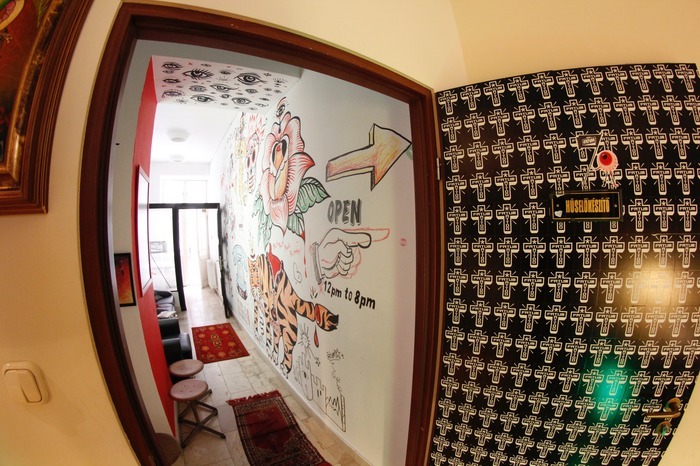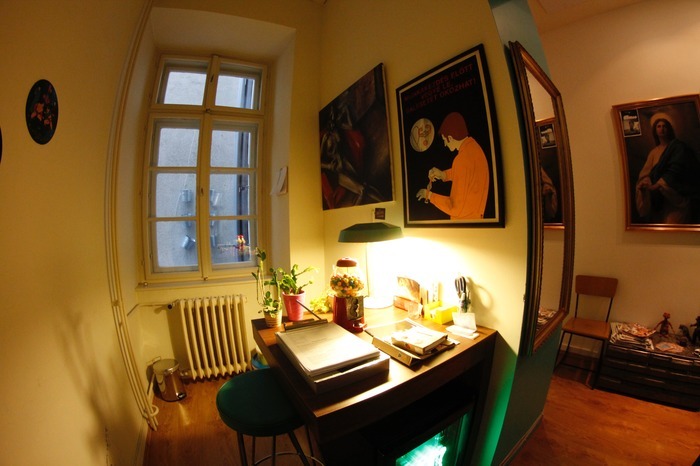 Now, isn't this the coziest ever tattoo shop? Tattoo artist Gabor Zolyomi told us this is usually where they discuss the designs with their clients. Indeed, the room really puts us at ease when we sat down with Gabor—there are so many interesting decors and fun objects distracting us!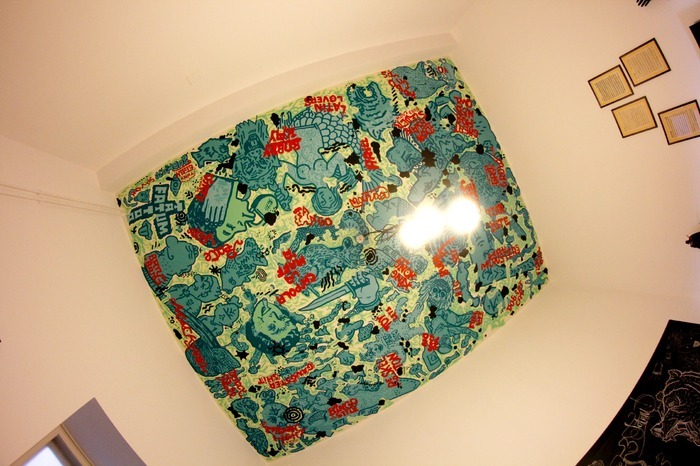 This vibrant graffiti ceiling caught us immediately when we stepped into the room where tattoos are done. The popping colors make the space so cheerful and uplifting. But we wonder how they did it so high up?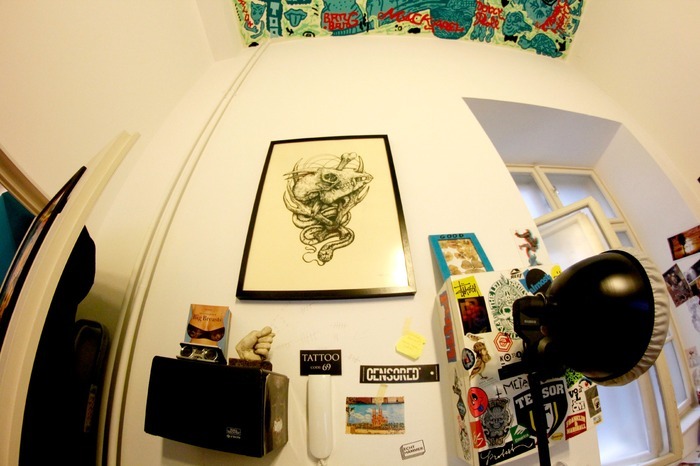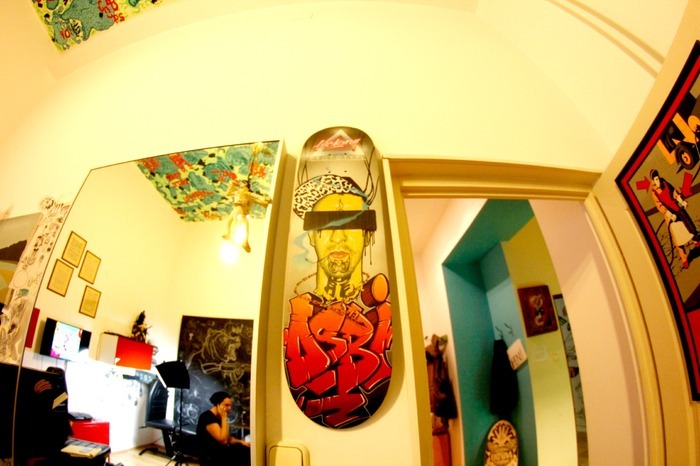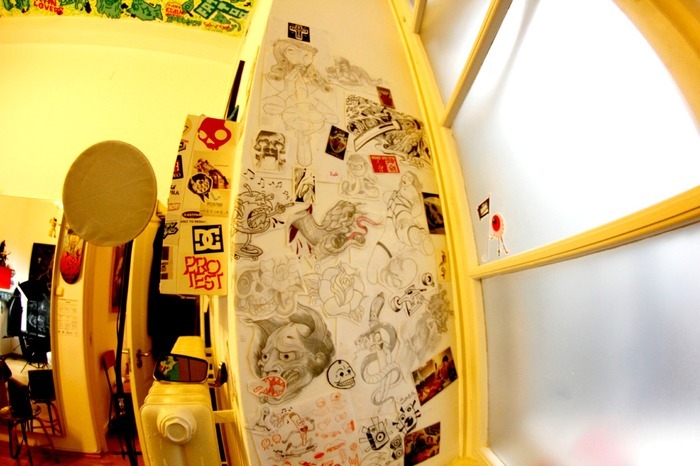 Gabor explained that Fatum Tattoo is known for their black-and-grey tattoos, perhaps even famous across the entire country! Every Fatum Tattoo artist specializes in black ink tattoos; only artist Róbert Bunda specializes in colored tattoos.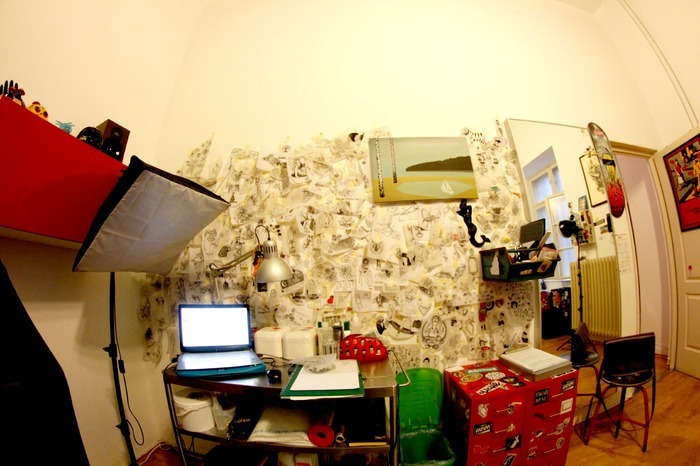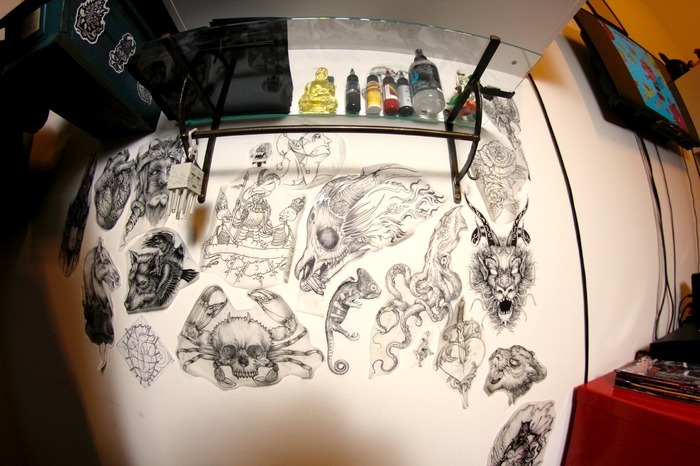 Most of the sketches we see in the shop are in striking black fine lines. We can only imagine how much time it takes to come up with one of these ornate designs!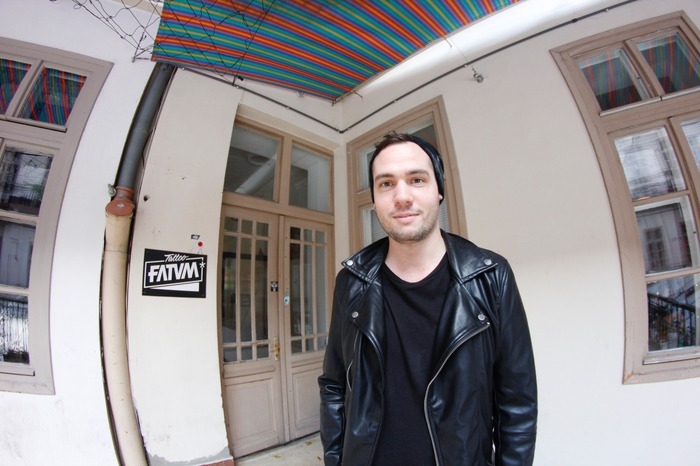 To me, colors are boring.
Gabor's comment left us dumbfounded. What does that mean? Without colors, where would we find fun and creativity? But for Gabor, the world of black lines is his ultimate playground: by twisting and positioning lines and patterns, he creates eye-catching artworks in layers of black and grey. Knowing this, we asked him for a custom geometrical black ink design!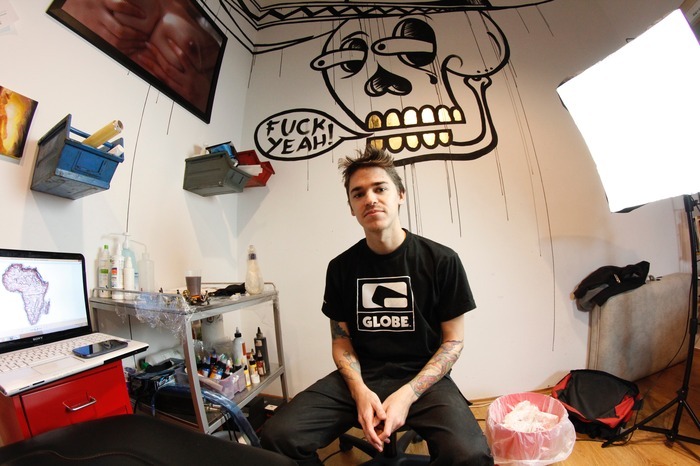 Art lasts forever.
In addition to colored tattoos, Róbert Bunda specializes in designs related to nature and animals. He always tries to get to know his clients personally and understand how they feel about a design before inking them with a tattoo. After all, "it's a gift that'll stay for a lifetime."
Warm and friendly Fatum Tattoo melts away our anxiety, and we're really happy to meet the thoughtful young artists!
This is the tattoo Gabor designed for our editor in Budapest! Based on her love for geometrics (lines and triangles—yes!), and as Gabor learned about her passion for writing, he came up with a triangle symbolizing a pen, a dotted circle reminding herself to be well-rounded while genuine, and a hexagon representing her worldview as a traveler.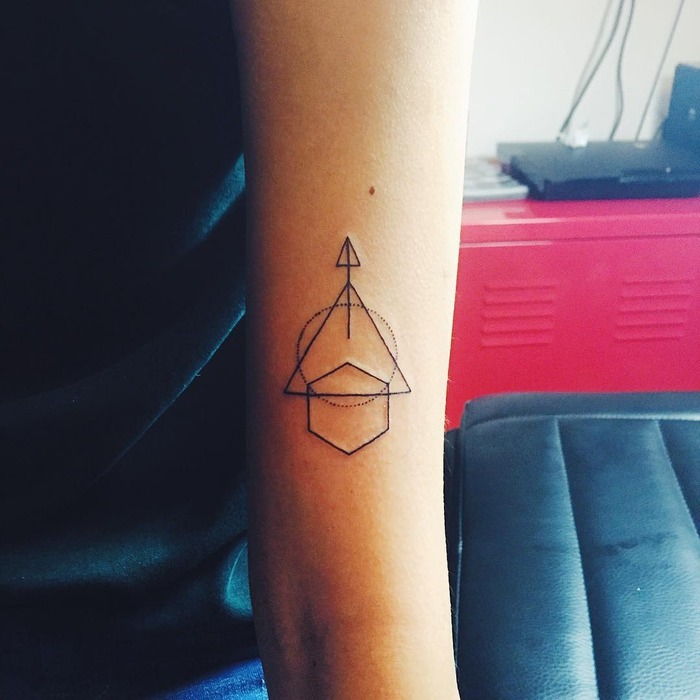 Oh, the places we'd love to go
► ► ► Home is Where you Park It: The #VanLife of Foster Huntington
► ► ► Top 5 Countries to Wander In the Autumn Breeze
► ► ► 2015 TGHFF Special Feature | Of Cities: Two Friends
We at Pinkoi always cite the bloggers, designers, and content creators whose ideas we post. Any missing credit is unintentional and will be corrected upon notice. If you wish to share our content for personal use, please do so under these conditions:
Give Pinkoi credit and include a direct link to Pinkoi.com.
Must stay true to the original article; no word, picture, video and logo can be altered or added.
Read full ethics policy